The Michael Powell Award for Best British Feature Film goes to Andrew Haigh's 45 Years.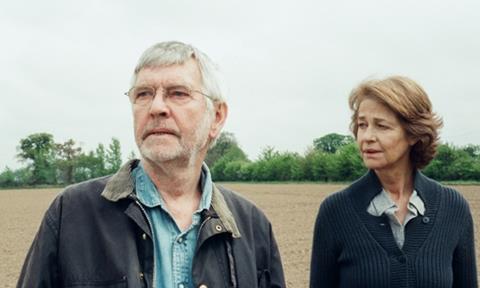 The Michael Powell Award for Best British Feature Film at the 69th Edinburgh International Film Festival has gone to Andrew Haigh's 45 Years, which received its UK premiere at the festival.
The film follows an eldery married couple (Charlotte Rampling and Tom Courtenay) in the five days leading up to their forty-fifth wedding anniversary. After the body of the husband's first love is discovered, frozen and preserved in the icy glaciers of the Swiss Alps, their relationship becomes strained.
The award for Best Performance in a British Feature Film was shared between James Cosmo for his performance in The Pyramid Texts and Charlotte Rampling for her performance in 45 Years.
The Michael Powell Jury, which also awarded the main acting prize, was chaired by LA Times film critic Kenneth Turan.
The award for Best International Feature Film went to Marielle Heller's The Diary of A Teenage Girl (USA), which received its UK Premiere at EIFF, while Special Mentions in the category were given to Kyle Patrick Alvarez's The Stanford Prison Experiment and J. Davis' Manson Family Vacation.
Best Documentary Feature Film prize was awarded to Crystal Moselle's The Wolfpack (USA).
Scrapbook, directed by Mike Hoolboom, won The Award for Best Short Film and Special Mentions went to Juliana Bao's performance in Maruani Landa's Cipriani and Ahmet Simsek's performance in Jannis Lenz's Shadowboxer.
Voted for by the audience, The McLaren Award for Best New British Animation, supported by the British Council, went to Stems by director Ainslie Henderson.
The Student Critics Jury Award went to Black Mountain Poets, directed by Jamie Adams.
The EIFF Audience Award, voted for by the public, will be announced at Sunday's Closing Gala, which concludes the 12-day festival with the world premiere of Scott Graham's Iona.
The Michael Powell Jury said of 45 Years: "We're delighted to present the Michael Powell Award for best British feature. This year it goes to a quietly explosive film which represents classic filmmaking at its best. This is a measured yet provocative film, a masterclass in understated acting that was the unanimous choice of the jury."
Director Haigh added: "This is a real honour and made even more special when you consider the list of British films that have won before. All you can hope for when you make a film is that it resonates with people and that is why receiving an award such as this feels so fantastic."
Full list of winners:
Michael Powell Award for Best British Feature Film: 45 Years (Andrew Haigh)
Best Performance in a British Feature Film: James Cosmo (The Pyramid Texts) and Charlotte Rampling (45 Years)
Best International Feature Film: The Diary of a Teenage Girl (Marielle Heller)
Best Documentary Feature Film Award: The Wolfpack (Crystal Moselle)
The McLaren Award for New British Animation: Stems (Ainslie Henderson)
Student Critics Jury Award: Black Mountain Poets (Jamie Adams)
Best Short Film: Scrapbook (Mike Hoolboom)