A Single Man's cinematographer talks about being "lucky", Saul Dibb's Suite Française, Adam Smith's Trespass Against Us & Sarah Gavron's Suffragette.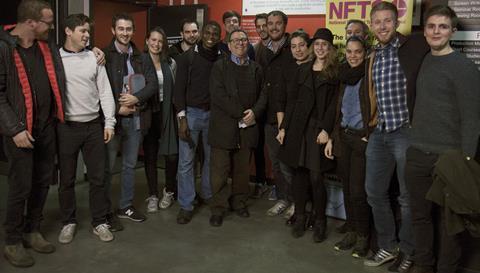 Cinematographer Edu Grau, who won the Camerimage Best Cinematography Bronze Award for the thriller Buried (2010), admitted to students at a National Film and Television School (NFTS) masterclass that he doesn't own a camera. "I'm not a photographer; I'm bad at taking photos."
Speaking in conversation with his former NFTS Cinematography tutor Stuart Harris, Grau shrugged and frowned when asked where his passion for film came from? "At school I was bad at art, really clumsy! Then when I was 12 a teacher said I was excellent – not because of what I had drawn but because of the concept behind it. That was the first time anyone said I was good at anything visual. By the age of 13 I'd decided to study film."
After attending ESCAC film school in his native Barcalona, Grau studied at the NFTS and soon after graduating at the age of 27 he got his "lucky break" at the Edinburgh Film Festival, where he was showing a graduation film Scarlet Sunrise (2007 winner of the Munich International Festival of Film Schools).
"I got lucky. I was in the right place at the right time …standing outside a cinema waiting to see a midnight screening of a surprise film…and I met the right person."
That person, a woman, happened to be a script supervisor. "We talked, watched the film, we partied - no sex, just friends!"
A year later, she told him Tom Ford was struggling to find the right person to shoot his first film and suggested he send his show reel. "I said, who's Tom Ford? I couldn't find him on IMDb."
Just weeks away from shooting A Single Man, Tom Ford still hadn't found the DoP he wanted: "I think he wanted someone new, European…cheap and quick! He only had 23 days to shoot the film."
Grau was invited to meet in L.A. and within 10 minutes of meeting each other it was clear that Tom Ford would give him the movie. "Of course I was nervous. But, my grandfather always told me, 'everyone has at least one opportunity. It depends on your to make the most of it." I thought, Tom Ford has seen my work, he must like it, so there's no need to be scared or try to hide myself – let's just do it! That attitude changed my life."
A Single Man received critical acclaim and earned Colin Firth a BAFTA and an Oscar best actor nomination.
Grau and Ford are still friends and met for lunch last week: "He is one of those directors who has such a clear vision of what they want, he is fascinating to work with. He was very precise about some shots and with others he was open to my ideas. I look back at that film and think I was VERY fearless and honest with him. I told him last week that I don't think I would be like that now – but he said that was actually what he loved about me."
BURIED
Luck and his reputation following the success of A Single Man got Grau his next film Buried (2010) directed by Rodrigo Cortes, which stars Ryan Reynolds as an army driver who is captured by Iraqi soldiers and buried alive inside a box; the DoP who was about to do the film had to pull out so the director called Grau in at short notice.
"I thought the script was good, the director was very, very good - and, hey, there is only ever going to be one film shot entirely in a coffin, so let's do it. I like challenges."
The greatest challenge, he said, was filming almost every scene in a great amount of darkness inside the coffin, apart from the flicker of a dying a cigarette lighter flame, a torch, a glowstick and the glare from a mobile phone.
Grau had to fight for his decision to shoot on film rather than digital. "I felt that it had to be film because everything about the film was organic; the sand, the flame, the heat. But shooting on film with so little light and such a difficult space to light with two cameras. I was scared…I prayed a lot … and I lost a lot of hair!
"There were some scenes where the lab called me and said 'there's almost nothing here!' I remember one scene where, despite the blackness, you can just about see the actor and there was something about that darkness that was perfect for the movie. Sometimes, you just have to have the balls to stick to your decision."
FILM VS. DIGITAL
Although he values digital - "it is amazing for certain projects" - Grau says he prefers film. His last three films have been shot on film, including Suite Française using the last of some Fuji stock.
"I prefer the grain, the colour, the depth of layers, the beauty and the way you work on film; almost no-one knows what's going to happen with film, what the result will be. There is a mystery and a magical element to it that is part of the beauty of filmmaking."
Grau wanted to use film for Sarah Gavron's forthcoming period drama Suffragette starring Helena Bonham Carter, Meryl Streep, Carey Mulligan and Ben Whishaw.
Due to the budget, Grau was asked to shoot entirely on digital, but he stood his ground: "I said I'm not going to shoot a movie from 1912 with five actresses in daylight on an Alexa. We found the solution; I shot some scenes on the Alexa but mostly I shot on 16mm and a zoom lens. It's amazing working with 16mm and zooms, the freedom it gave me! It's grainy but it has attitude.
"Nowadays, you have to have the balls to shoot on 16mm and that attitude translates into the result of the film. There is no format in history that has a higher percentage of good films, because to use it you are actually showing some attitude that affects the film; it makes it better."
KEY TO SUCCESS
Luck isn't everything though. Spanish-born Grau says you need more to succeed in the film industry: "You need passion, a hunger for the film you are doing - and good people around you who share that hunger and commitment to be the best you can be."
On A Single Man, Grau had the budget to hire whoever he wanted on his crew. He chose Jim Plannette (E.T., Magnolia, Oceans Eleven, Braveheart), one of the world's best gaffers, aged 67. "I learnt so much from him. Every light has to have its purpose. It's a very fine line, but Jim understands this. I had an amazing crew and still work with many of them."
Plannette is the gaffer on Suffragette directed by Sarah Gavron (who, along with four other members of the crew is an NFTS graduate). Grau praises Gavron and producer Faye Ward who he said brought together "the best crew I have ever worked with. To surround yourself with good collaborative people is one of the best skills to have in this industry.
"Some producers suck the life out of a film in order to save a few pennies. Faye Ward is the not one of those producer. She looked after everyone and she worked as hard as she could to deliver the best film possible. A great producer is at your side when you need to make important artistic decisions – even when they cost more, if they will make the movie better."
ADVICE TO STUDENTS
Asked what advice he would give to up and coming cinematographers, he emphasised: "Success is a lot about being lucky…being in the right place. But you also need to be brave, make bold decisions while you are young and meet the people that will be in that journey with you.
"There are no rules that say this is the right way or wrong way to shoot a movie. Do what is right for the story and the characters. Love your job, be a perfectionist, do things like only you can do them, and surround yourself with crew who share that passion. Remember filmmaking is a team effort. And be good to people. Your next job could come from the runner on your previous job."
Edu Grau is the cinematographer of three forthcoming films due to be released in 2015: Suite Française directed by Saul Dibb, Suffragette directed by Sarah Gavron and Trespass Against Us directed by Adam Smith.