Keynote at the Creative Europe MEDIA day conference was Oettinger's first face-to-face encounter with the European film professionals.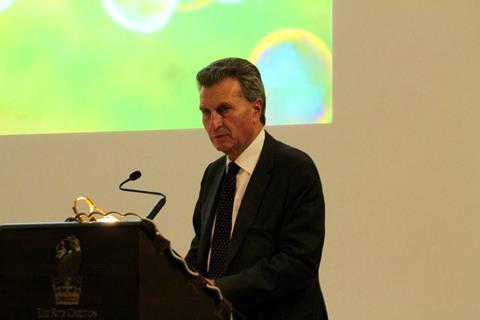 Tapping European cinema's full potential through digitalisation was highlighted by European Commissioner Günther Oettinger in his keynote at the Creative Europe MEDIA day conference this morning.
The visit to the Berlinale is Oettinger's first face-to-face encounter with the European film professionals and had been hotly anticipated as a chance for him to state his strategy vis-a-vis the cinema sector and its future within the digital age.
Win-win situation
¨We are living in a digital revolution and with revolutions, you can win or lose,¨ he argued, declaring that digitalisation could offer a win-win situation for the film industry and make an important contribution to understanding between cultures and the promotion of the European identity.
Speaking to around 700 professionals from all over Europe and beyond, Oettinger explained: ¨A digital economy and society is not only about fast internet, new digital services or industry 4.0. It is also about innovative, creative industries which generate ideas for the benefit of the whole digital market. European content, films and music, are a vital part of our digital society.¨
¨In an age, where more consumers are watching more films online, we should work together to ensure that our creative potential and European diversity are preserved and are accessible for everyone. We want to help film professionals to experiment with new business models and take advantage of the European digital market, rather than seeing it as a threat. The European film industry can and should reach out to new audiences¨
Challenge
Oettinger suggested that the ¨ real challenge¨ was to break down national borders and restrictions for a wider circulation of European films throughout the EU.
¨I want more choice for consumers. They should also benefit from the advantages of digitalisation and be able to shop for more films across-borders,¨ he added, pointing out that there was a need to ¨think about new ways to bring content to audiences¨.
In first reactions after the speech, some said that it had been important that he had come to Berlin and shown that he takes the film industry seriously.
However, one leading figure of the European film community said with reference to his comments on copyright reform: ¨ It sounded like a speech written by Google and Apple¨, while another said that his statements were ¨ really offensive¨ in not addressing the specific concerns of producers.
Problematic
In an exclusive interview with Screen, Constantin Film CEO 5Martin Moszkowicz was was also critical of the direction of the European Commission's film policy.
¨Honestly speaking, I really found his speech problematic because it is still unclear what the Commission really wants,¨ he said. ¨Some of the statements were pretty tough when, on the one hand, they say they want to sit down and talk, but, at the same time, won't listen to the people who have been working in the business for several years and give work to 7 million people.¨
¨I believe that the Commission is operating from false assumptions that [the film industry] is a dysfunctional market which must be regulated. That is flat out rot,¨ he continued.
¨ I have nothing against a Digital Single Market,¨ said Moszkowicz who met Oettinger on Monday afternoon with a delegation of producers. ¨We sell our films throughout Europe in every single country, and everybody can see them if they pay for them. The problem would be a free Digital Single Market - that's not acceptable.¨
¨We are deeply concerned about this development where an 'agenda' is in place before they have even spoken to anyone,¨ he added.
Speaking with Screen at the end of the Berlin conference, Commissioner Oettinger said that he had been several half-hourly meetings one after the other with various players including members of the European Film Agency Directors (EFADs) network, a delegation of the European Film Academy led by President Wim Wenders, the German Film Academy and Initiative Urheberrecht, a lobbying group for copyright issues, among others.
¨There are several pieces of legislation in preparation for the creative industries such as for copyright protection or the revision of the Audiovisual Media Services Directive, so the meetings in Berlin were a compressed kind of hearing to gather the views of those who would affected by this legislation.¨