European animation producers are increasingly focused on 3D, with a range of new stereoscopic projects in the works. But is the 3D market big enough and are the extra costs worth the effort?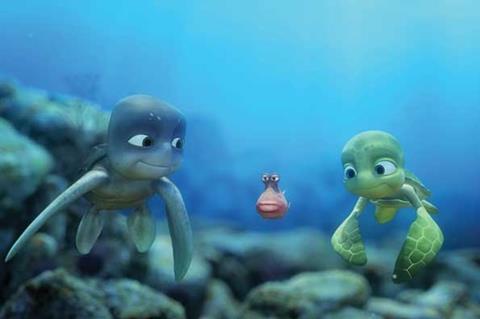 Judging by the number of stereoscopic 3D projects being pitched and discussed in the busy hallways of the International Animation Film Market (MIFA) at Annecy last month, Europe's producers sense big opportunities in the burgeoning 3D marketplace.
From large-budget CGI features with studio partners to ambitious features such as Patrice Leconte's The Suicide Shop - the first animation from the French director, being made in stereoscopic 2D - the films being talked up at Annecy underlined the breadth of ideas and talent in European animation.
But despite a highly competitive market for theatrical animation, and the gulf in budget size between European animated 3D features and US tentpoles, many see potential for cheaper independent projects. "There is a real opportunity worldwide," says Ben Stassen, director of the 3D feature Fly Me To The Moon and co-founder of Belgian 3D specialist nWave Pictures. "Why? Because a lot of the independent distributors around the world don't have access to the Toy Stories and the Shreks because these are distributed by the major studios on a worldwide basis. And there is a huge appetite."
With a background in special venue 3D projects, nWave moved into 3D animated features with 2008's Fly Me To The Moon, which was released in 3D only. Stassen says the company's second 3D animated feature, the $25m A Turtle's Tale, has benefitted from an appetite among distributors for independently produced 3D animation. "When we brought A Turtle's Tale to the Cannes film market in 2009, it became almost an instant hit because people recognised the quality of the animation and this was a film they could buy," he says
"A lot of the independent distributors don't have access to the Toy Stories and the Shreks. There is a huge appetite"

Ben Stassen, nWave Pictures
Stassen and others point to the industry momentum behind 3D, both theatrically and in-home, as proof there will be continued opportunities. "Distributors and exhibitors want to cushion the blow of their investment in their digital projectors. The television networks want to launch 3D television. Therefore there is a need for stereoscopic programmes," says Pierre Buffin, founder and CEO of French visual-effects specialist BUF.
While it appears certain the majority of future animated tentpoles will be in 3D - Pixar is planning 3D releases of all its forthcoming features, for example - it remains to be seen whether the 3D treatment is necessary for every animated project. "The 3D market is pretty much a blur right now," says Jean-Baptiste Babin, a founding partner of French financier BackUp Films, which invests in animated features and TV projects through its Cofanim fund. "A lot of producers feel they have to propose everything in stereoscopic 3D and I'm not sure the market is ready for this."
"It should be done because the idea lends itself to 3D, the way that you want to tell the story. I'm not really into just making 3D for the sake of it," says director Nick Park, who was on the graduation films jury at Annecy. "It seems to be the thing right now, to be in 3D. Personally, any marketing reasons aside, I have always wanted to do a 3D film." The UK's Aardman Animations, which is home to Park's work, is currently in production on two 3D features: the CG project Arthur Christmas and The Pirates! In An Adventure With Scientists, a stop-motion project directed by Aardman co-founder Peter Lord.
"It takes a lot of planning… You have to make sure you have the resources"

Janet Healy, Illumination Entertainment
"An animated project depends on the subject matter," says Illumination Entertainment's Janet Healy, who produced the Illumination/Universal 3D CG-animated feature Despicable Me in France at Paris-based Mac Guff. Illumination is now working with Mac Guff on an adaptation of the Dr Seuss classic The Lorax. "Some things lend themselves to stop-motion, some things to hand-drawn and they look fabulous. There are so many different styles. For the kind of things that we're doing with these tentpole movies that are all computer graphics, to me there's no reason why you wouldn't do them in stereo because it lends itself so easily."
What is clear is that 3D should be an integral creative element rather than a gimmicky add-on. A presentation by Pixar's stereoscopic supervisor Bob Whitehill at Annecy underlined how creative the approach to 3D can be.
"To us it's really important that it fits in gracefully with every other visual storytelling aspect that we're using," Whitehill tells Screen International. "What's challenging is that it's still very much a moving target as an art form."
There is, of course, extra time and cost involved in stereoscopic 3D. "In stereo, you have one eye… and you re-render it from another camera for the second eye. It's not quite double the rendering but it's a lot," explains Healy. "It takes a lot of planning because you have to make sure the render farm can churn out what used to be difficult in mono. You have to make sure you have the resources."
"It is true that 3D puts pressure on the budget," says Stassen. "So if you make a $100m film and you spend $10m extra to make it in 3D, that's only 10% of your budget. If you make a $15m film and spend $5m extra, that's 30% of your budget. The smaller your budget, the greater the pressure."
Mickael Marin, head of MIFA, likens the current 3D boom to the advent of CGI. "Ten years ago, it was a fashion. All the producers, particularly in TV, wanted to produce their own programmes in CGI. And at that time everyone was saying that traditional animation was going to disappear. And after a few years, the balance is restored. First it's a trend, then a fashion and after that it's only another technique."
"In the beginning, when a new technology evolves, there is too much focus on the technological side," says Tom Carpelan, producer of Moomins And The Comet Chase, a 3D feature made using restored footage from the classic felt-puppet children's series. "If a film isn't good in 2D, it will never be good in 3D either. It can be a good gimmick but it doesn't make a good film."