Shooting is drawing to a close on Junkhearts, a London based drama starring Eddie Marsan, directed by first time feature film-maker Tinge Krishnan for Coded Pictures.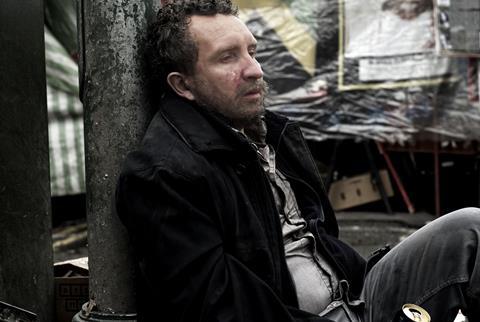 Synopsis: A suspense drama about a vulnerable ex soldier, suffering from post traumatic stress disorder, who finds himself manipulated by a young girl and her boyfriend as they attempt to use his home as a drugs den.
Director: Tinge Krishnan
Writer: Simon Frank
Producer: Karen Katz for Coded Pictures
Executive producers: Andrew Eaton, Charlie Parish (Hustle Productions), Jeremy Gawade
Cast: Eddie Marsan, Romola Garai, Tom Sturridge, Candese Reid
Budget: under $1.5m (£1m)
Financing: Manchester based Hustle productions put up financing, along with 6 private individuals. UK tax credit likely to apply.
Language: English
Countries of Production: UK
Locations: East London (including Brick Lane, Whitechapel, Ridley Road)
Status: Shooting from May 30 for four weeks
Release date: the film is expected to be completed in October, with a view to taking it to one of the major festivals (Sundance, Berlin, Cannes).
Junkhearts began life three years ago as a script about cuckooing, a real life phenomenon which involves the targeting of vulnerable people for money. "I had worked with [screenwriter] Simon Frank on a short film called The Mood and then he gave me this screenplay that he had written a couple of years ago," explains Karen Katz, who is producing the film through her own production company Coded Pictures, which she set up in 2006, having previously worked in development for Miramax, BBC Documentaries and for UK producer David Parfitt. Her first film for Coded was the 2009 documentary Moving To Mars, directed by Mat Whitecross. "The script has evolved from there, but essentially it is the same story."
When it came to finding a director, Katz immediately thought of Tinge Krishnan, who had made the Bafta-winning short film Shadowscan and whom Katz had met on several occasions to talk funding. "I thought that her style would be incredibly complimentary for the material, which is quite sparse and simple."
Luckily, Krishnan fell in love with the material straight away: " I had just had a baby, and I thought I'd read it in two weeks. But I read it in one night, in the bathroom, while my baby slept. And then I called Karen the next day."
Katz wasn't put off by the the fact that Krishnan was a first time feature director. "I felt like it was a really good first film, vibrant and lively, but quite contained with nearly half our shoot is in the studio [an empty warehouse in East London which the team have converted into their own studio]. It didn't require big American actors, it felt very British, but very multicultural", she says.
Katz decided to take an unconventional path when it came to financing the film, despite her years of working within the conventional constraints of the industry. "I used to feel that you had to get your script, put it in development, wait for the next draft and so on. But we really wanted to make it this year. So it was much easier to do that with private financing. And we found that people from the city were much more excited and had money more readily available than some of the bodies we thought would be obvious ports of call."
Still, she admits that her previous experience in the industry has proved invaluable. "All the producers I have known over the years have been so helpful. For example David Heyman gave me recycled Harry Potter sets. And if I have a problem, I just phone up Paul Webster or Andrew Eaton [one of the film's executive producers].On this budget level, you have to be resourceful".
How did she manage to attract such established actors as Marsan and Garai? "I've worked on other projects where you have had a fantastic director and great script, but it hasn't necessarily appealed to actors. But I think this is a real character piece, we were really lucky that actors like Eddie and Romola read it and immediately responded to the material."
The film-makers have been particularly impressed by 18 year old Candese Reid, whom they discovered at Ian Smith's TV Network in Nottingham, which counts alumni including Paddy Considine and Samantha Morton.
Is she the new Kate Jarvis, who appeared in the 2009 gritty British drama, Fish Tank? "She certainly has that quality, she is very feisty and has a big career ahead of her," says Krishnan.
While the film may be very "British" on paper, Krishnan says she has taken her influences from the "American cinema of the '70s. It is Jacob's Ladder meets Midnight Cowboy. It's got almost a New York feel, New York streets at night."
Katz is confident that the film will have international appeal. "It is a localised story, but it is also an international story, people can relate to wherever they live in a big city. There are people who are lonely everywhere."
With a female director, producer, DoP and line-producer, does Katz feel like she is flying the flag for women film-makers? "I like it that we are working with women, and I want there to be more female directors and writers in the industry. The more women who make films, the more we see the potential in female directors, and the more people are going to unconsciously open their eyes to working with women."
Next up: Tinge Krishnan is currently developing a martial arts/sci fi feature, working title The Hungry Ghost, which "spans the housing estates of Britain and the mountains of Thailand," says the director.
Producer Karen Katz is currently developing a film adaptation of James Meek's novel We Are Now Beginning Our Descent, with UK based, Polish born director Pawel Pawlikowski. Scripted by Toby Finlay (Dorian Gray) and Pawlikowski, it is set in London, Iraq and Afghanistan.