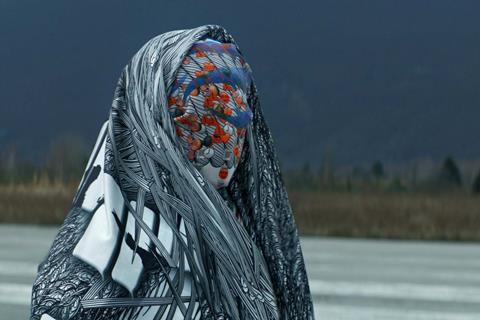 Metahaven, founded by Vinca Kruk and Daniël van der Velden, makes films and installations and based in Amsterdam. Metahaven's full-length documentary The Sprawl (Propaganda about Propaganda) was released in 2016 followed by Information Skies (2017).
Rob Schröder is a Dutch writer, graphic designer and documentary filmmaker. He was the founder of 'Wild Plakken', a politically activist designer collective working for (among others) cultural institutions. He was a professor at the Gerrit Rietveld Academy and also one the founders of the Sandberg Institute. As a documentary maker he worked on independent programmes and films, as well as for broadcaster VPRO.
How did you get into filmmaking?
None of us studied film school. Rob felt that he wanted to work with his ideas and interests directly in the world and exchanged a graphic design studio for a video camera. He made many documentaries about boiling social and political issues, and researched and shot in countries such as Venezuela and South Africa. Daniel and Vinca began to tell stories through moving image firstly in music videos with Holly Herndon, and became especially interested in fiction, documentary and essay through combinations of cinematic narrative, animation, and the digital world.
What was your inspiration for Possessed?
Ever-shifting combinations between anger and serenity! The film is interested in digital devices as objects of isolation, and the larger socio-political narrative that this plays into. The film is a search for empathy, and also, it is trying to be a collage that creates friction, sometimes violently, between our two distinct approaches to the same subject matter. It is most of all a collaboration. Not just between us, but also with director of photography Remko Schnorr and composer Laurel Halo.
Was this project developed through any labs (for example Torino Film Lab)?
There were no labs involved other than our own.
What was the biggest challenge when working on the film?
Definitely it was the early editing stage, where many hours of footage, from YouTube archive to epic shots we created at a former military airbase in inland Croatia, could still potentially lead to many different kinds of films and outcomes.
What are the key lessons you have learned from your film projects to-date?
So many, too many. The best thing is that we've made Possessed, came out alive, and as closer friends than we were before we started. For the rest we may have some personal key lessons. Rob: The clash of different generations in making a film is all about learning, friendship, stress and fun. It opened for me new worlds of filmmaking and experiments. Metahaven: a film plan is more important than you may think, and Tarkovsky was right to always change the script after shooting.
What's your next project? (50 words max)
Rob: Different plans with Gabrielle Provaas and a film with philosopher Henk Oosterling. Metahaven: we are currently editing Hometown, which was shot in Beirut and Kyiv, and is a combination of live action and animation. And we are also writing and visualizing for a new film plan that is still a bit undefined, but will get a more concrete shape soon.