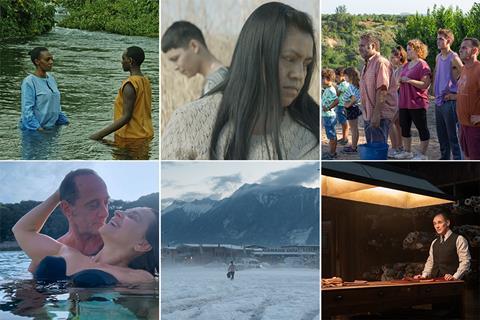 With the Berlin film festival programming more than 250 shorts and features over six fully-live days, it's difficult to deliver a definitive verdict on artistic director Carlo Chatrian's 2022 selection just yet.
There was an element of disappointment in the overall Competition and edgier Encounters sections as the festival wound down, but there were also few attendees who could claim to have seen the full array of those titles in the time allotted, especially with the Special and Panorama sections taken into consideration (and the uncertainty involved in passing Covid tests and acquiring wristbands every 24 hours).
While one hesitates to dwell on the negative in this herculean attempt at festival programming, there were some let-downs in the various selections and some titles which seem frankly bizarre in their inclusion (Taurus, About Joan, Coma, AEIOU - A Quick Alphabet Of Love etc.). A 20% cut in programming certainly didn't feel as if it went far enough.
The Competition Jury, led by M. Night Shyamalan did, however, make matters better by cherry-picking the more notable titles for the top prizes and not making any political statements with their choices. Berlin 2022 titles may never storm the global box office, but there are some jewels that will definitely be making their way around the festival and arthouse circuit.
Alcarras
Dir. Carla Simon
The winner of the 2022 Golden Bear was undoubtedly the best film in the selection, hand's down.
Read Screen's review
Robe Of Gems
Dir. Natalia López Gallardo
A daring statement from a new Mexican director that will help draw attention to a new wave of powerhouse female directors emerging from Latin America.
Read Screen's review
Flux Gourmet
Dir. Peter Strickland
Mixed responses to Strickland's funniest film to date; Screen's review was an unqualified positive, and wider exposure than In Fabric is practically guaranteed due to a cast that includes an outrageous Gwendoline Christie and Asa Butterfield.
Read Screen's review
Peter Von Kant
Dir. François Ozon
Read Screen's review
Both Sides Of The Blade (aka Fire)
Dir. Claire Denis
Read Screen's review
The Passengers Of The Night
Dir. Mikhaël Hers
Read Screen's review
Three titles from French arthouse staples appeal in different, seductive ways and have racked up significant sales between them.
The Outfit
Dir. Graham Moore
Mark Rylance outdoes himself as a tailor caught up in the activities of the Chicago mob in this low-key twisty chamber piece written and directed by Graham Moore.
Read Screen's review
One Year, One Night
Dir. Isaki Lacuesta
Lacuesta follows a couple - played by Nahuel Pérez Biscayart and Noemie Merlant - during the year after they survive the Bataclan terrorist attack. A humane and emotionally involving piece.
Read Screen's review
Father's Day
Dir. Kivu Ruhorahoza
This soulful, contemplative film from Rwanda's Kivu Ruhorahoza traces echoes of the past on the patriarchal society of today.
Read Screen's review
This Much I Know To Be True
Dir. Andrew Dominik
Nick Cave and Andrew Dominik resume an enormously fruitful collaboration.
Read Screen's review
Rimini
Dir. Ulrich Seidl
Read Screen's review
The Line
Dir. Ursula Meier
Read Screen's review
Two impressive lead performances, both of which should guide their films into a long festival voyage. From Austria via the Italian seaside in Rimini comes Micheal Thomas with a quite extraordinary performance of a gone-to-seed cabaret artist. And from Switzerland, musician-actor Stéphanie Blanchoud co-wrote the script for The Line with Ursula Meier. Playing a troubled, aggressive thirty-something daughter of a scattershot family, she made quite a mark.
We Might As Well Be Dead
Dir. Natalia Sinelnikova
Everyone loves a festival discovery and Natalia Sinelnikova's graduation film opened Perspektive Deutsche Kino with aplomb, besting many of the titles in bigger strands.
Read Screen's review