RT Features CEO Rodrigo Teixeira talks working on a host of festival favourites.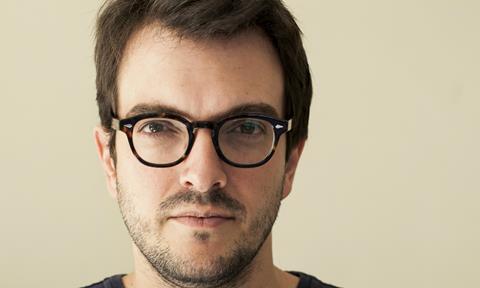 Rodrigo Teixeira has built a name for himself championing acclaimed low-budget features such as Robert Eggers' The Witch and Geremy Jasper's Sundance hit Patti Cake$, which is screening at this year's Cannes Film Festival in Directors' Fortnight.
The Sao Paolo native moved into film-making from finance a decade ago, prompted by the desire to work in an industry he had loved ever since he started devouring US cinema as a child.
Although his financial background gave him good business experience, Teixeira wasn't happy. "I didn't feel connected with that world," he explains.
Teixeira, who is an avid reader, started buying the film, TV and stage rights to novels by Brazilian authors. "I didn't have a film background so I thought this was a way in," he says.
First credit
He received his first producer credit for Bruno Barreto's Romeo And Juliet Get Married in 2005 and went on to set up RT Features with a group of private investors later that year. The company produced and financed Heitor Dhalia's comedy drama Drained, based on a book by Lourenco Mutarelli to which Teixeira had previously bought the film rights. Drained played at Sundance in 2008, giving Teixeira his first taste of the film world outside Brazil.
And this also gave Hollywood its first taste of Teixeira as US producers started expressing interest in two books he had optioned: Bottomless Belly Button by Dash Shaw and Atmospheric Disturbances by Rivka Galchen (neither have been made to date). He also secured a US agent in UTA, although he is now represented by CAA.
"UTA started representing me because I had money and taste," says Teixeira, bluntly. "It was the economic crisis and people weren't putting money into development but it was also a good time to buy books. I started developing a lot of material. My [then] agent Rich Klubeck called me in 2010 and asked if I knew Noah Baumbach and could I finance his new film?"
Luckily Teixeira knew and liked Baumbach's work and was keen to work with producer Scott Rudin, who was already attached to Baumbach's project. Through RT Features, Teixeira committed to produce and fully finance Frances Ha.
"That put me in a position to finance new ventures and projects," he says. "My career in Brazil was going the same way."
Teixeira went on to fully finance Baumbach's Mistress America, backed Ira Sachs' Love Is Strange and was second-position financier on Kelly Reichardt's Night Moves. At the same time he got in early on a script by rising new director Robert Eggers, and despite being written in arcane English, Teixeira invested in the horror film and produced with Parts & Labor. The result was The Witch, the Sundance breakout of 2015 that became a commercial hit in the US through A24.
Teixeira was back at Sundance this year with Patti Cake$ and Luca Guadagnino's Call Me By Your Name, which RT Features co-financed with Memento.
Teixeira remains involved with Brazilian cinema and has backed Jonas Carpignano's drama A Ciambra, which is also screening in Directors' Fortnight. It is the first completed feature to come from RT Features' partnership with Martin Scorsese and Emma Tillinger Koskoff's Sikelia Productions. WME brokered the meeting between the two companies and they struck a deal to unearth new voices.
After Cannes, Teixeira hopes to begin production on James Gray's Ad Astra, starring Brad Pitt, this summer. Produced by New Regency, it is his biggest project to date and is the fruit of a four-hour lunch with Gray discussing everything from their favourite world cinema to their most-loved books. RT Features also funded the film's development.
There are three Brazilian films ready to go this year: Karim Ainouz's The Invisible Life, Jose Eduardo Belmonte's Rio Siege 2 and Aly Muritiba's Blood-Drenched Beard. FT Features is also in post on the second season of El Hipnotizador for HBO Latin America.
RT Features may open a US hub at some point, but for now operates a modest staff, with Teixeira working closely with colleagues Lourenco Sant'Anna in Sao Paulo and Sophie Mas in Paris. Although independent film-making is Teixeira's first love, this shrewd businessman is also a realist. "It's important for people to watch our films and our main goal is a theatrical experience," he says. "However, I have sold a film to Netflix [The Silence Of The Sky] and it was important for the film. I look forward to working with them in the future."