Screen correspondents profile some of the hottest projects available to buyers at the American Film Market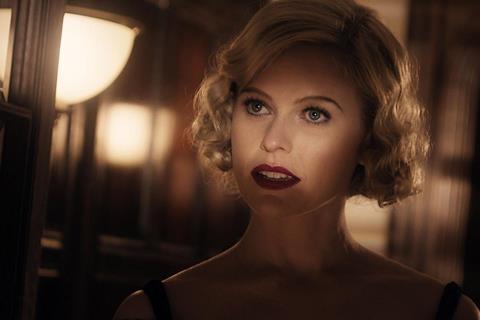 Lionsgate International will kick off talks on Anna from Luc Besson under its co-production pact with the French filmmaker and EuropaCorp chief, who is looking to bounce back after Valerian And The City Of A Thousand Planets. Besson wrote and will direct the thriller about a mysterious Russian salesgirl who becomes an international fashion icon. Sasha Luss, Helen Mirren, Luke Evans and Cillian Murphy will star and production is set for November. EuropaCorp's Marc Shmuger produces and Summit Entertainment will distribute in the US.
FilmNation will launch pre-sales on The Lodge, a supernatural horror film to star Riley Keough (The Girlfriend Experience, American Honey). The story follows two siblings and their young stepmother holed up in a remote cabin. Severin Fiala and Veronika Franz, whose Goodnight Mommy was Austria's 2016 Oscar submission, direct. FilmNation finances and is producing with Hammer Films' Simon Oakes and Marc Schipper. FilmNation and Endeavor Content represent US rights.
STXinternational will launch sales on spy thriller The Red Sea Diving Resort, a true-life tale starring Chris Evans as a Mossad agent who extracts thousands of persecuted Ethiopian Jews to safety. Bron Studios and EMJAG produce, and Endeavor Content and CAA represent US rights.
Sierra/Affinity arrives with Donnybrook, a "backwoods Fight Club-meets-True Romance" story to star Jamie Bell, Frank Grillo and Margaret Qualley. David Lancaster (Whiplash) and Stephanie Wilcox (Small Crimes) produce the film, about a military veteran who competes in a bare-knuckle contest to provide for his family. Tim Sutton will direct and BackUp Media is financing the project. UTA Independent Film Group handles US rights.
Bloom will be talking up The Burning Woman, a drama starring Sienna Miller, Jacki Weaver, Aaron Paul and Christina Hendricks. Jake Scott directs from a screenplay by Brad Ingelsby about a woman who must raise her grandson alone when her teenage daughter vanishes. Ridley Scott, Brad Feinstein, Michael Pruss and Kevin J Walsh produce and UTA Independent Film Group handles US rights.
Voltage Pictures arrives with Little Italy, starring Hayden Christensen, Emma Roberts, Alyssa Milano, Danny Aiello, Jane Seymour and Andrea Martin. Donald Petrie directs the rom-com about a young couple who fall in love despite a war between their families' competing pizza restaurants. Vinay Virmani, Ajay Virmani and Pauline Dhillon are producing, and Cassian Elwes represents US rights.
AMBI Distribution holds worldwide rights to the father-son drama Trading Paint, starring John Travolta. Shooting just wrapped in Alabama. Shania Twain, Toby Sebastian, Michael Madsen and Kevin Dunn also star in the story of a dirt-track racing legend who is drawn back into the game when his son joins a competitor's team. Karzan Kader directs, while AMBI produces and finances.
Kew Media (formerly Content) arrives with UK production Bees Make Honey, a flamboyant whodunnit starring Alice Eve that takes place at a Halloween costume party in England in 1934. Hermione Corfield and Wilf Scolding are among the cast. Jack Eve wrote and directed the film, and produced alongside AJ Riach through his Xploseve outfit in association with Flexibon Films.
Covert Media is financing and will be talking up The Secret, an adaptation of Rhonda Byrne's self-help bestseller to star Katie Holmes as a young widow with three children who hires a philosophical handyman with a hidden connection to her. Andy Tennant (Hitch, Sweet Home Alabama) directs from the screenplay by Byrne and Bekah Brunstetter. Producers are Robert Cort and Covert chief Paul Hanson.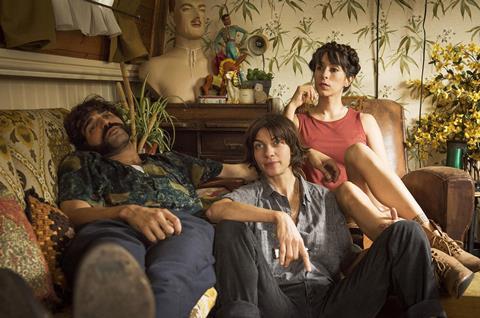 Visit Films holds worldwide sales rights excluding Spain and Andorra to the recent BFI London Film Festival selection Anchor And Hope. Carlos Marques-Marcet directed the comedy-drama about a carefree couple in their mid-30s in London who face a test when one of them wants to start a family. Oona Chaplin, Natalia Tena and David Verdaguer star.
Arclight Films' slate includes Second World War thriller Triple Threat. The film is in post and stars Celina Jade from Chinese smash Wolf Warrior 2, along with martial arts masters Tony Jaa and Iko Uwais (The Raid). Jesse V Johnson directs the story about assassins called in to kill a billionaire's daughter before she takes down a crime syndicate. Well Go USA has US, UK and Australian rights.
The Exchange has worldwide rights to Mary McGuckian's A Girl From Mogadishu, a true story based on the testimony of Ifrah Ahmed, who fled war-torn Somalia to become one of the world's foremost international activists against gender-based violence and female genital mutilation. Aja Naomi King (The Birth Of A Nation) and Barkhad Abdi star.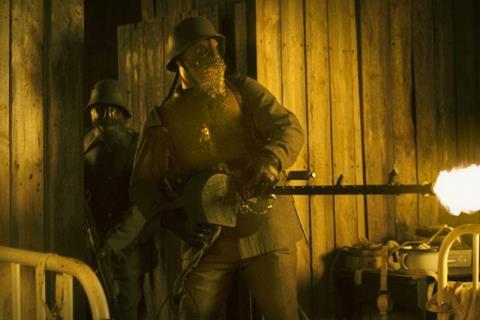 Toronto's Raven Banner arrives with Trench 11 from director Leo Scherman and producers Tyler Levine, Isaac Clements and Martin Katz. Rossif Sutherland plays a First World War tunneller who leads a group of Allied soldiers on a mission to stop a German plot that could turn the tide of the war. Rounding out the cast are Ted Atherton, Adam Hurtig, Karine Vanasse, Charlie Carrick and Robert Stadlober.
Epic Pictures arrives with worldwide rights to crowd-funded clown horror Terrifier. Jenna Kanell and Catherine Corcoran star in the story about a maniacal clown who stalks three young women on Halloween. Damien Leone wrote and directed, and the producers are Phil Falcone and George Steuber.
Buenos Aires-based FilmSharks will be talking up Paraguay's foreign-language Oscar submission The Seekers (Los Buscadores) from Juan Carlos Maneglia and Tana Schembori, the directors of Paraguayan hit 7 Boxes. The action centres on a 21-year-old newspaper deliveryman who happens upon a map that may hold the clue to buried treasure located beneath an embassy.
Double Dutch International begins talks on thriller A Violent Separation, about two brothers who struggle with a terrible truth that could tear apart their family. Brenton Thwaites stars, while Kevin Goetz and Michael Goetz direct. Dan Clifton of Cliffbrook Films and Christopher Watkins of Catapult Entertainment Group produce.
Bleiberg Entertainment will launch worldwide sales on recent Venice Film Festival Horizons selection The Cousin From Tzahi Grad. Ehud Bleiberg produced the comedy about a well-intentioned Arab-Muslim handyman in a small Israeli village who finds himself the target of an accusation. Grad stars alongside Ala Dakka.
Hyde Park International will present promo footage from Alex Pettyfer's directorial debut Back Roads. The screenplay, by Adrian Lyne and Tawni O'Dell, is based on the latter's novel about a young man from a secretive family who is in a relationship with a married woman. Hyde Park will also screen The Seagull for the first time. Annette Bening, Saoirse Ronan and Elisabeth Moss star. ICM Partners is the US sales agent.
Faith-based content purveyor Pure Flix/Quality Flix will handle Samson from director Bruce Macdonald. The origins story of one of the Biblical strongmen stars Taylor James, Billy Zane, Jackson Rathbone, Rutger Hauer, Lindsay Wagner and Caitlin Leahy.
The Little Film Company gives a market premiere screening to the completed rom-com Boogie Man from director Andy Morahan. Kush Khanna, Amy Jackson, Aston Merrygold, Jerry-Jane Pears, Roshan Seth and Nick Moran star in the contemporary story about a British-Indian teenager who becomes obsessed with an actress and all things from the 1970s.
Shoreline Entertainment will be talking up the completed rom-com Another Time. Justin Hartley and Arielle Kebbel star in the tale of an unexpected journey that leads to a surprise outcome. Thomas Hennessy directed the film and Alan Pietruszewski produced.
MPI Media Group brings Downrange from director-producer Ryuhei Kitamura, about a group of friends stranded by the roadside who become targets for a sniper. Genco and Eleven Arts financed the production, which screens for the first time here at AFM.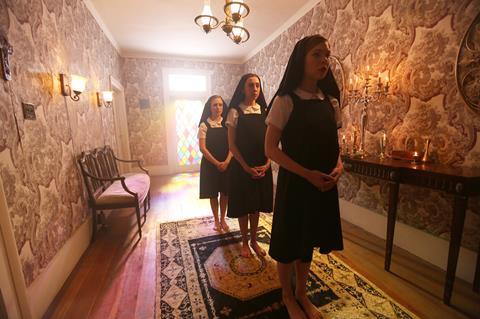 Octane Entertainment has worldwide rights to St Agatha, a horror feature in post from Saw franchise director Darren Lynn Bousman. The 1950s-set story follows a pregnant con-artist who seeks refuge in a sinister convent. Sara Sometti Michaels, Tara Ansley and Seth Michaels are producing.
Premiere Entertainment will be talking up Beneath Us to worldwide buyers. The film, which screens at the market, follows a group of undocumented workers hired by an affluent woman and her husband to work on their house, only to realise too late they have become trapped. Lynn Collins, James Tupper and Nicholas Gonzalez star.
Film Mode launches talks on SparkeFilms' sci-fi Occupation, which screens in the market and centres on a band of plucky survivors who strike back at invading aliens. Visual effects are by Sharp FX, one of the companies that worked on The Hobbit and The Matrix series. Dan Ewing, Temuera Morrison, Rhiannon Fish and Bruce Spence star. Pinnacle Films will release theatrically in Australia and New Zealand.
Spotlight Pictures will commence talks with buyers on Look Away, about a woman who enlists the help of an eccentric psychiatrist because she cannot see her mother due to a psychological affliction called selective blindness. Monty Whitebloom and Andy Delaney direct, and Lucy Barzun Donnelly and Alexandra Kerry of Locomotive Media produce.
Arclight Films' slate includes Phillip Noyce's Second World War action adventure Killer 10 from Thunder Road Pictures. The story is based on an idea by Arclight chief Gary Hamilton about convicts sent on a suicide mission to sabotage a chemical weapon.
Red Sea Media arrives with Heartlock, a completed thriller from director Jon Kauffman about a convict who tries to survive in a prison by any means necessary. Alexander Dreymon and Lesley-Ann Brandt star and Veronica Nickel produces.
Arsenal Pictures will be touting Memoirs Of A Virgin Whore, a $5m erotic thriller from Blueshore Films about a young writer who develops an edgy relationship with a publisher twice her age. John Singleton protégé Irwin Miller will shoot in Savannah, Georgia in March.
Magnolia Pictures International led by Lorna Lee Sagebiel-Torres will be talking up The Gospel According To André, the recent Toronto documentary premiere about the former Vogue editor-at-large André Leon Talley.
Saboteur Media arrives with The Wind & The Reckoning, based on the writings of Jack London. The adventure film will star Jim Caviezel and Jason Scott Lee and is the story of Ko'olau, the Hawaiian native who defied the US occupation. Shooting is set for April in Hawaii.
Read more:
AFM 2017: The buzz titles from the UK
AFM 2017: The buzz titles from Europe