South Korea's box office is back on track after cinemagoers were distracted by the country's recent presidential scandal, and a slew of Korean titles are ready to light up the American Film Market (AFM).
Around this time last year, South Korea was beginning to see a drop in box-office admissions tied to a wide-reaching corruption scandal involving the country's president Park Geun-hye. It arguably beat all fictional creations in outrageousness and compelled viewers to stay glued to their TVs and other devices to keep up with developments.
After several months that saw 10 million Koreans protesting on the streets, before Park was impeached and sent to jail in spring 2017, South Korean cinemas returned to business as usual. By the half-year mark in 2017, box office had hit an all-time high for the first six months of any year on record with $695m.
To date, seven of the top 10 hits of 2017 are local films, led by historical drama A Taxi Driver, which clocked up more than 12 million admissions and $85m. It is one of many features inspired directly and indirectly by real-life events and situations — historical, criminal, social and personal — in South Korea's often dramatic landscape. This is also reflected in the newer films on offer at AFM, ranging from fact-based historical drama 1987: When The Day Comes to personal and social conflict in After My Death and martial-arts film The Swordsmen.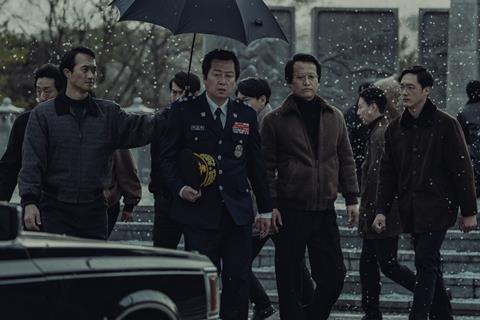 1987: When The Day Comes (Dir Jang Joon-hwan)
A historical drama from Jang Joon-hwan, known for Hwayi: A Monster Boy and Save The Green Planet!, 1987: When The Day Comes is set around circumstances that eventually toppled South Korea's military dictatorship. When a student dissident is tortured to death during an interrogation, ordinary citizens decide they have had enough and start to fight for truth and democratisation. The film, which stars Kim Yoon-seok (The Priests), Ha Jung-woo (The Handmaiden), Yoo Hae-jin (Confidential Assignment) and Kim Tae-ri (The Handmaiden), is scheduled for local release in December.
Contact CJ Entertainment filmsales@cj.net
After My Death (Dir Kim Ui-seok)
Winner of the New Currents Award at the recent Busan International Film Festival, where it had its world premiere, Kim Ui-seok's feature directing debut stars Jeon Yeo-bin, Seo Young-hwa and Ko Won-hee in a drama about what happens after a high-school girl apparently jumps to her death from a bridge. Without a body or suicide note, people begin to suspect Young-hee, the last person to see her. She is filled with guilt, but not necessarily for the reason they think.
Contact M-Line Distribution sales@mline-distribution.com
The Age Of Blood (Dir Kim Hong-sun)
The feature debut of TV director Kim Hong-sun is a period martial-arts film following Kim Ho, the Joseon Dynasty's best swordsman and the king's guard, who is suddenly demoted to prison keeper. When five martial-arts masters break into the jail to free a treasonous conspirator, Kim must battle them through professional duty and to save his family. Starring Jung Hae-in, Kim Ji-hoon and Hong Soo-ah, The Age Of Blood is set for local release on November 23.
Contact M-Line Distribution sales@mline-distribution.com
The Chase (Dir Kim Hong-sun)
The Con Artist and Traffickers director's new film is a crime thriller starring Baek Yoon-sik (Inside Men) as a grumpy old landlord in a town where people go missing, later to turn up dead. Sung Dong-il plays a former detective on the trail of a 30-year-old unsolved crime who shows up to ask for the landlord's help. The film was produced by AD406, the company behind Cannes hit A Hard Day, and CineZoo, and is set for local release this month.
Contact Contents Panda sales@its-new.co.kr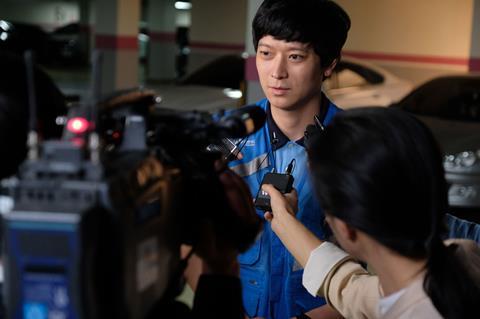 Golden Slumber (Dir Noh Dong-seok)
Based on Isaka Kotaro's bestselling Japanese novel of the same name, Noh Dong-seok's thriller stars Gang Dong-won (A Violent Prosecutor) as a kind-hearted deliveryman who happens to be meeting up with an old friend when a car explodes nearby. Suddenly, he finds himself the prime suspect in the assassination of a presidential candidate and trapped in a wide-reaching political conspiracy. The film also stars Kim Eui-sung (Train To Busan) and Han Hyo-joo (Cold Eyes).
Contact CJ Entertainment filmsales@cj.net
Keys To The Heart (Dir Choi Sung-hyun)
Starring Lee Byung-hun as a washed-up boxer and Park Jung-min as his younger brother with savant syndrome and exceptional piano-playing skills, Keys To The Heart is the feature directorial debut of Choi Sung-hyun. Comedy and strife ensue as the brothers start living under one roof. Youn Yuh-jung (The Bacchus Lady) and Han Ji-min (The Age Of Shadows) also star. The film is currently in post-production.
Contact CJ Entertainment filmsales@cj.net
Last Child (Dir Shin Dong-seok)
Winner of the Fipresci prize at the recent Busan International Film Festival, Shin Dong-seok's debut feature follows a couple who lost their son Eunchan six months ago when he drowned saving one of his friends, Kihyun. As the bereaved parents slowly make Kihyun a part of their lives, he confesses the shocking truth behind Eunchan's death. The film stars Choi Moo-seong, Kim Yeo-jin and Seong Yu-bin.
Contact Finecut cineinfo@finecut.co.kr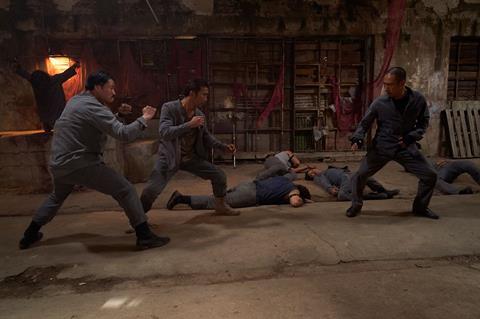 The Legend (Dir Seung-one Lee)
Lee's action film is set in a near future where capital punishment is banned but the most vicious criminals from the Asia Pacific are permanently exiled to AP101, a remote island where they live alone. A former top Interpol agent gets himself sentenced to the island in order to seek vengeance against the drug lord who had his family murdered. Starring Bruce Khan, Park Hee-soon and Yoon Jin-seo, the film is produced by Greenfish, who also made The Suspect and Memoir Of A Murderer, on which Lee was assistant director. He makes his feature debut with The Legend, which shot in Indonesia and Korea and will be released locally in summer 2018.
Contact Jamie Shin, Little Big Pictures jamies@little-big.co.kr
Mermaid Unlimited (Dir O Muel)
O Muel, who won the 2013 Sundance grand jury prize for the world cinema — dramatic competition with Jiseul, turns his hand to lighter-hearted drama with Mermaid Unlimited. The film is set on Jeju Island, known for its 'haenyeo' or 'sea women' who deep-dive without using any breathing equipment to gather seafood. The story focuses on Youngju, a former champion swimmer with an alcohol problem hired by the local authorities to put together a synchronised swimming team to promote haenyeo culture. Starring Jeon Hye-bin, Moon Hee-kyung, Lee Kyoung-jun, Ha Seok-min and Kang Rae-yeon, the film had its world premiere in Busan.
Contact Jason Chae, Mirovision jason@mirovision.com
The Swordsman (Dir Choi Jae-hoon)
This period action film stars Jang Hyuk (Volcano High), Jeong Man-sik (Asura — The City Of Madness) and Indonesian actor Joe Taslim (The Raid) as three swordsmen who cross each other's paths. One is searching for his only daughter after losing one of his eyes, another is the Joseon Dynasty's best swordsman who now chooses to live a simple life, and the last is the finest swordsman of the Qing Dynasty aspiring to become the best in Joseon too. The film is in post-production.
Contact Hana Choi, Opus Pictures hana@opuspictures.com