As AFM presents its second virtual edition (November 1-5), Screen profiles a selection of key titles that are looking to tempt buyers during the market.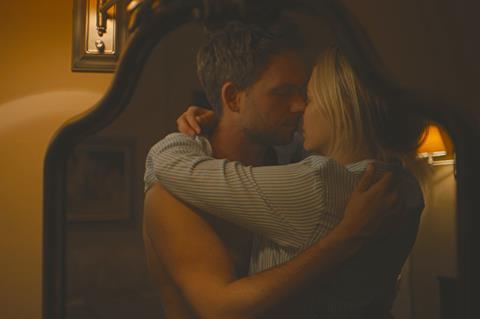 Bankside Films is launching talks with international buyers on Talk To Me, which stars Sophie Wilde, Miranda Otto and Otis Dhanji and is directed by Australian twins Danny and Michael Philippou, also known as YouTube sensations RackaRacka. The story follows a group of friends who inadvertently open the door to the spirit world. The film will commence shooting in February 2022, and is produced by Kristina Ceyton and Samantha Jennings for Australia's Causeway Films.
Cornerstone Films is launching sales on Wash Westmoreland's Helen & Teacher, which will star Millicent Simmonds as Helen Keller, the early 20th-century American deafblind activist, and Rachel Brosnahan as her translator and companion Anne Sullivan. UTA Independent Film Group and WME are overseeing the US sale. Cornerstone also has Catherine Hardwicke's Mafia Mamma starring Toni Collette as a suburban woman who inherits a mafia empire. CAA Media Finance is overseeing the US sale. Both titles are scheduled to shoot next year.
Altitude is looking to tempt buyers with Alex Gibney's UK-US thriller Two Wolves starring Viggo Mortensen and Caleb Landry Jones, which Altitude is also producing alongside Fields Park, Jigsaw Pictures and Big Beach. It tells the story of helicopter pilot Hugh Thompson, who saved a number of Vietnamese civilians during the US Army's My Lai massacre.
HanWay Films will be introducing Rupert Everett's second feature as a director, Lost And Found In Paris, based on the UK actor/filmmaker's own life experiences as a teenage rebel sent by his parents to live with a Parisian socialite family. Kit Clarke will play the young Everett, alongside John Malkovich, Kristin Scott Thomas and Everett. Production is due to kick off next spring. HanWay also will be handling international sales on Vaclav Marhoul's McCarthy. Michael Shannon leads as the controversial anti-communist US senator Joseph McCarthy. CAA Media Finance has the US sale. Production begins in autumn 2022 in Prague, Czech Republic and the US.
Protagonist Pictures' AFM slate is led by Call Jane, from Carol screenwriter Phyllis Nagy. Set in the 1960s, the film stars Elizabeth Banks as an all-American housewife who falls unexpectedly pregnant and seeks support from an underground abortion movement called the Janes. Sigourney Weaver and Kate Mara are also in the cast.
SC Films will be selling animated family feature Best Birthday Ever, based on Rotraut Susanne Berner's Karlchen book series and boasting a UK voice cast that includes Jonathan Bailey, Jennifer Saunders and Adrian Edmondson. Swedish filmmaker Michael Ekbladh directs and deals have already been confirmed for Germany (Leonine), France (Gebeka), Spain and Portugal (Big Picture), Sweden (Folkets Bio) and Benelux (Periscoop).
Film Constellation is continuing sales on Natalia Almada's Users, a documentary exploring how technological advancements may be impacting future generations, which won Almada a directing prize at Sundance.
Signature will be introducing Gatlopp: One Hell Of A Game to the market. The horror comedy is a debut feature from Mexican director Alberto Belli, centring on a group of friends who reunite for a games night that takes a deadly turn. Jim Mahoney wrote the script and also stars.
Metro International is leading with the Lindsay MacKay-directed musical romance The Swearing Jar, which follows a musician and her husband's relationship through music and memory, and stars Adelaide Clemens, Patrick J Adams, Douglas Smith and Kathleen Turner. The film is in the final stages of post-production and new footage will be screened during the market.
Mister Smith Entertainment is launching sales on The Great Emu War starring Rhys Darby, Monty Franklin, John Cleese and Jim Jefferies, with Yaniv Raz directing. The action-adventure is inspired by true events, in which the Australian military declared war on farmland-destroying emus — and lost. It is currently in pre-production.
Dogwoof is bringing McCurry: The Pursuit Of Color to the market, ahead of its world premiere at Doc NYC festival (November 10-18). Celebrated US photographer Steve McCurry — famous for his National Geographic magazine cover image 'Afghan Girl' — opens up about the stories behind his iconic images and reflects on the defining moments of his 40-year career.
Blue Finch Films is introducing Charli XCX: Alone Together to the market after its world premiere at SXSW in March. The documentary sees UK popstar Charli XCX attempt to produce her fourth album during the Covid-19 lockdown. It is the feature debut for duo Pablo Jones-Soler and Bradley Bell, who have previously directed music videos for Harry Styles and Dua Lipa.
Parkland Pictures will debut Richie Adams' US drama The Road Dance, which won the audience award at the 2021 Edinburgh International Film Festival. Hermione Corfield stars as a woman living in a small community in the Outer Hebrides whose dreams of leaving her strict home are shattered by the outbreak of the First World War. Sister company Parkland Entertainment is handling distribution in the UK and Ireland and aiming for a spring 2022 theatrical release.
Film Seekers is unveiling sci-fi thriller Blank, the feature debut of UK director Natalie Kennedy. Set in the near future, the film follows a struggling author who tries to cure her writers' block at an AI operated retreat, only to get trapped with an unhinged android following a software glitch. Rachel Shelley (The L Word, Deep State) leads the cast.
WestEnd Films is introducing Neil LaBute's thriller Out Of The Blue to buyers. Diane Kruger, Ray Nicholson and Hank Azaria star in the story of an ex con who embarks on an adulterous affair with a woman whose abusive husband and vulnerable stepdaughter further complicate the situation. The film is in post-production after wrapping its shoot in Rhode Island.
GFM Film Sales will be showcasing The Accursed, Kevin Lewis's follow-up to Willy's Wonderland. Mena Suvari headlines the horror tale about a woman who returns home from volunteering abroad as a nurse after her estranged mother dies by suicide. The feature has just completed principal photography and GFM will be sharing first footage with buyers.
Evolutionary Films will be market premiering Neil Mackay's Death Hunt, an action thriller about a vacationing couple who are kidnapped and taken to a remote island where they are hunted for sport by a group of sadists. It will also launch sales on The Gentle Sex, a slapstick comedy starring Joan Collins about a quartet of trained spies who are mistaken for grannies and must defend their home against the American who has inherited it. Evolutionary Films is co-producing the title.
101 Films International hopes buyers will make some noise for Code Of Silence, a crime drama set in 1960s London that revolves around the real-life detective (played by True Blood's Stephen Moyer) who helped to bring down London gangsters the Kray twins.
AMP Films is pushing time-loop horror film Death Spiral, directed by Simon Berry and produced by Tara L Craig. The film follows an inexperienced FBI agent who is killed in a cult ritual and wakes up to find she is stuck in an endless 24-minute time loop. The film is currently in pre-production.
Jinga Films' slate features Girl Next, a psychological thriller directed by Larry Wade Carrell about a young woman abducted by traffickers who use mind control to secure her obedience and turn her into a Stepford wife-type. The film sold to Gravitas Ventures in North America.
Kaleidoscope will be screening The Siege Of Robin Hood to buyers. Director and star Paul Allica wrapped production at the end of September.
Reason8 Films is focusing on Lithuanian drama Pilgrims, directed by Laurynas Bareisa and set in a small town where a ghastly crime has been committed. The film won the top prize in Venice Film Festival's Horizons section in September.
Moviehouse Entertainment will be pushing Jez Alsop's Fixed, a race-against-time drama about a low-level gambler (Nicholas Clarke) who attempts to start a new life in Malaga, until he is tracked down by a gangster looking for his stolen money.
Devilworks unleashes UK shark thriller Beneath The Surface, directed by Rebecca Matthews and Scott Jeffrey, about a woman who encounters a great white shark while on a family boating holiday. She survives the attack but finds more nightmares await her on dry land.