The UK's future exit from the EU will be a hot topic of discussion at the American Film Market (Nov 2-9), for the industry from both sides of the Atlantic.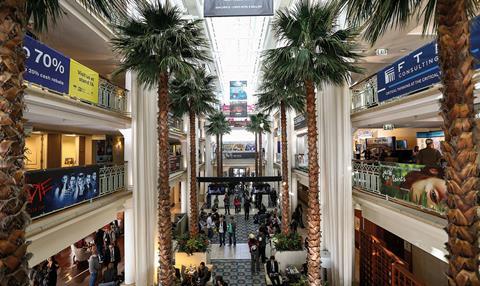 Move over, Netflix. Brexit is the industry's new bete noire. The UK's looming departure from the European Union dominated the agenda at the BFI London Film Festival and is likely to permeate discussions at the American Film Market (AFM, November 2-9).
For British attendees, the drastic drop of the pound against the dollar will be a headache, something Studiocanal UK CEO Danny Perkins warned in a recent jeremiad. "Any company in the UK running numbers on an American film is going to find the numbers much tougher," Perkins told Screen International shortly after delivering his keynote at the Film London Production Finance Market.
While the executive noted the Vivendi-owned company remained committed to the UK, there was no getting around the fact that the pound's lowest rate against the dollar in decades means a 20% or thereabouts price hike for UK buyers during their transactions at AFM.
"The conversations [with UK buyers] are going to be interesting," says Sierra/Affinity president of sales and distribution Jonathan Kier. "This kind of currency drop hardly ever happens and to have it do so in the country that's so close to us, culturally, and is an incredibly important trading partner, is something we'll all be watching carefully."
While the exchange rate is painful, the UK industry — officially at least — continues to insist it is business as usual. They say nothing is likely to happen until two years after the government triggers Article 50 of the Lisbon Treaty to start the Brexit process. It now appears this might happen by the end of March 2017.
When Screen International spoke to AFM managing director Jonathan Wolf two weeks before the market, the number of registered UK companies was up nearly 16% from 32 last year to 38 — the highest number since 2009, when there were 38. Admittedly, some of those companies will be saving costs by planting their flag at the Film Export UK stand. That makes financial sense, however, and the presence of the umbrella group itself for the first time in a while shows how the official apparatus of the UK industry is determined to remain positive.
They are not the only ones. "It's got a lot cheaper to shoot in the UK if $1.25 gives you £1," says Embankment Films joint founder Tim Haslam. "Many financiers run their businesses in dollars and this year we've converted the financing on films to shoot [in the UK] — all of which are dollar-financed, five of which are shooting in the UK and three of which shot in multiple European co-production territories."
The five UK shoots were Andy Serkis's drama Breathe, Olaf de Fleur's horror Hush, Jonathan Teplitzky's biopic Churchill, Ron Scalpello's My Name Is Lenny and Bjorn Runge's Glenn Close drama The Wife, which was scheduled to begin production on October 30. Drama Submergence starring Alicia Vikander and James McAvoy, Miguel Angel Vivas's Spanish horror Inside and Martin Koolhoven's recent Toronto world premiere Brimstone shot in a number of European territories.
Uphill struggle
Brexit is the latest addition to an obstacle course that continues to affect the independent sector. The challenge for producers and sellers is to remain vital at a time when talent is migrating to TV and theatrical audiences, engorged on new and highly capitalised platforms, are becoming pickier.
"Even to get to the starting gate now, you need a certain element to give you a chance to turn it into a movie and make it viable," says Alison Thompson of Cornerstone Films. Thompson recently sold out Denial, the Rachel Weisz and Timothy Spall-starring Holocaust drama that enjoyed a strong reception at its world premiere in Toronto. Like Cornerstone partner Mark Gooder, she believes the drama is emblematic of the kind of prestige package the market craves.
The company will launch sales in Santa Monica on Going Places — in which John Turturro reprises his cult role of Jesus Quintana, first seen in The Big Lebowski — and Kirsten Dunst's directorial debut The Bell Jar.
"There's much less of throwing it against the wall and seeing what sticks, because it won't stick unless it's really good," says Gooder, who places a premium on "distinctive storytelling".
"Audiences are very well served by other platforms and if you hit the bullseye with theatrical storytelling, there's still an audience there," he says, noting the US box-office success of Sully and The Girl On The Train.
Sierra/Affinity's Kier agrees that finding a top-tier screenplay is becoming a necessary way to stand out. "You cannot hide behind a weak script and say things can be fixed in post… Everybody is looking for unique voices and that's what they're focused on more now."
The company represented international sales on Kenneth Lonergan's prize-fighter Manchester By The Sea, which just picked up four Gotham Award nominations. Screenplays do not get much better than this, yet that much-coveted high quality can prove problematic. "The studios have come in and are playing in our space now in a way they had not before Nocturnal Animals [which Focus Features pre-bought for the world at Cannes 2015]," says Kier. "In Sundance, Universal came in and scooped up Manchester By The Sea from us."
Few independent buyers can compete with a studio or the likes of Netflix or Amazon Studios, which paid $10m for North American rights to Manchester By The Sea following its world premiere in Sundance last January. Film-makers, Kier notes, want the capacity to mount a theatrical release. It is no secret that Cary Fukunaga would have liked a larger theatrical play on Netflix's Beasts Of No Nation, while in Sundance this year The Birth Of A Nation director Nate Parker held out for an offer from Fox Searchlight.
On-screen talent may feel the same way. "I'm hearing rumblings that some actors don't think it's best for their big-screen career to be cast on the small screen," says Double Dutch International president Jason Moring. "You put them in a big-budget film and buyers are saying they're not a movie star any more. I think actors who want to be movie stars are refocusing their power and energy towards bigger films."
Disruptive forces
While buyers bemoan their inability to compete with deep-pocketed rivals, sellers must continue to engage in an awkward dance to keep all partners happy — both the traditional and the newer, disruptive buyers. With regard to the latter, Kier says it feels like the dust has begun to settle. "A year ago there were a lot of questions about what it meant with Amazon and Netflix coming into the market.
"Amazon has become a real theatrical player and Netflix's strategy as it relates to us has settled in, in terms of the films they're looking to acquire and how they acquire them. For better or worse for our buyers, that's coming into shape."
What is an independent buyer to do? "Diversify," says Bloom chief Alex Walton. "Try to get into material from an earlier stage and get involved with local content. Most independents in Benelux, Germany, Italy and the UK are more involved with local productions than they were five years ago. Most buyers will be exploring the TV space in their own markets and, in the case of companies like Gaumont, in the international market."
"Buyers are looking for elevated commercial material that has a combination of elements that will drive either prestige or commercial box office," says Paul Hanson, whose Covert Media recently launched foreign-language sales label Lexica Films. "It is a challenge for everyone to find something that can be packaged appropriately with a cast who are being pulled in different directions by studio films, high-quality TV and streaming services."
Packaging appropriately, some sources say privately, will probably mean taking risks on new names. It goes to the heart of pricing. It is critical to find the right financial balance — and who is to say that if something feels overpriced, it will not give UK buyers even more incentive to negotiate down on a minimum guarantee?
"Movies are selling for much lower than what you're typically making a movie for," says Cold Iron Pictures head Miranda Bailey, who is enjoying a purple patch with Richard Gere-starrer Norman, Sundance curio Swiss Army Man and Lake Bell's upcoming What's The Point?, among others. "As a producer and financier, the biggest challenge is finding the right film-maker to understand how to find the break-even point that suits the market and what people are actually paying."
"If you're prepared to support a smaller budget, it makes sense commercially and can attract meaningful pre-sales — there's business to be done," says Guillaume de Chalendar, global head of media and entertainment for Bank Leumi. "But if producers make films for budgets that are too high, the distributors are not getting the chance any more. For a lender like us, what do we lend against? Gap [financing] is one thing but there has to be some pre-sales if anything to validate the project. There are fewer 'good projects' that are banking-ready than there were, because distributors are not prepared to pre-buy at the level they were before."
Still, the shifting dynamics of the business will always represent opportunities for the sharp-eyed. As Embankment's Haslam says, "The disruption energises us and we try to anticipate. It makes us roll up our sleeves and that's exciting for an independent."