Agnieszka Holland's Competition title Mr. Jones stars James Norton, Vanessa Kirby and Peter Sarsgaard. The director tells Screen why she believes the trio's TV experience brought an invaluable energy to the film about the great Ukrainian famine.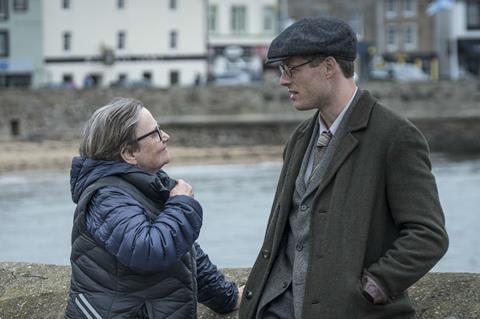 Agnieszka Holland nearly gave up on Mr. Jones. The Polish filmmaker was a year into the project and she had finally found the right actor to play the real-life Welsh journalist Gareth Jones, who exposed Stalin's genocide-famine of the Ukrainian people in the early 1930s.
But the actor (she won't say who) left when he got a "more interesting" offer.
"We thought we were finished," Holland admits. "We needed a 'name' for the finance and we needed quite an intelligent person. Then the agent of the guy who had left us, feeling some responsibility, started to make some movement around the project and suddenly we had a lot of interest. It was clear to me James Norton was the man."
Mr. Jones is the first big film role for Norton, the UK star of BBC TV series Happy Valley and McMafia. "James went into deep research. He's a very intellectual actor," says Holland. "It was the same with Vanessa [Kirby] who is very political and intelligent and well-read."
Kirby, whose credits include two seasons of Netflix's The Crown as Princess Margaret and Paramount's Mission: Impossible — Fallout, stars as a Moscow-based journalist who works with The New York Times and its Stalin-supporting bureau chief, played by Peter Sarsgaard.
Mr. Jones is based on true events and speculates whether Jones' actions helped to inspire George Orwell to write Animal Farm. "They were of the same generation, interested in the same subjects, living in London at the same time, having the same literary agent and mixing in the same circles," says Holland of Jones and Orwell.
The prolific Holland — whose In Darkness won an Oscar nomination for best foreign-language film in 2012, and was last in Berlin with Spoor in 2017 — was sent the script by a first-time US-based writer Andrea Chalupa.
Intriguing script
"Andrea had seen my films and my political statements and imagined I was the right person to direct it. I'm quite a popular film director in some circles in the US," Holland says lightly.
"I receive quite a lot of scripts dealing with terrible chapters in history. Mostly I respect their importance but I'm not very interested. I find it depressing to re-enter this reality. And most of the scripts are very superficial. So when I started to read this I thought I would end up putting it down but I was intrigued. Not only by the story and the characters but by the concept to connect it to Orwell's Animal Farm. I found it very powerful and moving."
Holland teamed up with Polish producers Klaudia Smieja of Madants and Stanislaw Dziedzic of Film Produkcja and secured support from the Polish Film Institute. Filming took place in three locations in three different seasons in 2018: winter in Ukraine (working with local outfit Film.ua), spring in Poland to stand in for London and Moscow, and summer in Scotland in which Edinburgh doubled for Wales. Angus Lamont's Crab Apple Films was the local co-producer. WestEnd Films has international rights to the project.
"We had very little time with Peter [Sarsgaard] who arrived [in Poland] at the last moment," Holland explains. "But those three actors, Peter, James and Vanessa, have great experience in working in very ambitious TV series. They had this immediate alertness about them and they were very fast paced. That can sometimes be damaging if it becomes superficial but it gave them a quick energy, which I personally like."
Indeed, Holland was one of the first European arthouse film directors to move fluidly between film and TV, working on the original raft of prestige dramas including HBO's The Wire and Netflix's House Of Cards.
Mr. Jones' core Polish crew included cinematographer Tomasz Naumiuk who had worked previously with Holland on her second-unit crew and whose credits include Claire Denis' High Life.
"We didn't want this to be a stiff period film," says Holland. "We wanted it to have its own energy and with Tomasz, he's a young guy and very open and creative. I'm not somebody who says, 'Do it like that.' It is a collaboration and I try to build the feeling of a creative community on set."
The lightness of the shoot was in sharp contrast to the film's dark subject matter and its echo of contemporary events. "The great famine forms the basis but this is also the story of corruption of media, the co-opting of the government and the indifference of people. If you have these three things together, they are all terrible. And we are very much in this situation right now