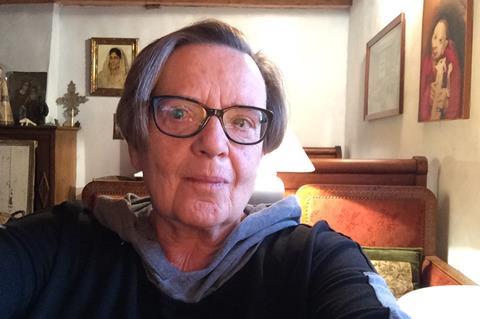 Polish director Agnieszka Holland has responded to a string of attacks by Polish government ministers on her and her Venice prize-winning film Green Border.
"I expected some heated reaction and political reaction," said Holland. "But I didn't expect such a tsunami of hate. And such an organised hate campaign coming from the highest authorities."
The political attacks started earlier this month with Poland's hard-right justice minister Zbigniew Ziobro comparing Green Border to Nazi propaganda from WW2. This week, the president of Poland, Andrzej Duda, also attacked the film, again comparing it to Nazi propaganda.
The Ministry of the Interior is now understood to be screening a short film in Polish cinemas before Green Border, putting its side of the story.
Green Border, which won the special jury prize at Venice, is released today (September 22) in Poland. It tells the story of refugees, charity workers, activists and border guards, whose lives intersect in the cold, swampy forests between Poland and Belarus.
The political attacks on Holland have been followed by virulent online campaign against the director and the film. Asked if she is worried about her safety as a result of the attacks, she said: "Of course. I'm a normal person and I'm reasonable - so I know that anything can happen. If you put a fire on the roof, it can burn."
Multiple organisations, including the European Film Academy and The Federation of European Screen Directors (FERA) and the Directors Guild of America have voiced support for Holland.
Holland speaks to Screen about why she believes the Polish government has taken the position it has, the legal action she plans to take and why the outpouring of international support for her and the film is so important.
How do you react to some of the comments that you have heard from Polish politicians about your film?
They are not 'comments'. They are insinuations, defamations and hate speeches. So how I can react? I am taking legal action.
Who will you take legal action against?
The one who started it - the minister of justice and attorney general Mr. Ziobro.
Did you expect such a reaction to the film?
I expected some heated reaction and political reaction because I knew that I touched some very sensitive spots with the film. But I didn't expect such a tsunami of hate. And such an organised hate campaign coming from the highest authorities.
Why do you think there is this campaign against the film and you? Is it something to do with upcoming elections in Poland?
The elections are reinforcing it…In a polarised country they are using the fear of refugees and the support of the police uniform as a tool against the opposition….But also they are furious that their narrative, which formed public opinion about what's going on on the Polish Belorussian border, [has been challenged]. They did everything to hide it, or at least not to have the images of it because they believe in the strength of images.
When the crisis on the Polish-Belorussian border started, [deputy prime minister] Mr. Kaczynski, who is the real author of all political decisions in Poland, decided to close the zone and forbid all media, humanitarian and medical organisations to go there, which is unprecedented. And he gave quite a cynical explanation: he said that Americans lost the war in Vietnam, because they allowed the media to come. When Americans saw the images [from Vietnam], it changed public opinion about the war. So, [Kaczynski] didn't want images. So, I created the images which are very true and very real and very, very strong.
In the face of all these attacks, having the film awarded at Venice must be a real help at such a difficult time?
I think it is a help. It gave awareness about the film worldwide. And also in Poland, it created a lot of the interest from ordinary people. But it also gave fuel to the hate, because they've been furious that I succeeded with something.
What do you make of all the messages of support you've had from film organisations across Europe?
They give me a lot of support. I've been told that support is also coming from the Directors Guild of America. Also, support is coming from my peers in Poland – from the Polish Film Academy, the Association of Filmmakers, Women in Film…a lot of people are on my side.
Yesterday, we had the premiere of the film in Poland with a very big crowd. They were extremely moved and there was also a feeling that something important is happening with the movie and also with the reaction of the authorities.
So, it is very intense. But, of course, it is dangerous. Because when the higher authorities are creating that campaign, a lot of people who are very responsive to their propaganda and also don't want to see more complicated or painful truths about what's going on, they will embrace the speeches and the statements and the action of the government that they can follow in unpredictable ways. It's why we are all very cautious now and we have to take care about ourselves.
Are you worried for your safety personally?
Of course. I'm a normal person and I'm reasonable - so I know that anything can happen. If you put a fire on the roof, it can burn.
What do you think about the government putting messages in front of the film in cinemas?
It is ridiculous. Have you ever heard of something like that? I think Poles are not duped. Especially those who already are going to the cinema to see the film - they will be not so susceptible to buy their primitive propaganda. I don't know how they can force the cinemas to screen it. I imagine they are paid spots. All this stuff is crazy. It's crazy, but at the same time it's dangerous.
Do you think that the film will make a difference to what is happening on the border?
We will see. The migrant crisis is the biggest challenge to Europe right now. So, I don't think that one film can…In the first place, it can give a face and voice to the migrants and refugees. If you don't see their faces, their suffering, their destiny, their choices, their children, their wives, their hopes, it's very easy to stigmatise them or dehumanise them.
What do you make of president Duda's comments about the film, where he compared it to Nazi propaganda?
The president of the country is comparing a Polish audience going to see a Polish film by an established Polish director about a very important contemporary issue in the theatres to pigs or Nazi collaborators, that is insane. At the beginning of his lovely speech, he said that he hasn't seen the film. They don't have any shame.