Oscar-winning documentary-maker Alex Gibney had recorded 200 hours of footage for his Lance Armstrong film before the doping allegations hit. He tells John Hazelton about rolling with events.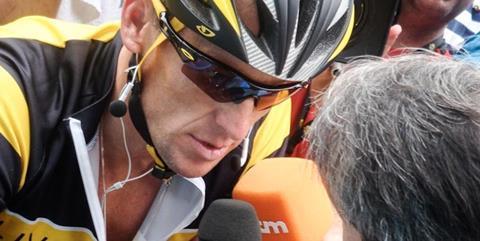 The best laid plans of documentary film-makers often go awry, thanks to the tendency for real-life events to play out in unpredictable ways.
But when renowned cyclist and cancer survivor Lance Armstrong admitted in January this year to using performance-enhancing drugs, the plans of documentarian Alex Gibney seemed to have fallen apart.
Gibney started making a film about Armstrong's comeback, following his 2005 retirement with seven consecutive Tour de France wins under his belt. The film-maker and his crew followed the Texan cyclist for a year, shooting Armstrong's rides in the 2009 and 2010 tours with an array of cameras and ending up with 200 hours of material.
But as doping allegations against Armstrong gathered force in 2011, the nearly completed film was put on hold. And when Armstrong finally came clean, Gibney briefly considered scrapping the footage and starting the whole project over again.
That idea was ultimately rejected because "I felt we had something in that 2009 material that was very powerful, for reasons we didn't necessarily understand at the time," Gibney says, recounting the difficult history of what became The Armstrong Lie.
"In making his comeback [Armstrong] allowed cameras along for the ride, so you can see the myth-making machinery in action," Gibney explains. "Both what's real about it and what's fake about it. That footage allows you a front-row seat for the Armstrong lie."
Using the old footage in the new 
version meant continuing a deal under which Armstrong got, in return for granting access, a cut of the film's back end. Gibney says the deal did not become an issue because "the arrangement was always that [Armstrong] had no editorial control. There was only one thing we had to do, which was to offer him the opportunity to respond to any allegations of drug use, which I would have done in any event."
Creating the new context meant filming additional material — including interviews with Armstrong and others shot after the cyclist's confession — and Gibney himself becoming a character in the film.
In the new version, Gibney replaced Matt Damon as the film's narrator, "both to allow myself to explore things that I had seen but hadn't been able to photograph and also to reflect on my own role as part of this myth-making apparatus". The director also appears on screen from time to time, giving him a presence that he has rarely had in previous projects. "On this one, I felt it was absolutely critical for storytelling reasons and for structural reasons too," says Gibney. "It allowed me to pursue a narrative that would go back and forth in time and space rather effortlessly."
The formula has worked, as the film was invited to world premiere in Venice, going on to screen at Telluride and Toronto. Sony Pictures Classics released in the US on November 8.
Truth crosses over
Gibney's feel for narrative seems to be confirmed by the fact several of his films have been followed by dramatic features on the same subjects.
Three years ago his Casino Jack And The United States Of Money was followed by Kevin Spacey feature Casino Jack, and this year Gibney's We Steal Secrets: The Story Of WikiLeaks preceded WikiLeaks feature The Fifth Estate.
The Armstrong Lie, whose producer Frank Marshall originally planned to make a feature based on Armstrong's battle with cancer, is set to be followed by Stephen Frears' as-yet-untitled take on the cyclist's story, starring Ben Foster. And Gibney's next release, the nearly completed Finding Fela!, may be followed by a now-in-development drama about music legend Fela Kuti.
So it is not surprising that Gibney himself is now developing a documentary and a feature with common subject matter. Both projects are for Universal, but Gibney will not reveal what the films are about and says he will not necessarily direct the narrative feature version.
He sees the unusual development plan as "a good model", and adds: "The documentary would come out first. But because it's an original story that's not been much covered, the idea is that along the way you'd see a portion of the story that would make sense to tease out as a fiction film."
Gibney has a strong track record in documentaries, including winning the Oscar in 2007 for Taxi To The Dark Side, but is also open to fictional narratives. He says: "Sometimes I think fiction films are better able to focus on a narrower bandwidth because they can more fully explore psychological territory."