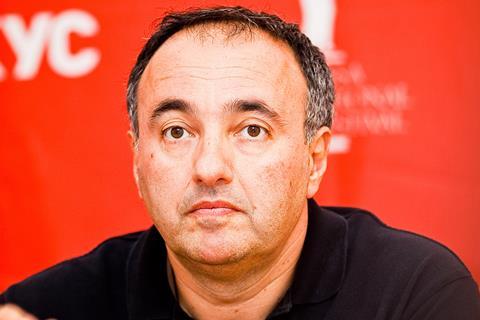 Alexander Rodnyansky is Russia's busiest and most prolific producer, making films for both the international arthouse market and for local Russian audiences including those who run more mainstream in their tastes.
The 60-year-old Kiev-born mogul had two features in official selection in Cannes earlier this summer: Kira Kovalenko's Unclenching The Fists, which won the Un Certain Regard prize, and Ari Folman's animated feature Where is Anne Frank, which screened out of competition.
He has many new films in the pipeline, among them Andrey Zyvagintsev's first English- language film, What Happens and his company AR Content recently signed a deal to produce Russian content for Apple TV.
"It's an amazing moment," he says of Russian filmmaking . "It has happened at not an easy time. I was so happy with the success of Unclenching The Fists because it is such amazing news for many young people. Kira Kovalenko is a young female director. She is a beautiful, smart intelligent young woman who came from this small town in the North Caucasus where no movies were produced. And she became an amazing filmmaker and won an award at a major festival."
He says Kovalenko was inspired by the work of UK director Andrea Arnold and now Rodnyansky expects Kovalneko in turn to inspire other Russian female directors.
"Unclenching The Fists is absolutely an independent film, financed by us, not by the state," the producer continues. "Generally speaking, I believe that most of the Russian films presented in Cannes, Venice and Locarno are independent. They're coming from the young filmmakers, the new generation. I believe Russia has changed. It is hard for Russia to be the same as it was 30 or 40 years ago. These people are different. They have absolutely different experiences and a different understanding of life. They're able to speak of their specific problems in a honest and decent way."
Venice spotlight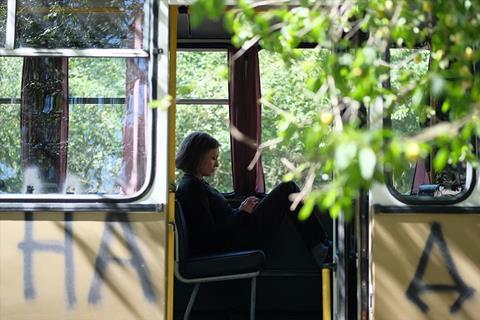 Rodnyansky is at the Venice Film Festival this month with yet another film from an emerging Russian auteur, Vladimir Bitokov's Mama I'm Home, sold by Wild Bunch International and screening in Horizons Extra. He says Bitokov's debut feature Deep Rivers greatly affected him.
"I immediately saw the tremendous internal energy, the striving for authenticity and the deep desire to depict human relationships dramatically and with authenticity," Rodnyansky explains.
Another factor was that Bitokov had studied under Alexander Sokurov, the Golden Lion- winning director for whom Rodnyansky has a deep reverence. (He also produced Sokurov's 2005 film The Sun). The producer sees Bitokov, like Kira Kovalenko and Beanpole's Kantemir Balagov, as another in Russia's new wave of hugely talented young filmmakers.
Mama, I'm Home, scripted by Maria Izyumova, is about a female bus driver in a small provincial town. She's a single mother who has just discovered her 18 year- old son died in Syria in very murky circumstances while working for a private military company.
On the face of it, a film like this is poles apart from some of the other bigger movies Rodnyansky has been involved with, whether Stalingrad or Frank Miller and Robert Rodriguez's Sin City: A Dame To Kill For in 2014. But he is at ease switching between intimate arthouse dramas and huge budget blockbusters.
"I am trying to work with people I admire, real artists," Rodnyansky reflects.
He may be a successful businessman but he comes from a family of filmmakers and is a filmmaker himself who, earlier in his career, directed documentaries.
"Personal stories, the real auteur cinema is my passion," he continues.
He sees himself as being "on the side of the talent." He relishes collaborating with younger filmmakers, "providing them with the support that makes it possible to do what they were dreaming of." At the same time, he produces with "strong" established directors like Zyvagintsev. What Happens is expected to have big international actors invovled but Rodnyansky says it will be similar in its themes and style to his Russian work. "He always tells very intense stories of family life. His idea for the next one is a story of that type - a dysfunctional family, even a broken family.
At the same time as supporting local filmmakers, Rodnyansky continues to work with US filmmakers, for example Rodriguez or Billy Bob Thornton, whose 2012 feature Jayne Mansfield's Car he produced. Earlier this summer Rodnyansky revealed he would be coproducing Godfrey Reggio's impressionistic new feature documentary NEOOONOWWW alongside Steven Soderbergh.
"Godfrey Reggio's films many years ago have impressed me so much. I would even say that they made me the filmmaker I have become. This was a chance for me I could not miss," he says of the film which will feature music by Philip Glass, the revered US composer whose work also featured in Zvyagintsev's Leviathan and Elena.
Back in Russia, work is about to begin on Kantemir Balagov's next film Monica, co-scripted with Marina Stepova. This is a father and son story. "The boy desperately wants his father to be a big personality's big character than he is," the producer says of the premise.
Rodnyansky is now working on a Holocaust documentary. He himself is named after his uncle who was executed in the Babi Yar massacre in 1941, when over 30,000 Jews were killed by the Nazis in Kiev. "I am Jewish and my family was deeply damaged by the Holocaust," he says.
The new film is being directed by Rory Kennedy, whose credits include Ghosts Of Abu Ghraib. It deals with the plight of Jewish refugees just before the Second World War. At the Evian Conference in France in 1938, 32 countries debated the refugee problem but only one, the Dominican Republic, agreed to take in German and Austrian Jews fleeing Hitler. Even then, the Dominican government's motives were suspect. The country's then dictator wanted more white people in the country.
"The idea is to bring together the historic element of the Holocaust with the context of contemporary life," he notes of the film, which is close to completing shooting. Oscar-winning UK filmmaker Kevin Macdonald is producing and Mark Bailey has written the script.
The veteran producer believes the new deal with Apple will give international exposure to new Russian talent. "When I decided to do the deal with Apple, it was my understanding that this would give me the chance to develop shows with amazing filmmakers - to tell the relevant stories from my part of the world and to attract global audiences. This is an amazing chance for us [in Russia]."