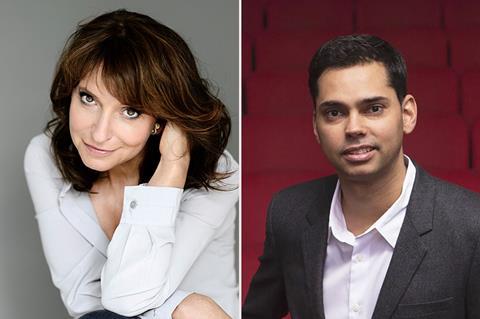 Susanne Bier and Rajendra Roy are singing the praises of streaming. The co-chairs of the international feature film executive committee at Ampas are in no doubt the ability to watch films digitally has helped the dissemination and appreciation of non-English-language titles. "As the category has evolved, there's been an amazing increase in accessibility to members viewing these films in tandem with rule changes and availability on the Academy portal," notes Roy, who is the Celeste Bartos chief curator of film at New York's Museum of Modern Art. "It has to add up to more active interest on the part of members."
The Academy changed its rules in 2020 in response to the closure of cinemas during the pandemic and broadened eligibility to permit films that debut on a digital platform, which for the time being has replaced the age-old requirement of theatrical-first. Members can also watch submissions on the Academy Screening Room portal.
While there have been no significant rule changes affecting the category this season, Bier — the Danish director of After The Wedding, Bird Box and In A Better World, which won what was then known as the foreign-language film Oscar in 2011 — is confident this year's crop of submissions will spark "vivid and exciting conversations".
The breakout success of Bong Joon Ho's South Korean phenomenon Parasite — which won the 2019 Cannes Palme d'Or and four Oscars including best picture, international feature film and director in 2020 — has played its part in piquing audience interest in storytelling beyond their geographical borders. This year, Julia Ducournau's Palme d'Or winner and French submission Titane and Joachim Trier's Norwegian hopeful The Worst Person In The World are among those to attract widespread attention.
"The category is undergoing a universal change, where different cultures are becoming more visible in terms of what we're watching," says Bier. "International film in that respect is very up-to-date and feels increasingly relevant."
Roy acknowledges the willingness of audiences, especially younger viewers, to sample content in other languages; Shang-Chi And The Legend Of The Ten Rings is ineligible as it is mostly in English but he is encouraged by younger viewers reading English subtitles while listening to Mandarin dialogue.
"It has been important to have the membership reflect the international creative community as well," he adds. "That increase has made a big difference." Around 22% of the Academy's 10,000-plus members are from outside the US.
Bier and Roy both pay tribute to Diane Weyermann, the late Participant chief content officer who, besides being a vocal champion of documentaries, served as co-chair of the committee for two years. "Her advocacy for accessibility, for getting these films in front of audiences, has changed the field in measurable and important ways," says Roy.
Voting in the international feature film category is open to all active Ampas members who opt in and meet the category viewing requirements. At the preliminary stage to determine the shortlist of 15 announced on December 21, members must watch a number of films depending on how many have been submitted — this year there are once again expected to be 93 titles so members must watch 12 from a required viewing list of 18 or 19.
To vote for the five nominees, participating members must watch the entire 15-title shortlist. The nominees are then announced on February 8, 2022. Final voting on the winner is open to active and life Ampas members who have watched all five nominees. More than 1,000 members are expected to participate in the entire process.
Last season's 93 submissions was a record, and Denmark's Another Round won out at the 93rd Academy Awards in April. "Some countries might have 200 films and they only get to pick one," says Bier. "Once you have the list from all the countries, it's exciting and reflects an incredible quality of moviemaking."
She hopes the category has a surprise up its sleeve. "There's always the miracle of this unexpected gem, which in this category seems to happen a lot. You're sitting there and suddenly get goosebumps as you watch this unexpected masterpiece. That's one of the particular joys of this category."