With his second Nick Cave documentary This Much I Know To Be True premiering in Berlin today, Australian filmmaker Andrew Dominik reflects on that film as well as his upcoming Netflix project Blonde.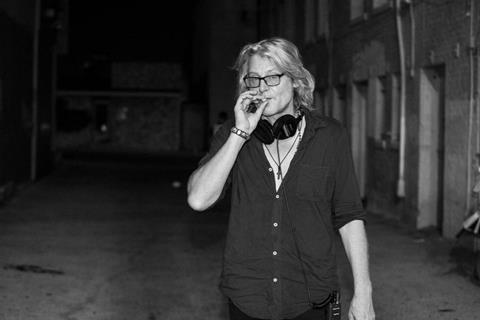 Andrew Dominik is in no mood for holding back. "Filmmaking is fucking boring as batshit. I see a movie I like maybe every two years. I just don't think cinema is a vital artform anymore."
The New Zealand-born Australian director is attending the Berlinale this weekend for the world premiere of This Much I Know To Be True, his second documentary on longtime collaborators Nick Cave and Warren Ellis, in Berlinale Special on Saturday.
The film depicts Cave and Ellis performing tracks from 2019's Ghosteen — on which Dominik has a mixing credit having lived with Cave in Los Angeles at the time — and 2021's Carnage. Songs are interspersed with reflections on life, mainly from Cave, who lost his 15-year-old son Arthur to an accident in 2015. The effect of his death on the family was explored in Dominik's 2016 documentary One More Time With Feeling.
"Nick's dealt with his grief, his family's grief, in the most responsible way he can," says Dominik. Now "it's about serving other people". The songs were shot over five days in early 2021, when Cave was "fucking bored", having had to cancel a big tour for that year due to the pandemic.
The frontman paid for the whole thing — "about what you'd spend on a commercial", says Dominik, who is in Berlin to try and sell it, and is exploring both sales agent and direct sale options. Among attractive points for buyers is a rare on-screen appearance from 1960s singing icon Marianne Faithfull, who recovered from a strong bout of Covid‑19 in time to take part. "I didn't win a trick with Marianne," jokes Dominik, describing her as "hilarious, difficult, defiant and charming".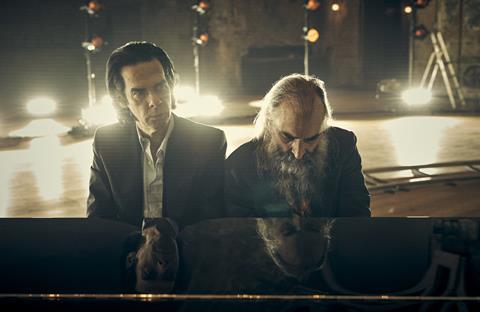 For all his derision for the medium in general, there is one film Dominik likes very much: Blonde, his upcoming biopic of Marilyn Monroe, for which Cave and Ellis provided the score, as they did for the filmmaker's 2007 Oscar-nominated The Assassination Of Jesse James By The Coward Robert Ford. "Blonde is the best movie in the world right now," says Dominik with conviction. "Blonde is a knockout. It's a masterpiece."
Starring Ana de Armas as Monroe, the film is based on Joyce Carol Oates' 2000 novel of the same name, which fictionalises real elements of the life of the late icon. He has been developing it since 2010, but with no takers from the major studios — until Netflix swooped in 2016. It shot in 2019, with Dominik confirming it is now picture-locked after a lengthy post-­production; he also suggests Net­flix is planning to release it later this year in cinemas (before it hits the platform) with a possible NC-17 rating in the US — which would be a rarity for the streamer in terms of that adults-only rating.
In summer 2021, reports emerged that Netflix was unhappy with the more controversial aspects of the film, including a scene featuring bloody menstrual oral sex. "That's not true!" laughs Dominik, who describes the claim as "hilarious".
He does confirm, though, that a rape scene in Oates' book appears in the film. There was back and forth with the streamer — which has yet to comment on the situation — about what was acceptable to include. "It's controversial, there's a bit for them to swallow," says Dominik. "It's a demanding movie — it is what it is, it says what it says. And if the audience doesn't like it, that's the fucking audience's problem. It's not running for public office."
The conflict almost came to a head early last year when the streamer "insisted" on bringing in another editor to "curb the excesses of the movie" — Jennifer Lame, whose credits include Tenet, Manchester By The Sea and Marriage Story. Having expected it to be "a fucking drag", Dominik was pleasantly surprised. "[Lame] actually tightened up the first three reels," he says. "I decided that whatever she wanted to do, I would help her do it — I would work for her. We made it better."
Another rumour was that Cuban native de Armas's dialogue had to be substantially dubbed due to her strong accent. While it was not that extensive, Dominik confirms there was "work involved in making her sound American." But all worth it. "The one thing nobody's going to complain about is Ana's performance," says Dominik. "I've worked with a lot of actors — that girl can do anything. She's just got more speeds than everyone else."
Culture clash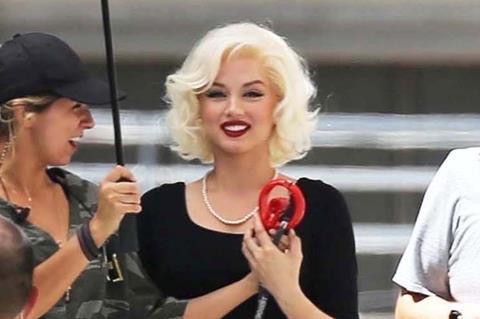 Blonde is "critical of American sacred cows" and "swimming around in all the #MeToo water", Dominik says. "It wouldn't have got done" without the social movement, "because nobody was interested in that sort of shit — what it's like to be an unloved girl, or what it's like to go through the Hollywood meat-grinder." Oates described it as a "brilliant… feminist interpretation" on seeing a rough cut in 2020.
The director calls the NC-17 rating "a bunch of horseshit… That's just the ratings board being political," he says, claiming it was awarded due to Monroe's status in US culture, not due to the content itself. "If I look at an episode of [HBO show] Euphoria, it's far more graphic than anything going on in Blonde."
Here he gives credit to Netflix, saying it is "very cool" the streamer is amenable to a film with that rating. "I have nothing but gratitude for Net­flix," he says. "They don't want an NC-17 movie. But when it counts, they are supportive. And Netflix are the only people that would pay for Blonde. It would not exist without them."
According to Dominik, the film is aiming to premiere at Cannes Film Festival in May this year, and Cannes delegate general Thierry Frémaux has seen it and "loves" it. An out-of-­competition berth is mooted, even with French culture min­ister Roselyne Bachelot having reduced the window between theatrical release and streaming debut to 15 months in January.
Netflix offered an eight-month compromise over Blonde if Cannes would accept the film into Competition, claims Dominik. He is incredulous that the French government declined the offer. "How many movies play for eight months?" exclaims the director.
For This Much I Know To Be True, "it was built for a theatrical experience", but the extent of that will depend on how this weekend's Berlin business goes. Dominik also has another feature project that he has written, sold and is intending to direct, but he cannot currently say more due to "a tricky rights situation".
Returning to the state of filmmaking, Dominik attributes the lack of daring movies to "a trickle-down effect [of] a basic cowardice" from studios and funders to filmmakers. He credits Net­flix again: "It's much easier to support stuff when you like it. It's much harder when you don't."
Several of his films, including Jesse James and 2012's Killing Them Softly, struggled at the box office, but have secured large fanbases in the ensuing years. "It's nice to be respected but it would have been better if it happened at the time," says Dominik, who hopes Blonde's 12-year journey might help in that regard. "Maybe the world has caught up to me."