Andrew Haigh's 45 Years is a truthful story about an older couple. He tells Wendy Mitchell about the film's thematic inspirations and working with the dream cast of Charlotte Rampling and Tom Courtenay.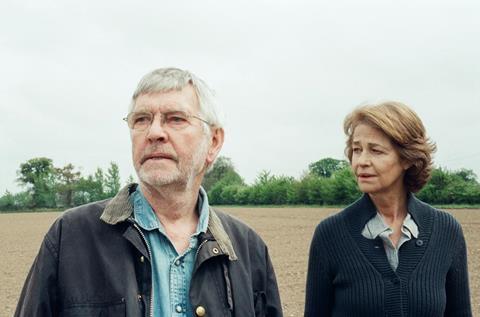 Andrew Haigh's 45 Years looks at a couple celebrating a long marriage, yet the director sees it as having similarities to his lauded 2011 film Weekend, which was about a couple's initial meeting.
"I do, in a sense, weirdly see both films as companion pieces; Weekend is the first flourishes of love and this is about a relationship years later," Haigh says.
45 Years follows Kate and Geoff Mercer, played by Charlotte Rampling and Tom Courtenay, in the week before a party for their 45th anniversary. Their relationship becomes strained when he is notified the body of his first love, Katya, is found in a Swiss glacier, where he lost her 50 years ago. Geoff has obsessive thoughts regarding the accident; Kate feels insecure when he admits he would have married Katya if she had not died.
"Kate and Geoff were in a different time when they got together, there were things they didn't talk about. That was their early 20s and that's really interesting to me that you become a certain person when you enter a relationship," Haigh says.
The film is not just about the couple now, it is about the people they were and the decisions they made when they first met. "It's about the choices we make when you start to go on a path in your life. You stop making those choices as you get older," Haigh says. "You get into a relationship and you get stuck on a certain direction."
45 Years, premiering in Berlinale Competition from today, is sold by The Match Factory; Haigh reteams with Weekend's producer, Tristan Goligher of The Bureau. Curzon has already acquired UK rights.
'Weekend is the first flourishes of love and this is about a relationship years later'

Andrew Haigh, director
Haigh has wanted to tell this story for years. He read David Constantine's short story, In Another Country, and started writing the script for 45 Years at the same time he wrote Weekend.
"It just really struck me; it was the central metaphor of this body frozen in time," he says. The adaptation was tricky, because the short story was 15 pages long, so Haigh had to develop the plot and characters to sustain a full feature.
The characters were originally in their 80s, and he updated that to a couple in their 60s and 70s. He also updated the time frame from the 1990s to present day. "I wanted it to be about an older couple living now. These feel like people of my generation even though I'm only 42."

An honest story
The writer-director's realistic, unpatronising approach to an older couple was one thing that attracted the veteran leads of Rampling and Courtenay.
Kate and Geoff are people whose age does not define them — they still have an active social life, have sex and read Kierkegaard.
"When I watch films about the older generation, they are stereotypical older people and those stereotypes don't make sense to me. The people I know of this age are still interested in the world and they are engaged in their lives," Haigh says.
"Charlotte and I talked a lot about it. She doesn't quite understand that representation of those 60 and 70 year olds that she sees on the screen. We wanted to tell something truthful about people of that age."
Courtenay and Rampling had met each other over the years, but had never worked together. They have a relaxed chemistry from the first scene. And working with consummate professionals meant their sex scene was somewhat relaxed to film.
"No-one was particularly nervous. I've done a lot of sex scenes now; it's all just about treating it as any other scene for me," Haigh says. "It's like an important dialogue scene. You make sure everyone feels comfortable. It's about keeping it simple… It feels honest and real and authentic."
Courtenay appears in only a pair of briefs, and he had no trouble stripping down, Haigh reveals. "Tom joked this was his first sex scene… some actors would have been self conscious but they aren't vain performers, they just want to do the best work."
Haigh says this film does feel like a big step up from Weekend in terms of budget and actors' profiles. But since he has been in California for the past few years directing, writing and executive producing the acclaimed HBO show Looking, with a crew of 150, the size of 45 Years was actually comforting.
"I had done the first season of Looking before I made the film, so it felt like a lovely return to doing something smaller again."
HBO is currently deciding on a third series of Looking, but Haigh has plenty of film ideas up his sleeve. "Film is where I want to be. I can do different things in film than I do in TV."