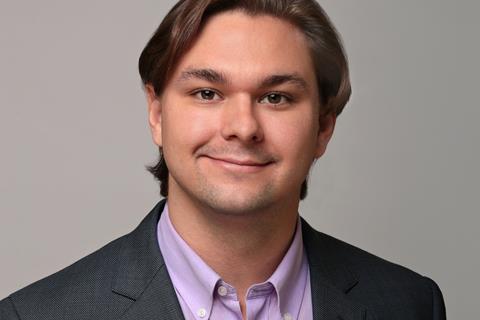 John Zois is the EVP of acquisitions and co-productions at Anton, the UK-based production, finance and sales company launched by Sébastien Raybaud in 2011 which co-financed the Paddington films, Non-Stop and A Shaun The Sheep Movie: Farmageddon, among others.
Los Angeles-based Zois runs Anton's US office and since arriving from Global Road in early 2019 has shepherded three films into production: Gerard Butler thriller Greenland, Sundance selection The Night House with Rebecca Hall, and Scott Free's Naked Singularity with John Boyega.
He also oversees AFM sales title Mothers' Instinct starring Jessica Chastain and Anne Hathaway, and a development slate of more than 10 projects.
Anton is co-financing a high-end TV drama fund with the BBC that is backing His Dark Materials, among others, and is partnering on a TV development slate with WestEnd Films.
What's your sense of the marketplace?
It seems like there's a solid slate of projects going to AFM. Globally there is obviously a great need for product. That, in combination with production slowly starting to ramp back up, means things are getting back on track.
What's on the production slate?
Greenland is coming out on PVoD [in the US] on December 18. The Night House we're still discussing with Searchlight [which acquired the film at Sundance]. Our pulpy thriller Naked Singularity should be wrapping up post-production very soon. We'll be able to talk more about our psychological thriller Come Closer very soon. We have a hefty development slate including our rom-com The Roommate based on the book that's being adapted by Meredith Dawson.
You haven't shot anything during the pandemic. Are you prepared to do so?
If there's a project that we feel is ready to go, we're going to figure it out no matter what. I don't think that we're going to slow down. We have plans in the very near future to put something into production.
Are talent willing to jump onto projects these days?
Yes. As a financier, we're in a more advantageous position because if we're on it, that project's going. Everybody wants to work.
What's your take on pre-sales?
On the domestic side, it definitely seems to be that they're focusing over the last few months on finished films, and to a lesser extent, footage which makes sense. However, as we saw during Cannes, there's still a huge appetite for some of these pre-buys for the right project. I feel Mothers' Instinct hits that mark for pre-buy.
You sold the world on Greenland to STX, they licensed international theatrical, and it's debuting in the US on PVoD followed by HBO Max. Why not hold out for theatrical?
Ultimately it made more sense to explore a hybrid model. And once we get through Covid and the theatres are hopefully fully operational again, we'll go back and look at our projects and consider both sides again. We've opened number one in 26 countries and we still have a good portion of the world to go.
The idea of holdout is the operative term here. As we've seen from the recent release of otherwise guaranteed blockbusters like Tenet, box office was very soft with [theatre] restrictions in place. There was a need for product from these streamers and in the case of Greenland, HBO Max and PVoD felt like the right move.
How important is it to your buyers that US cinemas reopen in New York and Los Angeles?
New York and LA in themselves are not going to be the ones making the difference. It's going to be about continuing to allow theatres to open with the proper precautions, and people feeling comfortable about going back.
How many films do you want to make each year?
Ideally we're doing anywhere from three to four films that we're fully financing, but we're looking at a number of different models where we can be involved in a much higher volume of projects, doing some local-language films, utilising our operation in Europe, and going after the more broadly commercial plays in the US, like Greenland.
Can you expand on your local-language plans?
We have a multi-cultural team based throughout the world and wide relationships. We're looking to tap into those and figure out ways to support great voices and how to help them get their films made.
What's on the agenda with regard to your television activities?
We partnered with former BBC international executive Tobi De Graff to launch the company Beiboot [a high-end television development, packaging and financing operation]. Anton's UK-based team and my colleague Celia Meirow [Anton's SVP business development] have a very impressive slate so these things are expanding our global television side. That side is really going to start taking off soon.
What's it like out there as a buyer? People have been writing lots of scripts this year.
The one thing we've been able to do without a hitch is continuing to develop. So yes, it has been a good time to do that. And I think that there's going to be a lot of great material coming up. Hopefully that will lead to a number of solid packages in the market very soon.