SCREEN SUBSCRIBERS: After the global success of Wild Tales, Argentinian writer-director Damian Szifron is taking advantage of the kudos. He tells Jeremy Kay about signing up for The Six Million Dollar Man remake.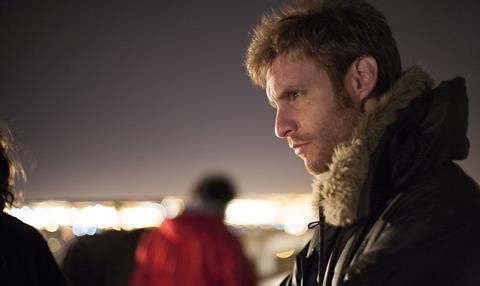 It is early December and a rainstorm has hijacked summer in Buenos Aires for a few hours. But, despite the weather, Damian Szifron's office says he is still on his way to meet Screen. Five minutes later, the director of Wild Tales, Argentina's biggest box-office hit in history, walks up in a raincoat, backpack slung over his shoulder.
There are not many Hollywood film-makers who would keep an appointment on a stormy day, much less walk to the interview.
"Sorry I'm late," he says, sitting in a covered outdoor café in the salubrious Recoleta locale close to his office. Szifron orders two coffees for the table and begins to talk easily about the film that changed his career.
As he is with the weather, the Buenos Aires native is phlegmatic about his professional life. His fortunes of late have shot up, yet he remains unfazed by success or the Hollywood chapters that lie ahead.
After acquiring a name for himself making films and TV in Argentina in the early 2000s, Szifron actually quit directing for a few years.
"I was getting tired of the rhythm of writing and editing and shooting and I was living that insane schedule and thought, 'I can do this but I'm not enjoying it,'" he says. "For a film-maker there's a point in your life when you need to do your stuff in a way that you can enjoy the process. Everything is better with freedom and control. So I stopped shooting and dedicated myself to only writing."
Ideas man
Szifron discovered that writing in the bathtub seemed to do the trick. The words flowed and as he tried to write features — a western, a rom-com, a sci-fi story now set up at Media Rights Capital (MRC) as a series called The Strangers — Wild Tales bubbled to the surface.
He found himself compressing story ideas and quickly realised what he had. "It was like an unwanted child that you fall in love with after it's born," says the 40 year old. "They all came out of frustration — I was in traffic having a fight with another driver; I was in line trying to buy something. I used all that fuel."
Szifron listens to music when he writes —loud rock, jazz, whatever the mood calls for. "Jazz albums were an inspiration [on Wild Tales]. John Coltrane, Miles Davis, Gerry Mulligan. You have a five-minute song, then a 25-minute song. The first story in the film is six minutes and 'The Wedding' is 35 minutes."
For Szifron, the asymmetry of his film is part of its anarchic allure. He is a fan of listening to albums in their entirety, and his belief in surrendering to the artist's overarching vision resonated with what he was doing. "When you listen to an album, you understand there is another work besides the song."
He initially developed between 30 and 40 short stories and wrote about 15, distilling the "wild ones" from the selection — which is how the savage salad of vignettes got its name.
He took the stories to Argentinian producer Hugo Sigman, the co-founder of K&S Films with whom Szifron had made 2006 action comedy On Probation (Tiempo De Valientes). Sigman told the film-maker it had to be his next project and showed it to his friends Pedro and Agustin Almodovar.
The Spanish brothers of El Deseo had been fans of On Probation and came on board. "[Pedro] didn't intervene; he was like a godfather," says Szifron. "He said the script is fantastic, listen to everyone and then stop and do what you need to do. When we went to Cannes [for the world premiere in 2014], he was the first in line and did a lot of interviews."
The Croisette was the start of a heady ascent that garnered international acclaim, an Oscar nomination for best foreign-language film and a record-breaking gallop to the summit of Argentina's box-office pantheon.
Wild Tales cost around $4m to produce (it is a 70-30 split Argentina-Spain co-production) and drew a record attendance for a local film in Argentina of 3,938,419 admissions, grossing $21.1m (ars180.3m). It is the fourth biggest release ever in the country behind Minions, Titanic and Ice Age 4: Continental Drift.
Never in Szifron's wildest dreams did he imagine such a result. He did not expect to premiere in Cannes, either, although the film's broad appeal is not surprising given that it wears its Hollywood heart on its (admittedly dark) sleeve.
"As a film lover, I always love films that usually don't go to Cannes and don't win Oscars," he says. "I love popular films and when I do my stuff I'm always thinking of the audience, not the critics or the juries of festivals.
"I'm not talking to them or to my colleagues or trying to do something different. I'm thinking of my father and me, some 30 years ago, when we went to see The Terminator, Die Hard, Blade Runner and Midnight Run and being so happy inside the theatre.
"We lived in downtown Buenos Aires, so we had to travel an hour or one-and-a-half hours. We went every week and sometimes we would see two or three films in a row. My father would pay money to the guys to let me into films like The Shining."
Theatre trips and watching old films on VHS provided a thrilling education for the young Szifron. He furthered his studies at La Fundacion Universidad del Cine (FUC) in San Telmo and never lost focus. His favourite cinema hails from the 1970s US scene: Jaws, The Godfather, The French Connection. Rocky, he says, wide-eyed, is "the perfect screenplay".
Hollywood heroes
Szifron says he gets fired up by a good story regardless of its provenance. "The important thing is to find creative freedom. Sometimes you find that in a popular film and sometimes you see that in an independent film."
This is an interesting statement for an untamed talent embedding himself in Hollywood. The Argentinian, however, has already begun to collaborate with the US and says so far, so good.
"After Cannes, I got US representation [with WME] and received a lot of offers. It felt natural to me to do an American film. If you see Wild Tales and my previous films, you can tell that's a storytelling style I'm used to.
"When people advise you not to come to Hollywood, they always talk about directors who were great in their countries and went to Hollywood and didn't make good films. "But you have a lot of foreign directors who made great films — Fritz Lang, Billy Wilder, Alfred Hitchcock, Vincente Minnelli, Guillermo del Toro, Alfonso Cuaron. For me, storytelling is international; it doesn't belong to a country. There's a thing that connects us all.
"In terms of politics and being South American, I guess I have issues with the US, but in terms of storytelling I have a lot of admiration. They made The Godfather and that film was made inside a studio, so I see this as an opportunity to learn, to have more mediums and production values to tell a story."
As well as the sci-fi series The Stranger for MRC, Szifron is now developing an original thriller for Tristar, and making The Six Billion Dollar Man for Dimension Films. Bob Weinstein hired him to write it last year, then upgraded Szifron's status to writer-director. Production is set to start in the autumn.
"I used to love The Six Million Dollar Man [TV series] when I was a kid," he explains. "I was developing an original concept for an original sci-fi film and I wanted to call it Cyborg, so I went online to see if the title was available and I discovered that the book on which The Six Million Dollar Man is based was called Cyborg."
He switched to a story about bionics and eventually folded it into Dimension's remake. "I want control but I believe in collaboration," he says. "Producers for me are not the enemy. You need them; they're a vital organ of a film. Wild Tales had great producers."
He knows what is required to succeed in Hollywood and is willing to keep up. The question is, can Hollywood keep up with Damian Szifron?