SCREEN SUBSCRIBERS: Two leading Argentinian producers and a top distributor discuss the state of the local industry and reveal their international ambitions. Interviews by Jeremy Kay.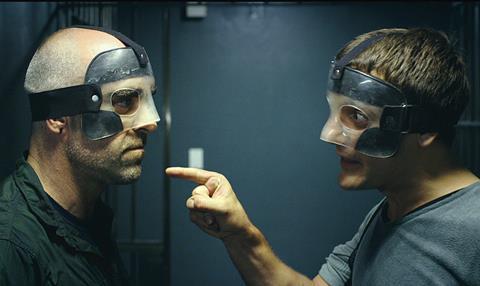 K&S FILMS
Matias Mosteirin is managing director of the production company behind the two biggest Argentinian films of all time: Damian Szifron's portmanteau Wild Tales and Pablo Trapero's thriller The Clan. The company was founded in 2004 by president and owner Hugo Sigman with Oscar Kramer
What do you look for in a film?
Talented film-makers with an original voice, creativity, innovation, international appeal and a universal yet provocative approach to what makes people tick.
How has the company evolved?
In the past few years we have grown enormously. In fact, we are now one of the leading production companies not only in Argentina but in all Latin America. We have produced two or three films each year and nearly all have been hits at the box office and well received by critics both here and abroad. Our films have premiered in official competition at Cannes, Venice, San Sebastian and Sundance, and screened around the world. Wild Tales was nominated for the best foreign-language film Oscar and won more than 40 international awards. It attracted more than 8 million spectators across the globe.
What are some of the key K&S Films relationships?
Long-term relationships are very important to us. In addition to the two co-productions with El Deseo [Wild Tales, The Clan] and Telefonica [The Clan, upcoming No Crook, No Crime (Cien Anos De Perdon)], we've done two films with Telecinco Cinema and have also put together a strong team with other partners in Spain including Morena, Vaca Films, Ikiru and Toro Pictures.
In terms of international sales, our productions have been screened the world over with excellent results and our joint work with Film Factory has proven highly beneficial. We have produced the two most watched films in the history of Argentinian film and forged local alliances with partners including
Lita Stantic, Cepa Audiovisual and Diego Dubcovsky. With Dubcovsky, we co-produced Cesc Gay's film Truman.
In recent years, K&S has also been providing a range of services for Hollywood productions in Argentina. Among others, we worked with Warner Bros on Focus starring Will Smith and Margot Robbie, and with New Regency for a few weeks on The Revenant in Argentina's Patagonia region.
Can you talk a bit more about your relationship with El Deseo?
To date we have co-produced two features, Wild Tales and The Clan, and it's been a wonderful experience. It's a relationship based on trust and a common vision. I would call it ethical film-making: transparency, hard work, support for the director, bold decisions. There is nothing like finding the right partner.
What does K&S have planned this year?
We are releasing No Crook, No Crime by Daniel Calparsoro and The Last Hero, a documentary by Emir Kusturica on the life and work of the former president of Uruguay, 'Pepe' Mujica.
This year, our focus is on development and production. We plan to have two movies shooting in 2016 and push three films through the pipeline for 2017. We also hope to see a French remake of one of our films. We also want to do our first fictional TV series and make audiovisual products for digital distribution. One of our goals is to produce a regional series for Latin America.
How much do your films travel internationally?
Distribution overseas is one of our priorities; the mission of K&S is to produce international films. In the past few years, one of our greatest satisfactions has been working closely with distributors of our films across the world. This has allowed us to grow, learn and enjoy what we do while working with incredible teams and exceptional professionals such as Monique Esclavissat and Griselda Fortunato at Warner Bros, Sanford Panitch [now at Sony], Rebecca Kearey and Tomas Jegeus at Fox, Michael Barker and Tom Bernard at Sony Pictures Classics, Andrea Occhipinti at Lucky Red, Olivier Snanoudj at Warner Bros France, Karin Beyens at Diaphana, Loïc Trocmé at Pathé Switzerland, Gaga in Japan, Curzon UK, and many others.
REI CINE
Santiago Gallelli partners with Benjamin Domenech and Matias Roveda in the arthouse production company Rei Cine, which also operates Rei Distribucion. Producer credits include Sand Dollars, Villegas and 2014 Berlinale selection History Of Fear. Rei Cine's Zama, directed by Lucrecia Martel, is expected to open this year
Is now a good time to be making films in Argentina?
We are lucky to have one of the world's best and more inclusive film laws, so I'd say the main achievement is to actually get to your first feature film as a lead producer. But it's competitive: there are more than 10,000 people studying film in Argentina and the funds available for a first feature are rarely enough.
Is there adequate public support for producers?
INCAA is the main source of public money. It is an autonomous entity that funds itself almost entirely from taxes, without direct intervention from the government. There is not any other meaningful source of public money, with the sole exception of the Buenos Aires regional tax shelter law, which was not designed for films and can therefore be a bit tricky.
What efforts are being made to provide more assistance?
Finding alternatives for development and production has become a top priority for producers in recent years. Through CAIC [producers' trade group Camara Argentina De La Industria Cinematografica], a joint effort is being made to improve this.
Do you finance your films with private finance?
Both international soft funding and INCAA support in Argentina are mandatory in order to get projects going and reach competitive visibility. More and more, we are starting to finance films using a hybrid public/private model.
Are you part of a community of like-minded young film-makers?
Absolutely. A new generation has emerged over the past few years.
Nevertheless, creative content is almost entirely driven by the director. Argentina is in desperate need of a new generation of screenwriters and producers. Our main concern is to establish a dialogue with the film authorities to shape a support policy that includes everyone and contemplates different films and production models.
ENERGIA ENTUSIASTA
Alejandro C De Grazia, founder and director of the privately owned distributor and sales agent, hails from a film business family. His father was a director at Warner Bros Chile and CEO at United Artist/Hoyts. Energia employs 13 people and has distributed more than 300 local and international films. Upcoming releases include Florence Foster Jenkins, Fifty Shades Of Black, Mother's Day, Free State Of Jones, Resurreccion and La Fiesta De Mi Vida
What sets Energia apart?
We create amazing marketing campaigns and work with local producers to boost their commercial prospects by helping them make the right choices, from cast to titles.
What are the company's biggest success stories?
In 2014, we were the top independent distributor in Argentina with more than 3 million admissions. Since 2009, no other independent company has reached that goal. We hit nearly 600,000 admissions with a local movie in 2014 called Socios Por Accidente. We hold the admissions opening record for a Woody Allen film in Argentina [Blue Jasmine] and the opening record for an Argentinian movie, Kryptonita, which debuted last year and saw more than 100,000 admissions. Last year we had great success with La Patota [aka Paulina] by Santiago Mitre, an amazing Argentinian film that won two awards in Cannes [Critics' Week grand prix, Fipresci prize].
How has the company evolved?
We plan to co-produce TV series and theatrical films for theatres in Argentina and VoD platforms across Latin America.
What about Netflix?
We are expanding to be the official aggregator of Netflix for Latin America.
What is the film business like in Argentina today?
Talent in Argentina is always emerging. Business is hard for the independents and it is difficult to compete with the majors. However, creativity is always the strength of the independents and great things will happen.
Does INCAA provide adequate support?
Regarding producers, yes. Regarding independent distributors there is more work to be done. There is a new president of INCAA, Alejandro Cacetta, and we are very optimistic.