Pixar's feature animation Soul opens the 15th Rome Film Fest today (October 15) as artistic director Antonio Monda prepares to mount a physical festival in the midst of the coronavirus pandemic.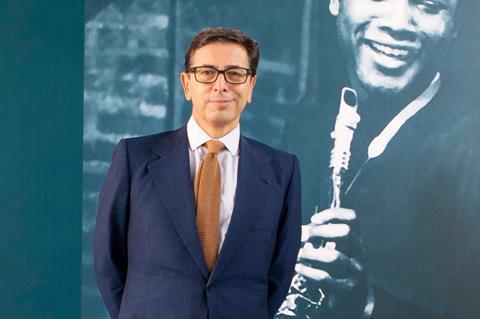 Following a few weeks after Venice successfully pulled off a physical edition, Rome's restrictions around public and industry attendance are similar to its predecessor and in line with overall national regulations: cinemas restricted to one-third capacity, with social distancing between seats; mask required at all times in auditoriums and temperature checks before entry; and international guests required to adhere to Covid testing rules depending on which country they are coming from.
For guests arriving from the US, an additional 10-day quarantine period is required.
The festival line-up is mostly festival favourites from 2020 so far but the notable world premieres include Franka Potente's directorial debut Home, an English-language drama starring Kathy Bates.
European directors Steve McQueen, Thomas Vinterberg and François Ozon will all be in town to host masterclasses. Also expected to present in-person masterclasses are British novelist Zadie Smith (White Teeth) and director John Waters, who are jetting in from the US. There will also be Zoom encounters with directors Damien Chazelle, Werner Herzog and Pete Docter; Docter and McQueen are both receiving the festival's lifetime achievement award.
Now in his sixth year as Rome's artistic director, 2020 also marks the final edition for the second of Monda's three-year mandates. His future continuation in the role remains unconfirmed.
Scroll down for all the films screening in Official Selection
Venice has shown how a film festival can happen smoothly with social distancing. But that festival received extra funding to do so and took place on an island. What measures is the Rome Film Fest taking?
Not only do we not have any extra budget but we have also suffered from severe cuts. Our budget has gone from approximately €4m [$4.7m] to €3m [$3.5m]. But I don't think the audience will notice as they are almost invisible changes. We had to cut some movies.
With the Covid-19 situation as fluid as it is, what is your plan B in case your guests can't fly to Rome?
We will still have the masterclasses via Zoom. I think it's something that will probably be kept for the next editions.
The line-up of the fest seems not to have been affected by the shortage of films due to the various lockdowns, how is that?
We have eight films from the Cannes 2020 official selection. But what makes me happy is that we managed to keep our architecture intact. This edition will be three-quarters physical.
In the past you've championed the idea of less glamour and more focus on films. Do you think the pandemic has forced all festivals to go in that direction?
Of course, this has been a tragedy, people have died, there's nothing to be happy about. But it's true it has brought more focus on what really matters. I think some sobriety is needed once in a while. It's refreshing. The obsession we had and the press has had for red carpets sometimes has put the substance in the background. Films are more important.
This year will close your second, three-year mandate as director of the Rome Film Fest. Are you interested in a third mandate which would run 2021-2023?
It has been a great experience. Let's see what happens.
Rome Film Fest: Official Selection 2020
Soul (US) opening film
Dir. Pete Docter
9 Days At Raqqa (Fr)
Dir. Xavier de Lauzanne
After Love (UK)
Dir. Aleem Khan
Ammonite (UK)
Dir. Francis Lee
True Mothers (Jp)
Dir. Naomi Kawase
Faithful (Fr-Bel-Alg)
Dir. Hélier Cisterne
Home Front (Fr-Bel)
Dir. Lucas Belvaux
The Speech (Fr)
Dir. Laurent Tirard
Another Round (Den)
Dir. Thomas Vinterberg
Summer Of 85 (Fr-Bel)
Dir. François Ozon
Fireball: Visitors From Darker Worlds (UK-Aus-US)
Dirs. Werner Herzog, Clive Oppenheimer
Fortuna (It)
Dir. Nicolangelo Gelormini
Home (Fr-Ger-Neth)
Dir. Franka Potente
I Carry You With Me (US-Mex)
Dir. Heidi Ewing
The Jump (Lith-Lat-Fr)
Dir. Giedrė Žickytė
The Best Families (Per-Col)
Dir. Javier Fuentes-León
Forgotten We'll Be (Col)
Dir. Fernando Trueba
Ricochet (Mex-Sp)
Dir. Rodrigo Fiallega
The Shift (It-Bel)
Dir. Alessandro Tonda
SMALL AXE: Mangrove; Lovers Rock; Red, White And Blue (UK)
Dir. Steve McQueen
Stardust (UK)
Dir. Gabriel Range
Supernova (UK)
Dir. Harry Macqueen
Under The Open Sky (Jap)
Dir. Miwa Nishikawa
Time (US)
Dir. Garrett Bradley
In co-production with Alice nella città
Herself (Ire-UK)
Dir. Phyllida Lloyd
Tigers (Swe)
Dir. Ronnie Sandahl