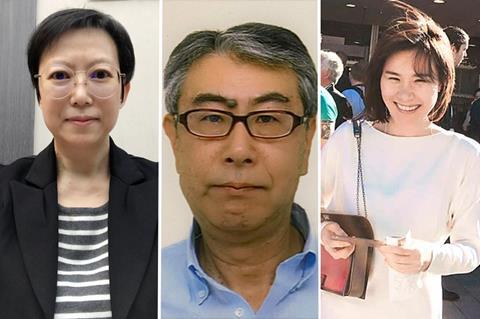 As the film industry has reeled and adapted to the impact of the pandemic over the past two years, Asian buyers have adjusted to changes both at markets and in the way audiences consume content. Going into Hong Kong's Filmart Online (March 14-17), Screen spoke to three key Asian buyers about how the business has changed, the impact of streaming platforms and what might come next.
Joy Chai, VP, sales and acquisitions, Applause Entertainment Taiwan Branch (Hong Kong)
How has your business changed as a result of the events of the past two years?
In Taiwan, we are almost back to our normal lives now. Omicron is still around but the government is good at controlling the spread and we are quite fortunate in that sense. But the damage has been done and the box office has not come back 100% so we have to rethink what the audience wants.
We opened the restored version of The Last Emperor in 2020 when Covid-19 was pretty bad but it did well. We managed to reach beyond the arthouse audience, which was the main target for this film, and reached a mainstream, younger generation still willing to go to cinemas. It became the highest grossing restored title up until now and we have since released a number of restored films catering to this audience.
If you look at box office, there are a few tentpoles that over-perform, or Japanese animations that do well, but most films in the middle – even with an A-list cast – do not do well. Eventually, we are optimistic the box office will fully recover but for now we need the pure big-screen experience or something phenomenal that everyone is talking about so it becomes a must-see. Audiences pick very specific films so we have to change our acquisitions strategy to be specific too.
How has the rise of streaming platforms changed how you do business?
Applause is 19 years in the business and we see ourselves as a theatrical distributor and a very marketing-driven company. We do not release a lot and are very selective. So with the rise of streaming platforms, we are facing competition in acquisitions and even from the studios as well.
After Covid-19, audiences feel going out is risky and it has changed their viewing habits. There are so many platforms and so much content they can choose from.
We have started to expand from theatrical distribution into production, license and merchandising, and are using our expertise and marketing resources to actively work on a few TV and movie projects with local filmmakers. We have also established ties with local filmmakers in distributing their films, working with local productions from the early script stage to brainstorm with them and provide publicity throughout their entire release campaign.
Since 2020, we have been the exclusive theatrical partner to Studio Ghibli in Taiwan and were Netflix's publicity agency in Taiwan from 2018 to 2021.
What are the benefits of a virtual market? Are you looking forward to returning to physical markets or has that circuit changed forever?
The benefit for me is that I get to stay indoors instead of running around in the hot sun or getting caught in the rain and traffic, so it's more efficient. A meeting is one click away and all you need is a laptop.
On the other hand, virtual markets tend to drag on and people get distracted. They take time to review and make offers, unlike at physical markets which move very fast and time is of the essence. Physical markets can be more personal with the hugging and drinking, the festival vibes and enjoying screenings and red carpets –it's all very real and alive. I think we will all eventually go back to that and people are doing their best with the new normal – temperature checks and Covid tests.
To be in a long-haul plane at the moment is really quite frightening with hygiene issues. The Taiwan government has reduced the number of quarantine days to 10. Traveling is still tricky and you have to think carefully about it. I think the more comfortable time will be Busan [International Film Festival, in October]. Hopefully more sales agents will be able to attend Busan and other Asian festivals.
Keizo Kabata, managing director, Twin (Japan)
What do you consider to be the health of the market, in terms of the quality of international features available to buy for your territory?
I don't see any issues with the quality of available films, but there have been some challenges with setting release dates in Japan due to the postponement of release dates in the country of origin.
In 2021, the theatrical market share in Japan was split 80% for Japanese films and 20% for foreign films. The 20% share is inclusive of US major studio releases. Japanese film distributors, which focus on theatrically releasing foreign films, have been challenged by this limited market share.
Has the rise of streaming platforms changed how you do business?
Many of our films are shown at arthouse cinemas where the majority of the audience are middle-aged or elderly. In the pandemic, these attendees either stopped going to arthouse cinemas entirely or chose to watch their first choice in theatres, relegating their second and third choices to home streaming platforms. As a result, we decided to launch our own SVOD platform "JAIHO" last year, which targets avid cinema lovers.
How has your business changed as a result of the pandemic?
We have chosen to focus the majority of our energy on VOD and pay TV due to unstable theatrical market conditions. We have also moved to allocate more resources to our catalogue business.
What are your plans for the year ahead – in the short term, releases; in the longer term, your business strategy?
We plan to release 20 films theatrically in 2022 including One Second in May, Escape From Mogadishu in July and The Battle At Lake Changjin in September.
In addition, we will launch an alternative theatrical label branded "JAIHO" in order to cultivate a younger audience at arthouse cinemas. Bad Luck Banging Or Loony Porn, The Story of Film: A New Generation and Vengeance Is Mine, All Others Pay Cash are all films which will be released under the JAIHO label.
Sinae Kim, managing director, AUD (South Korea)
What is one of the biggest changes you've seen in the past few years in terms of the market for acquisitions?
Even if you sign a contract at the pre-production stage, you have OTT companies that will pick up worldwide rights and we have to cancel our contracts overnight. It has happened to us a couple times, even with a film that had completed delivery and we had gotten through ratings. So even when you think a deal is done, it's not. But if we had said no to giving them back the Korean rights, then the seller wouldn't be able to sell worldwide to Netflix. So they asked for our cooperation, apologized and refunded the money we had spent, including on ratings and translations. Of course we were surprised and it wasn't in the contract so we could have rejected it, but you talk it through and ask for a better deal on the next film.
How has the way you operate your business changed since the pandemic?
After about a year of the pandemic we could see that most films - aside from very big ones - would only get about one-third of anticipated audiences. People's lifestyles and content consumer habits have changed, so like most companies we are looking to reduce marketing costs. We are modulating between films we go strong on the marketing for theatrical, and films that go straight to VOD in a more efficient way. You end up buying fewer titles unless you are sure about them.
We also started buying drama series. We picked up theatrical rights on the Taiwanese drama Someday Or One Day and showed two episodes in cinemas. Usually, people only see films at the cinema but this was to test out a new market. It did better than expected. The series was well-known before, so we said, 'Let's try a theatrical release while keeping P&A marketing costs down'. People will come through their own personal tastes and interests, and if they are not interested, they won't come – even if you advertise.
The DVD came out last month and props came over from Taiwan [for exhibition]. This is something we would never have thought of doing two years ago. The pandemic has changed the way we look at content. We are now expanding our interests from just doing films to drama series including remakes, as well as publications and photo exhibitions.
How do you feel about virtual markets and returning to physical markets?
Physical markets and film festivals with their red carpets and promotional activities probably have more significance for directors than for us. But I'm hoping this ends quickly because aside from meetings and deals, there is the aspect of information gathering and being able to see new things at physical markets. When you are going around seeing things and talking with people, meeting a friend of a friend who lets you know something – there are gems of information you get like that, in the half-joking, half-serious comments people make, and at the very end of a festival when you see which film is the most talked about.
I'm hoping to go to Cannes but there is a fear of the long-haul process of getting there and back, whether you have to quarantine or not. And if you were to get Covid-19 when you got there, you wouldn't be able to work, and would you be able to get proper care overseas? Would it be worth the risk? Asian countries are comparatively safer in terms of Covid-19 infection rates. If European sellers would be willing to come to a festival like Busan, that would be welcome.