Headed by a new team, the Asian Film Market is expanding into the TV and streaming industries, as well as strengthening links with Southeast Asia.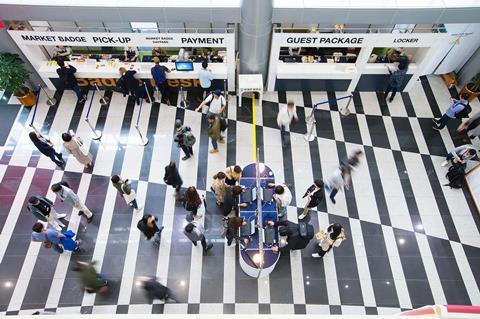 Celebrating its 14th edition, this year's Asian Film Market (October 5-8) has a new team headed by veteran producer Tcha Sung Jai (Memories Of Murder) and well-known local critic Oh Dongjin.
They both aim to expand the market into the fast-growing sectors of TV and streaming — starting with the launch of the Asia Contents Awards — and to reach out to the Association of Southeast Asian Nations (ASEAN) countries for more practical exchange.
Appointed joint directors of the market, Tcha and Oh head the new Asian Film Market committee of 16 industry professionals that also includes Jay Choi, head of Warner Bros Korea Local Production; Jeong Youngbum, CEO of management company Star J Entertainment; producer Jonathan H Kim, CEO of Hanmac Culture Corporation; cinematographer Jung Seongwook; and Kim Yong Bum, CEO of Japan-based Contents Range. The new team is also in charge of looking into potentially taking the market independent, so that it is run parallel to Busan International Film Festival but not by the festival's organisers.
"This change in organisation with the new committee is a turning point for the market," says Tcha. "Our committee members are all industry players and we make use of our networks to help expand the Asian Film Market into non-film and TV content."
One of the main stepping stones for this expansion is the launch of the Asia Contents Awards, for which the new team plans to bring in broadcast and streaming industry players from around Asia. The market will provide a platform for these companies to network and hopefully stimulate discussion around the future development of intellectual properties (IP) and co-production.
"It is sort of a pilot programme this year," says Tcha, emphasising the team has only been working on the project since May and June of this year, a little before their appointments were announced in July.
The awards nominees were announced in late September (see ScreenDaily.com for details). The eight categories will include best creative for producers, best Asian drama, the lifetime achievement award and rising star. The awards ceremony is to be held October 6 at the Busan Cinema Center's BIFF Theater.
Expanding connections
With geopolitical tensions affecting Korea's ability to sell into China, and now possibly into Japan,
organisers and the local film industry in general have felt an even greater impetus to expand ties with Southeast Asia. "With Northeast Asia, and
especially China, you can never forecast how it will be. So we want to reach out to strengthen ties with ASEAN nations. But until now, we have mainly only sold to them and have not done very much for them," says Tcha, referring to Korea's conglomerate-led expansion of distribution and exhibition activities into developing film markets such as
Vietnam and Indonesia.
"We need more cultural exchange where we both buy and sell content and help grow one another's markets," adds Oh. "The Asia Contents Awards are a
symbolic start where we can celebrate everyone's accomplishments and get to know more about one another."
Meanwhile, the market will be continuing with popular strands such as the Entertainment Intellectual Property (E-IP) Market, designed for pitching original content that will be adapted across multiple media platforms. The E-IP Market includes Book to Film pitching, an Asian IP Showcase and an awards ceremony at the end of the event.
E-IP Pitching selections this year include web novels such as Mia Wu's 100 Days Until Christmas, represented by Macaroon (Kyobo Book Centre), and Kingmook's Changeover, which is represented by Naver Webtoon Corp, as well as webtoons (Korean internet comics) such as Kang Jiyeong and Ninageumho's Stiletto, represented by Storycompany.
Companies and organisations participating at the Asian Film Market for the first time this year include the Korea Broadcasting Channel Promotion Association and Japan's Visual Industry Promotion Organization (VIPO), as well as sales agents such as Magnolia from the US, The Match Factory from Germany, Minerva from Italy, Media Move from Poland and WaZabi Films from Canada.
Returning participants to this year's Asian Film Market include Chinese streaming and production giant iQiyi, Japan's Gaga Corporation,
France's Gaumont, Germany's Media Luna, the UK's Film Constellation, Hong Kong's Edko Films, Denmark's Trust­Nordisk, Viva Communications from the Philippines and all of the major players from South Korea, including CJ Entertainment, Finecut, Showbox and Contents Panda.
Asian Project Market
The Asian Project Market is on hand to help support filmmakers further through BIFF
Although it is still running alongside the Asian Film Market at Bexco Exhibition Center, this year's Asian Project Market (APM, October 6-8) has been moved under the auspices of BIFF Film Academy, a newly established department of Busan International Film Festival (BIFF).
BIFF Film Academy oversees the Asian Film Academy (AFA), Asian Cinema Fund (ACF) and APM. Sung Jihae, who joined the festival in 2018 as one of the Asian film programmers, became its director in August.
"ACF, AFA and APM are all a bit different in character, but they are all programmes that give filmmakers support through the festival," says Sung. "They are meant to nurture talent, help develop content and make connections, and that is why the festival has tied them together under the BIFF Film Academy, to create synergy and strengthen the festival."
Out of 384 submissions from 60 countries, APM has selected 29 projects, including one from Indonesia,Silah And The Man With Two Names from director Yosep Anggi Noen, whose last feature The Science Of Fictions was an APM selection in 2014 and premiered in competition at Locarno Film Festival this year.
Other projects with previous Busan ties include Rajesh Prasad Khatri's Black And White Photo, a Nepal-Hong Kong-France co-production which received ACF's Script Development Fund support this year, andThe Rain Bride from Kurdish director Hussein Hassan, whose The Dark Wind played as BIFF's closing filmin 2016.
Continuing an interest in and support for Central Asian cinema — reflected in BIFF's Kazakh opening filmThe Horse Thieves. Roads Of Time — APM has also selected Mother Tongue from Kazakhstan, to be directed by up-and-coming filmmaker Zhannat Alshanova whose graduation short End Of Seasonpremiered in Cannes Film Festival's Cinefondation in 2018.
Vietnam's growing film industry is represented at APM with projects such as Skin Of Youth from Ash Mayfair, who won the Netpac award at Toronto last year for The Third Wife, and Picturehouse by Nguyen-Vo Minh, whose Nuoc opened the Berlinale's Panorama section in 2014.
Korean projects include Cart director Boo Jiyoung's About Daughter. Jang Kunjae (A Midsummer Fantasia) will present A House With Ghosts, which has well-known Japanese writer Banana Yoshimoto on board to work on the script.
"Evaluating the number of submissions and the quality of the finalists at APM, we can see it is similar to other years in that APM is maintaining its leading position as a representative project market in Asia, although we do need to think about the overall level of submissions and whether we can continue getting the best from filmmakers," says Sung.