With its depth of talent, financial incentives and appeal as a co-production partner, the growth of Australia's film industry continues unabated. By Sandy George.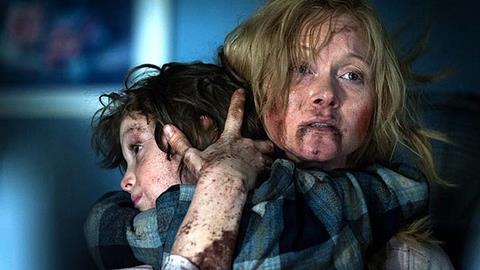 Australian actors are hot property in Hollywood.
From Guy Pearce in Iron Man 3 to Cate Blanchett in The Hobbit: The Desolation Of Smaug, big-name Australian actors starred in half of last year's top 10 worldwide hits, while this year has seen, among others, Hugh Jackman in X-Men: Days Of Future Past, Jason Clarke in Dawn Of The Planet Of The Apes, Russell Crowe in Noah and Rose Byrne in Bad Neighbours (aka Neighbors in the US).
"Our actors are one of our greatest strengths," says prolific veteran producer Timothy White. "I don't think we have fully benefited from them yet in terms of local production but they are an incredibly dynamic resource that are always going to be attractive to overseas finance."
There is no shortage of new Australian acting talent on the international circuit either, as confirmed by the casting process on White's latest film, action-packed heist thriller Son Of A Gun, the debut feature from Julius Avery, which played in official competition at this year's BFI London Film Festival. Three-quarters of the Australian actors considered for the young male and female leads were working in the US so auditions were held there - increasingly the norm for Australian films.
'The world is looking at us because of our cast and directing talent and we have to leverage that'

Graeme Mason, Screen Australia
But it is not just about talent in front of the camera. A number of exciting new directors have emerged in recent years, including Animal Kingdom's David Michôd; Snowtown's Justin Kurzel, who is in post on his hotly anticipated second feature Macbeth; and Garth Davis, who directed Top Of The Lake with Jane Campion and is now working on See-Saw Films' Lion, worldwide rights (excluding Australia and New Zealand) for which have been picked up by The Weinstein Company for a reputed $12m (a$13.5m).
"We are continually throwing up exciting new directing talent," says White, who also points to The Expendables 3 director Patrick Hughes and Son Of A Gun director Avery, who has - according to the producer - "attracted the attention of all the studios because of what he achieved on a budget that was small by Hollywood standards".
Other up-and-coming directors include Zak Hilditch, who made Cannes-selected end-of-the-world drama These Final Hours, starring Nathan Phillips, Angourie Rice and Jessica de Gouw; Sophie Hyde who made 52 Tuesdays, which won prizes at Sundance and Berlin; Jennifer Kent who directed horror film The Babadook, starring Essie Davis; Ariel Kleiman, director of the not-yet-released Partisan for Warp Films Australia; and Josh Lawson, whose The Little Death has been picked up by Magnolia for North America.

Seizing opportunities
Despite continuing budget cuts experienced by the country's biggest direct film investor Screen Australia, producers operating at White's level are upbeat about the opportunities in Australia because, no matter what, they begin the tough task of financing with the certainty of the country's producer offset (PO).
This uncapped rebate, which is entirely separate to Screen Australia's direct investment, is worth up to 40% of qualifying Australian expenditure and is payable to the producer on all but micro-budget Australian films on completion (projects have to pass a "significant Australian content" test in order to qualify).
"We have to be smarter, domestically and internationally," says Graeme Mason, who was appointed Screen Australia chief executive in November 2013, about the necessity to find finance from a variety of sources. "We need to use the talent we've got and the support available from the various [state] governments and work it better."
Direct investment from Screen Australia - its contribution to an individual feature film is capped at $1.88m (a$2m) - underpins about half of Australia's narrative features, television and documentaries. In the last four years, the government agency has co-invested in seven films that have brought in more than 20% of their budget from overseas distributors, production companies, investors and so on.
These are Lion, Michael Petroni's supernatural thriller Backtrack, Kim Farrant's mystery drama Strangerland and Deane Taylor's animated children's film The Blinky Bill Movie (none of which have been completed) as well as Matthew Saville's crime thriller Felony, Michael and Peter Spierig's sci-fi picture Predestination and John Curran's true-life drama Tracks.
'There is definitely a new generation of people who can make commercial mainstream films'

Alex Proyas, director
The long-term hope is that more films will eventually be made without direct Screen Australia investment in production.
"If our equity can be in some films and the PO can look after others with the help of a studio or a big international company, that would be brilliant," says Mason, who believes this is the only way Australia's current production levels can be maintained. "If you're just going to use public money, there's a very limited amount you can do no matter where in the world you are. The world is looking at us because of our cast and directing talent and we have to leverage that."
Sharon Menzies of Fulcrum Media Finance, the Australian-New Zealand company that specialises in cashflowing the PO and providing gap financing, believes the Australian industry is growing and maturing. "I'm seeing more films that do not involve Screen Australia and more co-productions and international productions in development," says Menzies, who has provided finance for productions including Top Of The Lake and The Railway Man.

US connections
The four highest-grossing Australian films released worldwide since 2009 have all benefited from big chunks of US investment, which may have not been made in Australia without the added incentive of the PO: Luhrmann's The Great Gatsby (Warner Bros); Alex Proyas' Knowing (Summit); George Miller's Happy Feet Two (Warner Bros) and Zack Snyder's Legend Of The Guardians: The Owls Of Ga'Hoole (Warner Bros), which was produced through Australia's Animal Logic.
Proyas is now in post on Gods Of Egypt at Sydney's Fox Studios Australia and says the PO is critical to him being able to make films at home in Australia.
"There is definitely a new generation of people who can make commercial mainstream films," he says, mentioning the Spierig brothers (Predestination). "I hope they will evolve and prosper and go into larger scale films but we have to make it easier for people to make films here."
Proyas says he believes Australia has to be more aggressive about securing films - whether driven by Australians or not - as well as reducing the bureaucracy required to qualify for incentives.
More modestly budgeted Australian films are increasingly attracting US finance as in the case of Alister Grierson's $30m Sanctum, which filmed principally in Queensland and was executive produced by James Cameron. It is the fifth highest-grossing Australian film at the global box office since 2009.
While there is no co-production treaty with the US, there is a growing trend towards US-Australian joint ventures, as in the case of Michôd's The Rover and Kriv Stenders' Kill Me Three Times, which had its world premiere in Toronto International Film Festival's Contemporary World Cinema section in September.

Australia in figures
Finding more Australia-based film-makers with the skill and desire to use this model - and the nous to attract major US backing - would be a major boost for an industry that currently produces fewer than 30 films a year.
Putting aside US-financed films, Red Dog ($19.5m), The Sapphires ($13.1m) and Tomorrow, When The War Began ($12.2m) are the three highest-grossing local films at home during the last five years. There were 27 Australian features produced in 2012-13, on a par with recent averages, with total expenditure in Australia as a result amounting to $229m (a$250m). Six additional foreign features - including four Indian titles - went into production and another six foreign features commenced only post, digital and visual-effects work using Australian facilities.
These 12 foreign features added another $100m (a$110m) to expenditure in Australia. Some $1.55bn (a$1.71bn) was spent on local and foreign feature films in Australia in the five years to June 30, 2013, some 8.5% more than in the previous five-year period.
Australian production activity would have to grow significantly for directors of local box office or festival hits to stop going abroad. The Sapphires director Wayne Blair, for example, recently directed Septembers Of Shiraz in Bulgaria, while Michôd is linked to The Operators, which is being made under Brad Pitt's Plan B banner. On the plus side, it means Australian talent remains firmly in the global spotlight.
"Screen Australia exists to make work that stimulates and engages Australians, and to assist people's careers," says Mason. "I have an international focus because we have this incredible talent that is of use
to people internationally and of course that fulfils both my goals because they will help me get films made and also keep people employed."