Amanda Berry, CEO of Bafta, and Emma Baehr, director of awards and membership, are in the eye of the storm that is this year's condensed awards season. They talk to Screen about the impact of an earlier awards ceremony, introducing unconscious bias training for jury heads and consulting the industry on eligibility rules.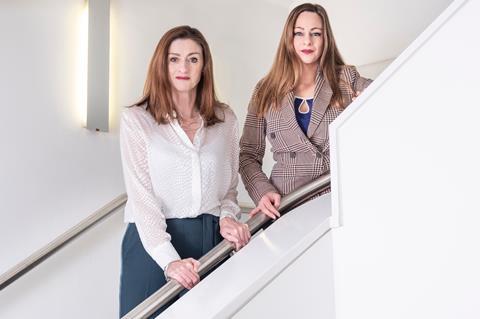 Bafta conducted an industry consultation after last year's awards, in the wake of the multiplex chain protests over the eligibility of films from streaming platforms for the Bafta Film Awards. What were the conclusions?
Amanda Berry: The feeling was people understood Bafta had got caught in the middle of an industry issue. But we also realised we needed to make sure our eligibility rules were fit for purpose. We talked to all of the interested parties and the conclusion was then reached there would be no change to the existing eligibility rules.
Has Vue Cinemas continued to work with you in every way?
Berry: Yes.
Is Cineworld's withdrawal of its screening passes to Bafta members ongoing?
Emma Baehr: It is. But what has been great out of this process is that we have an open dialogue now with Vue and Cineworld. We always had a relationship with them but now we can pick up the phone and really talk issues through. They have their view and we have ours. But we are a neutral body and we have reached out to all of the industry and have come to the conclusion that our rules are fit for purpose.
Berry: What's equally important is that if you look at a film like The Irishman, it is in cinemas for a number of weeks before being available on Netflix. That is a change that has happened year on year. And if you compare our rules to the Oscars' rules — they ask for a film to be in one cinema for a week with three screenings a day — our rules are much more onerous, or robust, whichever is the better word. We feel looking at the industry and at all the different types of films being made that our rules are fair.
Baehr: The film committee is rigorous at making sure the films aren't purely being released to just qualify for the awards. And they are making sure films are being released across wider geographical areas. We are encouraging entrants to provide us with more information than ever before.
Do you talk to Ampas about these issues?
Berry: We're in constant dialogue with Ampas. We see ourselves as sister academies. One example is our viewing platform. We have been doing online viewing for a number of years and when they were looking to put together a viewing platform they came to us to share our experience.
The threshold of theatrical eligibility in the best British film category is higher than that of the outstanding British debut category. Did you consider lowering the best British film threshold, given that some producers feel the challenging UK distribution market effectively shuts them out of Bafta recognition altogether?
Baehr: Debut and best British categories are very different. Debut is about emerging talent, they are smaller releases, they tend to be less commercial so they do have a lower [eligibility] threshold. Part of this consultation was looking at both. We still feel that debut does need to be at this lower threshold but as Amanda said, the eligibility for the other categories are all fit for purpose. It is about striking that balance between making sure audiences have a chance to see the films and creating wider release patterns. That's why we stuck to where we are.
What has been the impact of bringing 2020's awards forward by almost two weeks?
Baehr: It hasn't had that much of an impact on voting. In round one, we're open one day earlier and we're shut one day earlier. There is a shorter voting period in round two by six days. Because we've had a year to work on it, we've encouraged distributors to get the films out earlier, to get DVDs out earlier. The fact we know it is only for one year is great.
Berry: In terms of the impact on us personally here at Bafta, I describe it this way: we've saved Christmas but we've had to cancel New Year. The response from studios and film companies has been brilliant. We've seen the number of screenings go up dramatically year on year.
What were the considerations behind the introduction of the new award for best casting director this year?
Baehr: We've been discussing this category for several years and wanted to make sure we got it right. As with everything we do, we consulted the industry. You have to really understand the craft before you can put an eligibility criteria together. We need to ensure we are judging it in the right way. We're going to have a longlist of 10 and a casting chapter of over 100. We're also asking for a supporting statement. We do that for the VFX categories to give us that insight.
Did you invite more casting directors to join this year to ensure you had enough to form the chapter?
Baehr: We already had members [who were casting directors] but we had an invitation model this year for membership of all sorts of areas and one of those we really wanted to push was casting so we could ensure this category was robust.
The heads of all the Bafta film juries have undergone unconscious bias training for the first time this year. Presumably you both have too. What did you make of it?
Baehr: I've done it twice. Once for recruitment and the second as part of this. [The training] acts as a reminder, it makes you aware: yes, we all have bias, we acknowledge that, but this is how we are going to make sure this conversation is really good and really rigorous. What I found fascinating is [the knowledge] we only use a small part of our conscious thinking and so when we are judging something we need to be aware of that. And very small things, like not being hungry and not being thirsty and really being present [makes a difference]. As members of staff we make sure everyone is comfortable, the room is warm, all those little things.
What's interesting about our juries is quite often people come in with their own little shortlist thinking that's what they are going to choose and then they go away thinking something else because the discussions are so rigorous. [The training] elevates that and makes people really aware of showing up in the right mindset.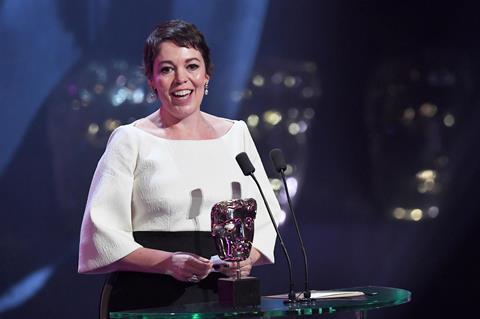 What is your relationship like with the BBC? Is the broadcaster happy with the way the film awards are working on BBC One?
Baehr: We have a contract with the BBC for the next three years. We have regular meetings with them. Everything is done in collaboration and it's a good partnership. Our brand values very much fit together.
Berry: The BBC broadcast is the absolute cornerstone of what we do but we know audiences are challenging for television now, particularly when you are a one-off event. But we also recognise that people engage [with the awards] on lots of different levels so we have invested quite heavily on communications and social media activity in the lead-up to the awards. We are seeing quite a dramatic growth in our social reach and we are seeing that globally. I want people to engage with the film awards, whether that is sitting down and watching a two-hour show or following what is happening on social media. It's about being so much more than one night in the year and ensuring wherever our audience is we are finding ways of creating a dialogue, creating an engagement with them.
Where is your biggest audience outside of the UK?
Berry: The awards now go out in every major territory in the world but you struggle to get international viewing figures. In terms of social media, for both the film and the TV awards, we saw the biggest leap in interest in China and in mainland Europe. We've been increasing the activity we do in China since 2012. We recently announced our Bafta Breakthrough China winners. Our presence there has grown our awareness there in the awards as well. We are truly now a global awards activity.
Do you think that is reaping the benefits in terms of increasing the interest of Chinese audiences in UK films?
Berry: I am always fascinated when I go to China with the extent of people's knowledge. When I was there in June, Tom Hiddleston, one of our Breakthrough ambassadors, came out with me to launch Breakthrough China. I would say as many people knew him for Avengers as they did for The Night Manager or for the National Theatre Live broadcast of Coriolanus. We have a view that content isn't available [in China] but it absolutely is available and people are watching it.
Why is Bafta supporting Chinese talent with Breakthrough China?
Berry: For us this is about creating cultural and creative exchange. We are the only global organisation that represents films, games and television — our audience is global, our members our global. We think it is incredibly important we have relationships across the various industries but particularly so with the next generation of talent. Just think, in a few years, how extraordinary it would be if we've got a Chinese director working with a British cinematographer or writer or producer. The collaborations that could come out of these initiatives are absolutely mind-boggling, they could be absolutely amazing.
What will the renovations at Bafta HQ at 195 Piccadilly in central London allow Bafta to do better in the future?
Berry: As our lease at 195 was coming to an end we spent quite a lot of time discussing, "Do we need a building? Don't we need a building?" We decided we absolutely do need a building and 195 Piccadilly was where that building should be, as it has become the cornerstone of our activities.
We also realised the building wasn't fit for purpose and we needed to redevelop it to deliver the activity we wished to deliver. We are now adding a whole new floor on the top of the building. It's going to double our capacity and will allow us to have two screening theatres and multi-purpose learning theatres. The renovations will allow us to bring in more income and we'll be able to have a more ambitious and much more exciting learning programme to nurture, support and develop new talent.
What we want to do is invest in the people we think will become the Bafta winners of the future. I genuinely believe talent is everywhere but opportunity is not. That is something we really want to change.
When will it open?
Berry: The planned opening date is summer 2021. This is a big development. It's going to be stunning.
How much is it costing?
Berry: The total project costs are £40m [$52m]. We are fundraising and we are absolutely on target. We have reached out to the industry, to trusts and foundations, to philanthropic individuals and to commercial partners as well. People coming in to support us is a very public way of recognising that what we are doing people really care about.
Amanda, you've been at Bafta for 21 years. Would it be fair to say you will be staying until summer 2021 at least?
Berry: It's so funny but when I tell people I've been here for 21 years, they always say, "What are you doing next?" I'm absolutely committed to making Bafta the best it can be and the building is a big part of that. I've got a massively talented team around me in terms of succession planning so I'm not worried about that.
Were you tempted by the BFI CEO job?
Berry: Er, no. I massively admire everything Amanda Nevill has achieved and what the BFI does, but Bafta is a different type of organisation and I very much enjoy being part of it. I also don't know, if I'm being honest, if I've got the energy to take on another big job like that.
How much do you travel to the US to manage your relationships between the studios and talent agents there?
Berry: We work very, very closely with our branches in Los Angeles and New York. Emma and I were both out in Los Angeles for the Britannia Awards in October. I was in New York and Los Angeles in both September and October meeting with our branches, with the studios and also with potential donors.
Is the US the country you visit the most?
Berry: In previous years I've been to China more than to the US but this year I've managed to get the balance right. It's wonderful and exhilarating, and inspiring and exhausting at the same time.
Are you someone who sleeps easily on the road?
Berry: On all my trips I ask everyone for their tips on travelling. On the last one I asked a flight attendant how she did it. She said, "I have no tips except to say not to lie awake worrying about it. Just go with it." I tried to take on that philosophy and I had the worst jetlag ever!