The projects focuses on 'anti-Islam' Buddhist monk the Venerable Wirathu.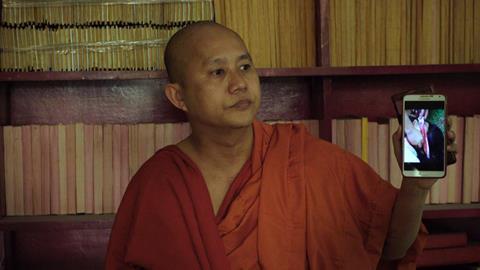 It was the 'fascist Buddhist' paradox that inspired Barbet Schroeder's film about the Venerable Wirathu, a respected Buddhist monk who spouts anti-Muslim hate speech.
"Because I feel very close to Buddhism I needed to understand the ambiguities of the Wirathu character," said Schroeder.
The Venerable W.', which together with docs about Idi Amin and Jacques Vergès completes Schroeder's 'axis of evil' trilogy, compares Wirathu with Donald Trump and Marine Le Pen.
We talked to Schroeder ahead of the film's premiere in Cannes – where it will have a special screening. Les Films du Losange are handling international sales.
Screen: Why did you pick the Venerable Wirathu as the subject for this film?
Barbet Schroeder: Because I feel very close to Buddhism and I absolutely needed to understand the ambiguities of the W. character like I did for "Idi Amin Dada" and for Jacques Vergès,the 'Terror's advocate"
How difficult was it to get access to him? Was he a willing participant in the production?
BS: Yes to both questions , I explained him that the French people who were going to elect Marine Le Pen as President of the French Republic were sharing many of his ideas and would be interested in finding out more about him in a French theatrical movie directed by a Hollywood director.
How long was the production, how much footage did you shoot?
BS: Two months shooting ,nine months editing, three months post production . We recorded 50 hours for each of the two cameras.
What was the biggest challenge in the production?
BS: Translating from Burman into French 300 hours of footage I had access to.
Did your opinion of him change at all during the shoot?
BS: Yes he was much more intelligent and devilishly clever then I thought.
Are there parallels with his story and the current political landscape in the west (in the trailer he mentions Donald Trump, for example).
BS: For me the movie deal's with very actual worldwide problems by dealing in detail with a very specific situation close to my heart.
What do you think of Netflix projects being in Cannes official selection? Is a film still a film if it can't be seen in cinemas?
BS: Cinema is a dramatic art.My movies are made to be seen in a theater but it is perfectly okay for me if they're seen from a Blu-ray in a dark room with a decent size screen and most of all a sound similar of what I heard in the mixing room.
Cannes in 70 this year - do you have a favourite Cannes memory?
BS: I can laugh now at L'Aventura and My night at Maud's being booed at their main evening presentation.