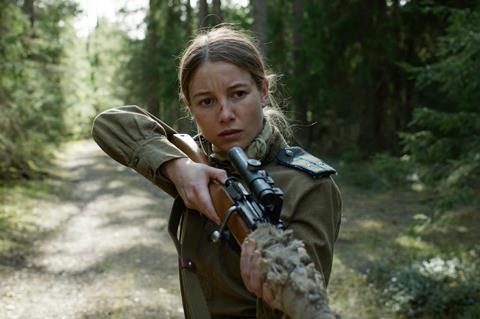 A high-level delegation of executives from the British Film Institute (BFI), including Mia Bays, director of the BFI Film Fund, and Neil Peplow, director of international, external affairs, are at the Tallinn Black Nights Film Festival (PÖFF) to encourage further co-production between the UK and Estonia.
The UK is the country of focus at the festival's industry strand, Industry@Tallinn & Baltic Event.
Peplow and Bays are being joined by a delegation of 17 UK filmmakers, thanks to £20,000 of funding from the National Lottery, including Emily Leo of Wild Swim Films, Matthew James Wilkinson of Stigma Films and Pippa Cross of CrossDay Productions.
"It is not a theoretical co-operation we're presenting," says Marge Liiske, managing director of the Industry@Tallinn & Baltic Event. "Estonians and Brits are already working together on successful projects and are planning to do so again."
"The BFI is working particularly hard to support the UK industry in developing new international relationships and collaborations at a time when these worldwide partnerships are more important than ever in helping producers progress projects," adds Katie Ellen, senior manager of international strategy and distribution at the BFI. "PÖFF is a valuable festival, well attended by industry, in a part of the world where there has not been a UK film focus recently."
Recent collaborations include Chino Moya's apocalypse thriller Undergods produced by Sophie Venner of Z56film; Ben Parker's thriller Burial, which shot in Estonia earlier this year; and Tanel Toom's second feature Sentinel, a sci-fi thriller set in a war-ravaged future starring Kate Bosworth, which has just finished its Estonian shoot.
Edith Sepp, CEO of the Estonian Film Institute, who has been instrumental in setting up the partnership, is keen to build on these promising foundations. "Now that co-producing has started, we thought the future needed a special kind of boost or push," she says. "Plus, we share the same kind of sense of humour."
Two UK projects are being presented in the Baltic Event Co-production Market: producer Sarah Laita is attending with MS Estonia on behalf of the London-based Electric Shadow Company, a thriller about the real-life passenger ferry which sank in the Baltic Sea in 1994 that she is co-producing with Jay Taylor.
Writer-director Jonathan Birch and producer Sol Papadopoulos are taking part in the co-production market with Equinox, a co-production with Ukraine, about a woman who returns to the Ukrainian village where she was born to discover a mysterious cult with murderous intentions towards her unborn child.
Jan Sverak's Bethlehem Light, a co-production with the UK and the Czech Republic, is being showcased in the Works In Progress section. Now in post-production, the project is based on three short stories by Sverak's father Zdenek Sverak, who also stars in the film. Sverak produces alongside Eric Abraham.
In the European Genre Forum, which aims to connect up-and-coming European film talents, three UK titles will feature: Bloodline, produced by Jude Goldrei and directed by Laura Smith; The Hive, a UK-Italy co-production, produced by Giada Mazzoleni and directed by Marco Pellegrino and The Last Moon, directed by Sean McConville and produced by Stephanie Joalland.
Sci-fi fantasy Hum, from producers Scott Imren and Gareth Jones, is taking part in the international script contest, Script Pool.
The delegation is also comprised of Agnieszka Moody head of international and industry policy at the BFI.
The industry showcase is also taking place online and Neville Raschid (Aviary Films) and Adam Dawtrey (Bofa Productions) are participating digitally.
A panel called 'How does collaboration really work?' is happening today (November 24) on site at the festival in partnership with the BFI.