With Gus Van Sant's The Sea Of Trees in Competition and several titles in post-production, Alex Walton tells Jeremy Kay why Bloom's first year has been one to remember.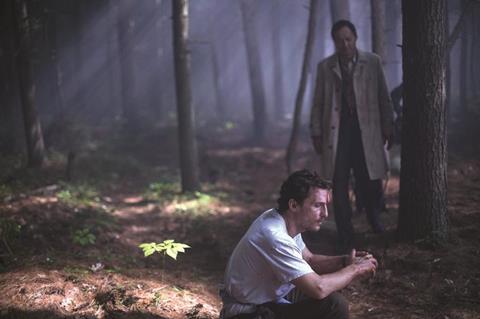 The sun hung high over the Croisette in May 2014 as Alex Walton, Matthew McConaughey and Gus Van Sant sat on a makeshift platform and talked about a suicide forest in Japan. Despite the subject matter, the mood at Bloom's inaugural buyer presentation was convivial and classy - typical of Walton and, by all accounts, his new business partner Ken Kao.
There was an undercurrent of anticipation that day. The popular UK sales veteran's first move since the demise of Exclusive Media had already become the talk of Cannes. Distributors craned to hear about the prestige drama and craned a little further to learn about Walton's new partnership with the Waypoint Entertainment head and son of Garmin billionaire Min Kao.
There was promising talk of championing eclectic fare from young directors and established film-makers. One year later there is a sense expectations will be met.
The project that Walton, McConaughey and Van Sant were discussing in the Cannes sunshine, The Sea Of Trees, was granted a Competition berth at this year's festival.
There are high hopes for a strong reception later in the year for Jane Got A Gun. The Western, inherited from Exclusive's slate, had the worst possible start when director Lynne Ramsay stormed off set on the first day of production but the producers reconfigured director and cast and the film impressed buyers at a private screening in Berlin.
But for now all eyes will be on The Sea Of Trees. Delivery and execution count for everything but the omens look good. Buyers snapped up Trees within days of that first presentation and have reacted favourably to a further six packages introduced by Bloom over the past 12 months.
"We're right on our business plan in terms of the amount of movies we were looking at representing, financing and producing," says Walton in the run-up to Cannes.
"We had real ambitions and we're just enjoying having a company and developing a culture within a company. It feels like a place where people are enjoying working."
Seeds of growth
The personal element matters. Walton and Kao warmed to each other quickly after a mutual friend introduced them in late 2013. Several months later they would be hustling to launch Bloom after Walton flew home from Berlin in February 2014, where the only thing anybody could talk about was the disintegration of Exclusive.
After serving as president of international sales and distribution for five years, Walton knew the writing was on the wall. Prior to EFM he had told his employers about his plans to form his own company once he had seen out his obligations on the slate.
Walton has gained plenty of insight after stints at J&M International, Myriad Pictures, HanWay Films and Paramount Vantage in the US. "The harder times are incredibly informative to decisions you make later," he says.
Walton knew he wanted an active partner and that he would need to build a sales company with robust financing and production capabilities. Enter Kao, who was already financing The Sea Of Trees.
Bloom would have happened with or without Van Sant's suicide-themed drama but when Kao asked Walton to recommend a sales agent, the Briton put himself forward and that was that.
The partners aim to bring six to eight films a year, of which around four are fully financed via Waypoint without restrictive budget parameters.
Currently in post-production is The Nice Guys, which was directed and co-written by Shane Black, and stars Russell Crowe and Ryan Gosling.
Waypoint co-financed with Warner Bros, which will distribute in the US.
The rest of Bloom's slate is third-party sales titles: drama Elvis & Nixon, CIA thriller Unlocked and Jackie Chan action comedy Skiptrace are in post, while action tale The Hunters and action thriller Three Seconds are in pre-production.
"We've found films we're proud of," says Walton.
One film that's no longer on the slate is the Jamie Dornan war thriller Jadotville, after Netflix reportedly paid $18m for worldwide rights in Berlin.
UTA took point on negotiations but Walton was heavily involved. It was tight. There was an April start date. Independent buyers were poised to agree terms but the streaming giant was the first to move.
Privately, buyers worry about the impact of Netflix on the independent space but Walton maintains an upbeat attitude.
"The world is changing and none of us is going to stop that," he says. "We've got to make sure we move forward with them."