Acclaimed film-making collective Borderline Films is the subject of a retrospective at Karlovy Vary in July. Jeremy Kay meets the principals.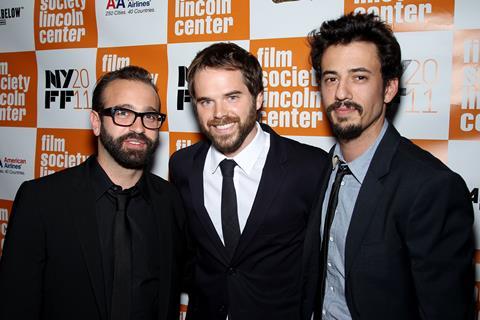 Josh Mond and Antonio Campos, alumni of New York University's Tisch film school and two-thirds of the award-winning director-producer collective Borderline Films, are enjoying nature. It is late May and the friends are staying at Campos's family farm where they shot a portion of Martha Marcy May Marlene.
For several weeks they are holed up in the Catskill Mountains, trading ideas on each other's latest scripts with the familiarity born of a 10-year association in which they workshop their ideas and produce each other's films.
Sean Durkin, the director of Martha, is the third member of the creative triumvirate and for much of the past 12 months has been based in the UK making Channel 4 mini-series Southcliffe. Yet he is with his compadres in spirit.
Mond, who produced Martha as well as Campos's two films Simon Killer and Afterschool, has just mailed his new screenplay to Durkin. He has directed music videos but this will be his feature directorial debut.
"What we have is like a marriage," Mond says of New York-based Borderline. "It is a challenge but I'm lucky to have it."
The trio will reunite in the Czech Republic at the end of June for a Karlovy Vary International Film Festival retrospective, micro-sidebar of personal selections and an on-stage masterclass. The occasion and the company's 10th anniversary beg inquiry about an overarching mission.
"Our approaches are different and our aesthetics are different, but there's something that connects all the work that probably connected us all to begin with," Campos says.
Cinéfondation boost
Campos and Mond attended the same high school but only became close after they reconnected at Tisch through fellow student Durkin. Each sensed a kindred spirit and in no time they were shooting commercials. When their first feature project fell through, a silver lining was found: Campos directed the short Buy It Now, which won the Cinéfondation prize at Cannes in 2005.
"That gave us our first break," he says. "It encapsulated a lot of our ethos about making a movie for little money and making it for ourselves."
Three years later, Campos's first feature Afterschool, starring then-newcomer Ezra Miller, screened in Un Certain Regard and they were off to the races.
In 2010, Borderline produced Alistair Banks Griffin's Two Gates Of Sleep - the only one of their four features to date directed by an outsider - and then came the 2011 Sundance premiere of Martha Marcy May Marlene.
Ted Hope had been a fan of Afterschool and helped attract investors to Durkin's feature debut, which earned the best director prize in Park City.
Fox Searchlight came knocking, snapping up worldwide rights to the thriller and later that year signing Borderline to a first-look deal.
"They are filmmaker-friendly," says Campos. "Luckily we're all on the same page about what kind of movies we want to make."
One such project is The Staircase. Campos, whose second film Simon Killer debuted at Sundance in 2012, is writing the second draft of this Gordian knot of a crime story based on Jean-Xavier de Lestrade's 2004 documentary about a North Carolina man's alleged murder of his wife.
Durkin also has a screenplay in the works and then there is Mond's script, which Borderline hopes to start shooting later this year and remains under wraps. When pressed, Mond will only volunteer that it is "a portrait, a character study, a hopeful coming-of-age".
Mond is far more at ease discussing the ongoing collaboration with his partners.
"Our relationship is a mixture of our personal histories, intuition, generosity and the ability to see past certain things," he says. "We became friends and business partners at the exact same time, so we were able to communicate in the same way. We all possess different qualities and help each other figure things out and give each other the lives we want."
"Ours is a process that wasn't pre-designed," adds Campos. "It grew organically as we worked together to learn each other's strengths and realised what each needed from one another. Making movies is hard enough and very competitive, so it's great that we have a community where everybody's doing their own thing and we give each other great feedback and everybody's truly supportive of one another."
Factfile
Borderline films
Formed in 2003 after Antonio Campos, Josh Mond and Sean Durkin meet at NYU
In 2005, Campos's short Buy It Now wins Cannes' Cinéfondation award
Campos's Afterschool premieres in Cannes' Un Certain Regard in 2008
Durkin's short Mary Last Seen wins at Directors' Fortnight at Cannes in 2010
In 2010, Alistair Banks Griffin's Two Gates Of Sleep premieres in Cannes
Durkin's Martha Marcy May Marlene premieres at Sundance in 2011
A two-year, first-look deal is signed in 2011 with Fox Searchlight
Campos's Simon Killer premieres at Sundance in 2012