It took a screentest with Lady Gaga to convince Warner Bros to let Bradley Cooper direct a new version of A Star Is Born. That was just one obstacle on a difficult road to fruition.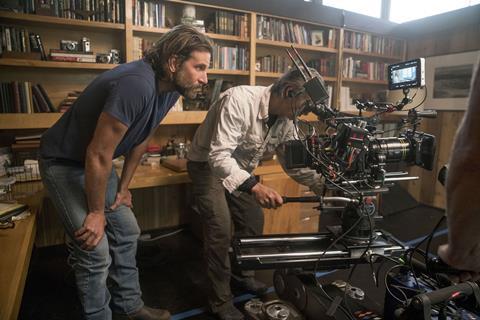 Dreams guided Bradley Cooper to where he is today. The leading man fantasised about directing since childhood. He pitched A Star Is Born to Warner Bros after he dreamed the opening sequence. But he never imagined the whole process would be so hard.
It was Clint Eastwood who first suggested they revisit the beloved Hollywood property circa 2013, just before they shot American Sniper, the global hit that earned Cooper a third acting Oscar nomination after Silver Linings Playbook and American Hustle. When Eastwood cooled on the idea, Cooper dreamed that night how he would open the film, and took his vision and his desire to star opposite Lady Gaga to the studio.
"They just didn't see it," says the actor/filmmaker, who had seen Gaga perform 'La Vie En Rose' in real life — mirroring how their characters first set eyes on each other in the film — and wanted her for the role of the brilliant ingénue Ally opposite his Jackson Maine, an alcoholic rock star who champions her talent as they fall in love. "I saw her sing that song and I was completely blown away in a way that I knew that Jackson would need to be blown away," says Cooper. "Then I went to see her and she was so present and warm and interested and curious and charismatic. I thought, 'This is it. This is the coupling.' Luckily, she was obliging."
Cooper had headlined the billion-dollar Hangover franchise and American Sniper for Warner Bros, but the powers that be expressed reservations. "It was a long process to get that coupling greenlit by Warner Bros but in retrospect I'm glad it wasn't easy," he says. "No part of this movie was easy. First of all, it's a guy who's never made a movie making a fourth version of A Star Is Born and a singer who's never made a film."
Studio brass asked for proof of concept. They wanted three-time Oscar nominee Cooper and Gaga, one of the most distinctive singer-songwriters of her generation, to do a screentest. "At first I didn't want to do it," Cooper tells Screen International. "But then I really embraced it and took it as an opportunity to direct. I'd never directed, so I wrote 10 pages and we shot it at her house. Janusz Kaminski [who had been director of photography on the music video for Gaga's Alejandro] was kind enough to shoot it with me, and we presented that in a theatre for Warner Bros to greenlight the movie."
Directing ambitions
Cooper had long harboured a desire to direct. He regularly quizzed his directors on set about the process, and studied dailies from the TV show Alias, one of his first acting gigs after he moved from Philadelphia to California in the early Noughties. When he shot the screentest, he hadn't worked out his on-screen persona. "At that point, Jackson wasn't even created," he recalls. "There was no voice. He didn't exist, so it was me just trying to be real. I remember wearing an earring in either ear to see if he would be that kind of guy…" Cooper breaks into a chuckle. "I realised that was not the right look."
After the screentest clinched the deal, then came the graft, as Cooper insisted audiences had to believe his Maine was the real deal. The actor became proficient at guitar and those are his hands on the fretboard, although it is Willie Nelson's son Lukas Nelson who plays what is heard on screen. "I worked with him and another guitarist for about a year," he says.
Cooper also hung out with Pearl Jam frontman Eddie Vedder, who imparted rock-star wisdom, and he flew to Nashville and spent time with Jack White. He laughs off the rumour that White had been in line to play Maine as "one of those internet things". White's drummer was a big inspiration for the character of Maine's friend Noodles, played by comedian Dave Chappelle, whom Cooper courted for two and a half years.
One of the most striking aspects of A Star Is Born is Maine's voice. Cooper practiced singing five days a week for several months with vocal coach Roger Love so that, when it was time to shoot in early 2017, he was good enough to perform every song live with Gaga. In turn, Gaga bared her soul in her first major acting role opposite a bona fide Hollywood star. They wrote original songs together, with help from Nelson and Nashville-based talents like Jason Isbell.
"Clearly, we were both entering into worlds we didn't know, and each person had been very comfortable in their world for at least a decade — or two, in my case," says Cooper. "I hope that gave her comfort in the way she gave me comfort. I knew right away we were going to tell each other the truth; there's no reason not to because eventually everybody's going to say what they really think. I was convincing her it was working and she was the same about me, so we provided a great barometer [for each other]."
When the cameras rolled between late April and mid-June 2017, mostly in and around California, the production famously snuck into several legendary music festivals to capture the live performances. Cooper and cinematographer Matthew Libatique shot in between festival weekends at Coachella in the baking-hot Californian desert. The fact that Gaga happened to be headlining that year made the logistics a little easier.
They took over the main stage at the Stagecoach Music Festival for an early scene in the film, which saw Willie Nelson give up part of his set. To preserve the surprise of the original songs, there was no introduction and Cooper and his band did not blast their music through the speakers — with the result that the crowd had little idea he was on stage.
He filmed live at Glastonbury in the UK and finished off by introducing Kris Kristofferson's set. Kristofferson played the lead opposite Barbra Streisand in the 1976 version of A Star Is Born and both he and Streisand showed up on set to cheer Cooper and Gaga on. Eastwood, for whom Cooper appears in the upcoming drama The Mule, turned up on the first day of production to offer support.
Another noteworthy feature of A Star Is Born is Maine's spoken voice, which tumbles out of Cooper like thunder. The deep timbre is far removed from how he actually sounds and, to get it right, he worked with world-renowned dialect coach Tim Monich for six months. "You basically retrain the way you breathe and the way your mouth moves," Cooper says, adding that this was the hardest part of the entire process.
He modelled the voice on veteran actor Sam Elliott because that was the sound he wanted to achieve, and then decided to offer Elliott the role of Bobby, Maine's older brother who resents how his own music career never took off. "I was reading Bruce Springsteen's autobiography and he was talking about stealing his father's voice and how he idolised him," says Cooper. "I connected to that. When I was young I wanted to be my father and thought, 'Oh, I'm literally trying to become Sam Elliott vocally, and wouldn't that be wonderful.'"
Cooper sold Elliott on the role when he invited him over and played a tape of a recent interview the older actor had given at Sundance Film Festival, over which he had dubbed Maine's voice. With the exception of a rehab sequence, Maine's alcoholism results in a perma-drawl throughout the film. Cooper admits he stayed in character when he directed scenes where Maine is at his most inebriated because he found it easier to do.
Life experiences
A Star Is Born has been personally cathartic in light of Cooper's own life challenges. He recalls his acting teacher, the late Elizabeth Kemp, telling her charges to use their pain and insecurities, and thinking: "Oh, I have a lot of stuff and it would be great to turn that into something." Cooper has been sober for well over a decade and lost his father seven years ago to lung cancer, an event that chimes through oblique references to Maine's father in A Star Is Born. "It's utterly resonant," he says. "Otherwise, I never would have taken on the time commitment and entrusted all these incredible artists to help tell the story."
Cooper has loved the entire business of directing. "I've never been more fulfilled and have it feel more natural," he says. "I love acting, and I love acting and directing." He is working with Monich on "another movie that's going to be probably even harder to do" and predicts it will also take four years to come to fruition. He won't be drawn on what it is, nor will he confirm whether it is the Leonard Bernstein biopic.
A Star Is Born erupted onto the awards season stage when it premiered at Venice, but Cooper says he only felt relief for the first time after the film opened strongly in US theatres on October 5. US voting group the National Board of Review just named Bradley Cooper best director, Lady Gaga best actress and Sam Elliott best supporting actor, and by late November the $38m production had amassed close to $200m in North America and more than $350m worldwide. "Relief is turning into gratitude," he says. "I just said, 'OK, maybe I'm not totally wrong about what I should be doing.'