Dir/prod/scr: Yang Ik-june. SK. 2008. 130mins.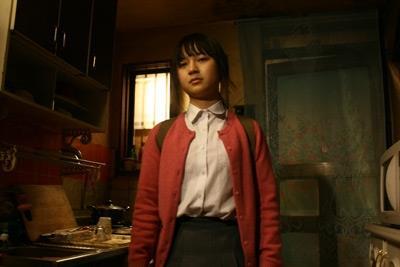 Arrestingly violent from the get-go, this feature debut from actor Yang Ik-june is notable for two things: a compelling performance from the director himself in the lead role, and the insight it gives into domestic violence in South Korea (this was apparently inspired by personal experience). At 130 minutes, however, this very familiar story over-stays its welcome and prospects outside Korea are uncertain outside the festival circuit, where Breathless will mark Yang as a name to watch.
Song-Hoon (Yang) is like a Korean version of Jonnny from Mike Leigh's Naked: prone to mindless violence, but largely silent and not very bright. To say he has a hair-trigger temper is under-stating matters. Hand-held, jerky camerawork establishes him as a low-rent gangster, hitting out as part of an enforcement mob paid by his old friend Man-sik (Lee). He doesn't need to be paid to use his fists or any other implement that comes to hand, however: Song-Hoon does it almost for relaxation. He thinks nothing at lashing out at two policemen on patrol, felling them with his fists and feet. He has murdered in the past.
In a pretty compelling first hour, it will transpire that the very mention of his father's name sets Song-Hoon into an uncontrollable rage, and that his father was responsible for the death of his mother and stabbing of his sister. He has a young nephew, but fears getting close to him, or his sister, who is forced to leave her son alone as she works to make ends meet.
Things take a turn towards the familiar when Song-hoon meets tough-talking high school girl Yeon-hee (Kim); her disturbed father and violent brother both beat her and she skips school. The pair are connected, although she may not realise it. They slowly form an impromptu family with Song-hoon's nephew, but it is always clear that Song-hoon has committed sins for which he must pay.
It's quite an achievement for Yang to direct himself in such a strong performance and it's the most notable part of Breathless. But the plotting is clumsy and this, coupled with its length, make Breathless a flawed if interesting work. The language is repetitively foul, and international viewers will come away with at least a couple of words not to be used in polite Korean society.
Production company/international sales
Yang Ik-june
(82) 10 42324922
Cinematographer
Yun Jong-ho
Production design
Hon Zi
Editor
Lee Yuen-jung
Main cast
Yang Ik-june
Kim Kkonni
Lee Hwan
Joung Maan-sik