In her first edition as solo director, Kang Soo-youn talks to Jean Noh about putting BIFF together in turbulent times.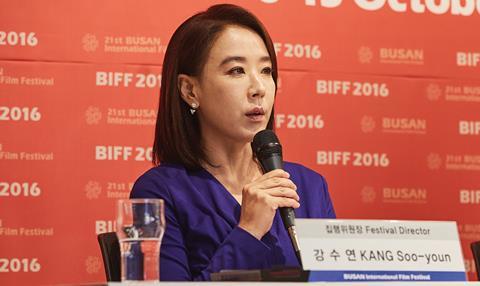 At a tumultuous time in the South Korean film industry, veteran actor Kang Soo-youn, whose credits include The Surrogate Woman, has been preparing for her first edition as solo director of Busan International Film Festival (BIFF) this year. Kang was brought in last July as festival co-director with Lee Yong-kwan, as part of a compromise struck between Busan City Hall and the festival in the censorship saga that started in 2014 and saw Lee ousted this past February. Although Kang had been a member of BIFF's executive committee since 1998, she noted last year that being host of the festival was a completely different role.
It's been an eventful year. How has that affected this year's programme?
It's been a tremendously tough year to prepare. We had to cut back on events because of reduced budget, but the one thing we couldn't give up on was the films and the support and educational programmes. Considering the Korean film programme was only locked in August, everything has been moving very quickly. This year's Asian cinema programming has gone tremendously well compared with other years. We have a lot of new films and you can see the solidarity Asian film-makers from various countries have shown us reflected in the programme.
We've prepared a Colombian retrospective, and will screen a lot of great films that were supported by BIFF's Asian Cinema Fund (ACF) and Asian Network of Documentary (AND) Fund that I'm personally looking forward to sharing with audiences.
You spoke last year about how you are an actor first, and being a festival director is something that is more just a part of your life experiences. Do you still feel that way?
I started acting when I was just a small child and grew up on film sets. I wasn't capable of doing any thinking outside of that environment. So when I thought about how I wanted to grow up, it was always as a performer.
Last year, I just came in to help, no matter what. It was a hectic festival for me and the future was murky. I felt more nervous than anyone else that the festival might disappear, that we were being driven into a corner. A film festival director isn't something I ever aimed to be in my life.
You don't see yourself doing it for long?
That would be difficult.
Did you really think the festival would disappear? Why?
Can this festival exist without Korean films? No. We might have had the city and national budgets decided, but aside from that, nothing else was decided. We couldn't fix events or invitation lists or anything.
I thought we were in danger of losing the faith of the world and Korean film industries, which is why we worked so hard to have the regulations changed and to uphold the quality of the film programming.
How healthy do you believe Korean independent film-making is?
Overall, the film industry has grown larger, but in comparison, independent film-making has got smaller. We all know it's difficult for independent film-makers. In the face of market logic, it's even harder for new, young independent film directors.
For a foundation on which Korean films can develop and for the future of Korean cinema, we need more governmental support. This isn't an issue that can be solved by just film festivals or individual film-makers.
From its very first edition, BIFF has operated with the vision of discovering and introducing new Asian films, including Korean films. If budget were no problem, what would you introduce to the festival to enhance it further still?
I'd like to be able to expand the festival's discovery and support programmes, and invest more in educational programmes for audiences and film students.
Also, I would invest in developing the Asian Film Market to make it a place where film-makers can band together and think about a vision for Asian films in the global market.