Ahead of the Asian premiere in Busan, Hong Kong-born San Francisco resident and filmmaker Wayne Wang (The Joy Luck Club, Maid In Manhattan, Smoke) discusses his latest, low-budget film, Coming Home Again.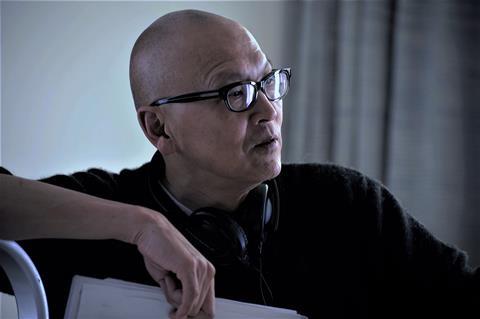 Justin Chon and Jackie Chung star in the chamber piece about a Korean-American man who cares for his dying mother while she teaches him traditional family recipes. Wang financed the film with a grant, put in his own money, and adopted a kind of crowd-funding model as friends who contributed got to own a piece of the film. Wang shot Coming Home Again over three weeks in late summer 2018. Asian Shadows handles international sales and ICM Partners represents US rights.
The film is based on a 1995 short story in The New Yorker by your friend Chang-rae Lee based on his personal experiences. Why did it speak to you?
I'd read a short story that he wrote for The New Yorker in 1995 called Coming Home Again and it had always stuck with me. Since then, my mother passed away from Parkinson's and I had gone through a similar process – not nearly as intense as his – but I can identify with a lot of it and that's where it all came from.
I can talk about my mother most specifically because I grew up with her and she's always been around. She's not exactly a very talkative person, she's not exactly a very psychological person, she's not very emotional. When we meet up she usually shakes hands with me, she's very polite, very formal. But one thing from as far back as I can remember – food was everything. She was always buying me something I wanted to eat or making me something I wanted to eat – and bought enough that I become a really fat boy at one point. All that stuff is her way of expressing her life and communicating with me.
How did you get the movie together?
We started with some financing from CAAM – [the non-profit] Center for Asian American Media. [My producer] Donald Young's grandmother passed away not too long ago and her old apartment was perfect for the film, so we slowly added things. First the grant, then an apartment. This is mostly a chamber piece, so we got the [guilds] to work with us at a low budget and we got good people involved such as Justin Chon and Jackie Chung.
It added up slowly and it wasn't necessarily all money, there was some of my money, some of Chang-rae Lee's money – it was guerrilla filmmaking. We started with a small crew and we shot it. Then other people gave us money, friends came in. So it was a little bit like crowdfunding.
What did the low budget enable you to do that you couldn't on your big Hollywood films?
I'd made a bunch of studio films in the middle of my career and I remember being told every time a character doesn't do anything [for the story], cut it out. I'd always thought that pushed the pacing of things almost to the point where you can't breathe. I really wanted this film to breathe.
Where did you shoot and how long did it take?
We filmed in the apartment, which was three blocks from my home, so I went to work every day in the Nob Hill, Russian Hill area of San Francisco. It took about three weeks altogether in late summer 2018.
Was it exhausting? Fun?
It was a little bit of both. It didn't take a long time. It can take a long time. On this one, we talked about it in July last year, we started planning it a little bit and I started writing the script here and there. By August, we were shooting.
I made sure – this is the same thing I did on Chan Is Missing [1982] – everyone in their own different ways earned a [gross] piece of the movie. I went to a crazy art school [California College of Arts And Crafts] and the whole philosophy there was even if you have to rob a bank you just do it because you believe in it. So often filmmakers are waiting around for a bigger budget – you can wait your whole life for that stuff.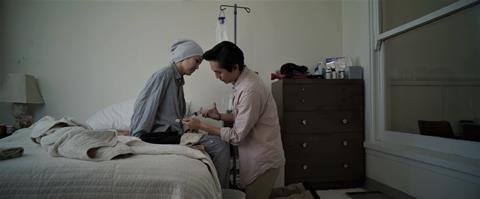 How did you choose your leads?
I cast Justin first [as Changrae] because I know him a little bit. He's a good actor and I'd admired him as a director. Then I started looking for the mother. The casting agent had me read a whole bunch of people down in LA. Jackie may have been one of the last people to come in. I was almost getting ready to get up then Jackie walked in and she was perfect. She'd done more theatre than film and I was pleasantly surprised.
How did you write it?
This one was different than anything else I'd done. I'd been reading scripts, and especially the ones from Hollywood, I'd say 99% of them are all about dialogue. It reminds me of a DP I used to work with who'd say, "What is this? A radio play?" So when I told Chang-rae I was going to write something, I wrote it without dialogue and just wrote scenes – what the characters did based on his short story.
There were two or three scenes where I took the dialogue from the story and as I was reading it I felt like I needed more dialogue, so I went to Chang-rae Lee and we sat down and came up with six scenes and went to the actors and they made them their own. But there are moments, especially in the [climactic New Year's Eve dinner that Changrae prepares for his mother, sister and father], where I gave Jackie and Justin the leeway to improvise. Justin was ready to go with emotion and really flew off.
In one scene, Changrae gets annoyed during a visit by two religious ministers who pray for his mother. Where did that come from?
That's not in the original short story. I asked Chang-rae what else happened a lot while his mother was sick that wasn't in the story and he told me these religious people came by every week and brought food and they read the Bible. We did not write out the scene – we asked a producer to look for two real Korean ministers and they agreed to do it as long as we didn't change what they said. They go to places where people are sick or dying and do their spiel. I told Justin he wouldn't agree with what they were saying and would get more and more angry with them. It was very improvised.
You hired Corey Lee, the Michelin star chef at Benu in San Francisco and a personal friend, as a consultant. Could your leads cook?
Corey came on as a consultant and told us the kitchen [in the apartment] didn't look Korean. He changed the spices and the knives and the utensils, everything. I asked Justin and Jackie if either one of them could cook and they said no, so we brought them every afternoon for two weeks to Corey's restaurant. They learned every single dish that was in the film: how to cut it, spice it, and cook it. Even then I realised they just didn't look right, so I had to call on Corey, and luckily his hands were very similar to Justin's. Corey did 60-70% of the close-ups. Half of the movie was leaning to make the food, deciding what kind of food we wanted to prepare, and how we would shoot it.
The Joy Luck Club came out in 1993 and broke ground for its all-Asian cast. Hollywood appears to be adopting a more proactive stance on diversity today. Are you encouraged?
Yes and no. It's good Crazy Rich Asians did well and recently The Farewell did well. I still feel that these films are much more commercial and trying to appeal to an audience rather than trying to be really honest.
Joy Luck Club to a certain degree was doing that and was quite manipulative in an emotional way. That's why these days if I had to put Coming Home Again against Joy Luck Club, I appreciate Coming Home Again because it's more honest, more direct, and less talky. You feel with the characters rather then the characters telling you how to feel. [Japanese filmmaker Yasujiro] Ozu said he was more interested in the tears of the environment and the tears of the objects around these people than the tears of the actors.
Are you hopeful that we will get to a place where there is more satisfying representation of different ethnicities on screen?
I look at Jordan Peele and think there's got to be an Asian Jordan Peele who can write their own stuff and not have to do this kind of very soap opera-ish song-and-fancy type of films.
What did Chang-rae make of the film?
He slowly got to like it more and more. In the beginning he was a little surprised by it because there were some things that were not in his short story, like the way Justin would become very intense and angry. The piece he wrote was a little more gentle and poetic, so I had to go back and work with him to balance the two. He slowly began to like the film more and more. I kept showing him different cuts.
What's next?
I've got two different things going and we'll see which one gets there first. I've been working with Netflix on a YA book called Front Desk, which is about a Chinese family working in a motel. It's a very authentic biographical story written by Kelly Yang. She and her parents worked in a motel in LA when they got here. She's writing the script herself.
The other one is a biographical piece called Gutted. It's about a Chinese-American poet who was gay and his journey in America, being an artist, and trying to survive and get American citizenship and finding out he actually had AIDS. It's a pretty brutal story.