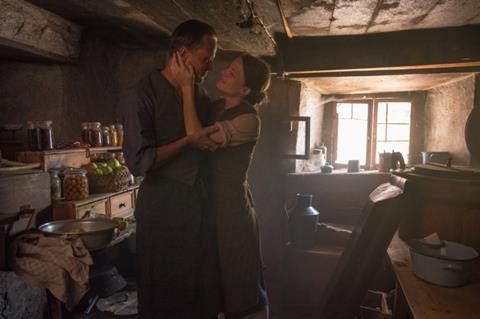 There was a healthy appetite for high-concept packages and star-laden material from the US sales companies on the Croisette as Cannes entered its final stretch. Buyers and sellers noted steady business that was likely to yield more transactions in the days ahead.
AGC Studios and CAA Media Finance pre-sold Roland Emmerich's sci-fi Moonfall to multiple independent buyers, and hope to close a deal with a major Chinese player shortly, and Paramount paid mid-eight figures for worldwide rights to FilmNation's action comedy Down Under Cover starring Chris Hemsworth and Tiffany Haddish.
IMR International's airplane-set horror Incident On 459, starring Maggie Grace, has sold well, and the Russo Brothers' presentation for Tom Holland PTSD drama Cherry is expected to trigger offers for Endeavor Content.
Fox Searchlight bought multiple territories including the US for Terrence Malick's A Hidden Life from CAA and Mister Smith in the only confirmed theatrical US deal for a Competition title as of Monday evening. Amazon Studios' eye-catching $1.5m-plus purchase of Ladj Ly's Les Misérables was primarily a US streaming deal.
Several other Competition titles arrived with distribution in place – SPC had Pain And Glory and Frankie, and Sony distributes tonight's world premiere of Once Upon A Time… In Hollywood.
But some have inevitably bemoaned the lack of US deals here.
"Cannes is in total disrepair," tweeted producer Cassian Elwes. "Business is flat and most of the films screening here are irrelevant in the US marketplace. Both sides, Marché and festival, need to realize they are co-dependent and figure out a solution and quick. Keeping the streamers out is self-defeating."
'Important in a different way'
Yet the sentiment prevailed Cannes is still "the place to be" for professionals across the cinema chain.
"With the platforms hoovering up multiple territories, the need for traditional sales companies lessens," said Frederic Corvez of Urban Distribution International (UDI). "That doesn't mean the market is over, rather that it's evolving. We're in a time of transition as people explore new formats and distribution models. Cannes still remains important but in a different way."
Market executive director Jérome Paillard pointed out while the sales business is under pressure, the number of international producers, festival programmers and national delegations, particularly from emerging filmmaking regions such as Africa, is on the rise. Of note this year was the first ever African pavilion, hosting around 14 nations.
"More than one half the market attendees are neither sellers or distributors," Paillard revealed.
According to preliminary figures, attendance was slightly higher this year compared to last with some 12,500 registered participants, against 12,411 in 2018.
"The increases have been mainly from the US, France, Argentina, Spain and Italy," he said.
Paillard added that 2,780 films had been presented by the end of Monday. One-third of them, tellingly, were at the project stage. This compared with 3,820 films for 2018 overall.
The Marché's niche appeal also continues to grow thanks to its burgeoning sidebars devoted to documentary, animation and VR (Cinema VR), with visitors increasingly setting down in Cannes with specific interests.
But in the foreground, sales remains the key driver.