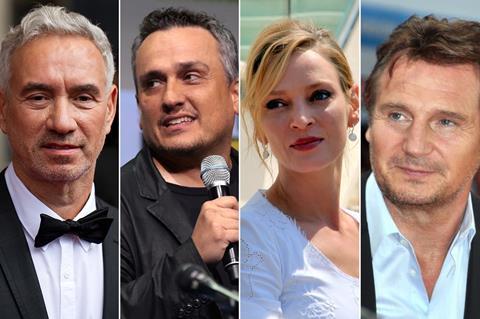 Star-studded packages and ongoing concerns over the competitiveness of the independent space should ensure no shortage of talking points when the industry converges on the Croisette.
Roland Emmerich's $150m sci-fi Moonfall at AGC Studios, the Chris Hemsworth and Tiffany Haddish action comedy Down Under Cover at FilmNation which the Russo Brothers (Avengers: Endgame) are producing, Liam Neeson thriller The Minuteman at Voltage Pictures, John McTiernan's sci-fi Tau Ceti 4 starring Uma Thurman at IMR International, and at least three Mel Gibson and two Kate Beckinsale projects are among the top sales titles on offer.
Plenty of interest is expected to coalesce around Anthony Hopkins and Oscar winner Olivia Colman in The Father for Embankment Films, Argentine superstar Ricardo Darin in the comedy-dramaHeroic Losers at Film Factory, Michael Winterbottom's The Trip To Greece with Steve Coogan and Rob Brydon at Goalpost Pictures, and Kristen Stewart as Jean Seberg in Against All Enemies at Memento Films International.
Cornerstone has Phyllida Lloyd's Herself, The Match Factory sells Marco Bellocchio's Competition selection The Traitor, Niels Anders Oplev's ISIS hostage drama Daniel is at TrustNordisk, Rai Com has Daniele Luchetti's Ordinary Happiness, and Wild Bunch brings five Competition selections and out of competition documentary Let It Be Law.
The Russos, fresh from the record-breaking run of Avengers: Endgame, will attend the market on Thursday to talk to buyers about the bank heist adaptation Cherry to star Tom Holland, and Ben Foster and Barry Levinson will jet in to talk up Harry Haft. Both projects are at Endeavor Content. Robin Wright will promote her upcoming directing debut Land for HanWay Films.
"There's still a sustainable international market, but it's definitely going to be trickier as the streamers are making a lot more movies, local ones as well, where they might pay premium prices to get them," said UTA Independent Film Group co-head Rena Ronson. "So it's going to be incumbent upon us to help sustain this independent community, which is very important to our business."
"Buyers are a little overwhelmed with the volume," said Nadine de Barros of Fortitude Entertainment, which is introducing the Mel Gibson dark comedy Fatman to buyers. "There's a difference between there being a lot of product and there being good, commercial product."
Changing models
The pre-sales model alone is no longer sufficient to raise finance, although it still kicks starts the process on star-led content. In these cases, everybody acknowledges that for the independent buyers to thrive, they need to move fast or risk losing the biggest projects to deep-pocketed studios and streamers, who scour the markets for prime content to complement their slates.
Emmerich will be in town for a Moonfall presentation, which is exactly the kind of big-ticket item independents want in their line-ups. AGC Studios sold the filmmaker's upcoming wartime film Midway to the independents this time last year, but it doesn't always go the independents' way.
When FilmNation introduced the sci-fi package Reminiscence in Berlin with Hugh Jackman attached, there was an enthusiastic industry response to say the least from buyers, however ultimately it was Warner Bros that walked away with worldwide rights.
"Sometimes the only way to make an expensive package is to sell it to a studio worldwide," noted one distribution executive who wished to remain anonymous. "Some independent projects are just too expensive to be greenlit through an independent sales process. In recent years there have been a number of big packages announced prior to market, only to then be pulled back and set up at a studio worldwide."
The executive continued, "That's frustrating, I guess, but frankly it's only a couple projects per market, and the majority of commercial, independent material is bring presented and sold off territory by territory as it always has been. One way to tell the difference between the two types of packages is that the films which announce without clear equity backing are often really just fishing for a studio pick-up. The films which enter the market as legitimately financed movies are the ones more likely to stay the course as projects available to independent distributors."
"It's important to offer interesting theatrical films that have an edge and are at a good price point," said HanWay Films MD Gabrielle Stewart, who brings footage from Matteo Garrone's Pinocchio, and is introducing sales on the romance Wild Mountain Thyme to star Jamie Dornan and Holliday Grainger, as well as Wright's Land.
"We're not out there trying to pull off high-budget films without the necessary tools," added Stewart. "If you go out with a massive generic thriller or action film, even some of those can't compete with the biggest studio movies. So we need to find films that connect to people emotionally and are interesting stories that can be talked about and written about."
"The markets are reflective of the product," noted Jonathan Deckter, COO and president of Voltage Pictures, who launches sales in Cannes on The Minuteman. Voltage's YA adaptation After recently crossed $50m at the international box office to rank as the top-grossing indie performer of the year-to-date. "We're putting together a very strong line-up and will have a super solid Cannes. Everybody is Avenger-ed out and is looking for fresh, commercial, marketable material."
Endeavor Content sales chief Alex Walton agreed. "The things we've had success with in the independent market place have been challenging: Kung Fury 2, Shadow In The Clouds. They're original, interesting pieces of material are fun for us to sell and hopefully have the right amount of genre hook, but importantly they also have the ability to be tailored locally, from a marketing perspective, to engage international audiences. They're not films you'd expect the studios to put together and they could be tentpole movies in our space."
In an age when actors are being lured to streaming platforms and TV, producers know the need to sign up noteworthy talent has never been more urgent. "I don't think it's ever been more difficult," said Rumble Films founder David Lancaster, whose career credits include Drive and Nightcrawler, and has thriller The Other Lamb (TrustNordisk) and crime drama Edge Of Dawn (Concourse Media) in the market.
"We're financing our own movies now as we have investors and a credit line with Comerica. I like to partner on equity with others to spread out the risk. What I'm finding is I am moving into higher budgets, because you can drive production value and afford to put some talent into the project."
The ongoing dispute in the US between the Writers Guild of America and the agencies has highlighted widespread discontent over the latter's packaging and producing activities. "People are talking about the guild's fight with the agencies and what the near and long-term impact will be on Endeavor Content and the other agencies' in-house financing businesses," said one industry observer. "This idea of an in-house studio, whereby a talent agency sells its clients' projects to itself, is pretty hard to defend… Most buyers seem to feel they'll be spun off."
Cannes surprises
Besides a wide range of market projects on offer, the festival itself appears, on paper at least, to have programed a tempting selection. "There are going to be a lot of surprises," said Sony Pictures Classics co-head Michael Barker, who has Alejandro Almodóvar's Pain & Glory and Ira Sach's Frankie in Competition. "Cannes has been very careful over the last several years to hold back on a lot of details about films because they want to have that element of surprise."
Noting widespread buyer caution caused by the decline in the DVD market and the drop in TV advertising, Barker added: "The pursuit of films is still there, but I don't think the buying is as aggressive as it used to be… When DVD revenues started disappearing we started coming in earlier on films."