Best actor frontrunner Casey Affleck tells Jeremy Kay why the winding, emotional road to Manchester By The Sea has been one of the most rewarding journeys of his career.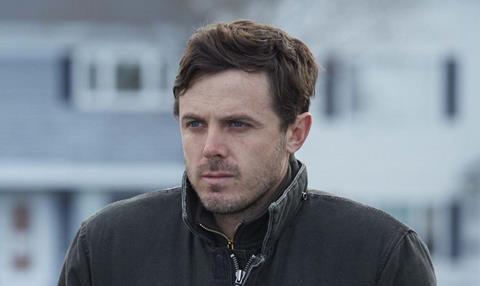 Casey Affleck looked around as he took his seat at Eccles Theatre, alongside writer-director Kenneth Lonergan and the cast and crew of Manchester By The Sea. It was January in Park City, a winter landscape where the dreams of independent film-makers can freeze up or sparkle brightly at Sundance.
It was rare for the actor to watch himself on screen. "I don't like to watch [my films]," he says nine months later on a sunny morning in Los Angeles. "I tend to be very critical in the sense that, if I've had a good experience on a movie, it tends to contaminate it somewhat."
Affleck need not have worried. By the time he speaks to Screen International, Manchester By The Sea has established itself as an awards season heavyweight and one of the most acclaimed US films in years. And Affleck's performance, as a Massachusetts janitor with a devastating family history, could take some beating come Oscar night.
The film's Sundance premiere triggered a frenzied back-and-forth among buyers that saw Amazon Studios prevail with a $10m deal for North American rights. Roadside Attractions partners on the release and Sierra/ Affinity sold out international, including a multi-territory deal with Universal.
Affleck had known Lonergan for years but, until Manchester By The Sea, they had never collaborated on a film. And, as with all the best relationships, the journey was convoluted.
"My relationship with Kenny started back in 2002 in [London's] West End, at the Garrick Theatre," says Affleck. "I was doing [Lonergan's play] This Is Our Youth. Ironically I'd approached him to consider Matt [Damon, a producer on Manchester By The Sea] and Summer [Phoenix], who was my girlfriend at the time, for the other two parts, which he did and he cast them both.
"Kenny and I stayed very good friends for many years after that and I did a few theatre things with him in New York. I find his writing to be some of the best out there. It's always really moving and speaks to me, and I've never read anything he's written that I haven't responded to strongly.
"He sent me the script to Manchester By The Sea some years ago and at the time Matt was planning on directing it. Kenny was looking for some early feedback and I offered what I could. Kenny takes his time writing things… At some point, Matt decided not to direct it, and Kenny decided to - and he cast me."
This was a great decision by both men. Affleck inhabits Lee Chandler so completely it is impossible to see where the actor ends and the character begins.
Affleck has always been an actors' actor, the kind of low-key performer who draws tributes from his peers and earned the respect of cinephiles for unfussy yet memorable turns in films such as Gone Baby Gone and The Assassination Of Jesse James By The Coward Robert Ford, which earned him a supporting actor Oscar nod in 2008.
Modest demeanour Affleck's voice is strong and surprisingly upbeat, in contrast to the strangulated intonation of his on-screen creations. Several times he qualifies a thought with a phrase like "Not to sound precious but…", and more often than not prefers to wax lyrical about Lonergan's storytelling prowess or the talent of his fellow cast members.
So what did the forensic precision of Lonergan's writing, with its web of deliberate overlaps, sighs and pauses, allow him to do as an actor? Affleck pauses for a few beats. "It means I don't have to worry about whether or not the scenes work. It means there's a constant discovery happening in all the scenes and I'm finding new and better things every time I read, rehearse it and talk about it. There are lots of screenplays that just are done off-the-cuff, where the blueprint doesn't matter. That's not how Kenny writes.
"So when I show up my job is to be emotionally in the right place and understand the scenes and try to be an actor in many ways. It sounds obvious but it's not, and it's not the way it works on some movies. So it frees me up to focus on the challenge of making this character somebody whose inner life is evident in the performance without having to say it."
Speaking of scenes, one blistering encounter with co-star Michelle Williams is a masterclass in contained emotion. "It got postponed a couple of times for logistical reasons," says Affleck. "It was a tricky scene because of all the overlapping dialogue and wanting to make sure it delivered both as a scene between two people in that very charged moment, and also having to deliver it in precisely the way Kenny wrote it.
"Had it been the only scene of mine in the movie it would have been nearly impossible, but Michelle was able to do it. Almost every single day there was a scene that I had to be in [and bring] a certain emotional state to the performance; it was a challenge I got used to."
Williams uses the little screen time at her disposal to create something profoundly moving. "Michelle is a mysterious figure," muses Affleck. "I'm not sure I really know her that well. I feel I just know the person in that movie. She's such a committed actress that I suspect the person I knew during filming is more the character than it is Michelle."
He loved working with Lucas Hedges, the son of director Peter Hedges, who plays his nephew in Manchester By The Sea and dispenses frequent and welcome comic relief. "Lucas is an infinitely more professional and focused young man than I was. He's a very sweet, considerate and smart guy who has grown up around the movie business and knows what he's doing. He was a joy to work with because he was able to play in the places between the scenes.
"So much of what happens in a scene depends on something happening between the scenes, when the camera's not rolling and the two actors are trying to sustain the right relationship. Sometimes that's a little bit confusing for people who aren't used to working in a way that blurs the lines between the characters and the actors. I don't know how to do it any other way."
Yet sometimes Affleck has not done it at all. He has drifted in and out of the public gaze and goofed about directing the odd faux-documentary about Joaquin Phoenix. "There have been periods when I haven't wanted to work as an actor and I've tried to do other things, and there have been periods when I've really loved acting," he says.
"I live in LA. If I lived in London or New York, I would do theatre probably much, much more often. It's a combination of things. I'm sometimes picky and sometimes I feel I'm sitting around waiting for some great script to show up."
Quite a few have shown up recently, with perhaps another leap if he earns nominations and awards this season. He will star in the crime-noir Villain, one of the hot titles at AFM this year, as well as The Old Man And The Gun opposite Robert Redford, and father-and-daughter-in-peril drama Light Of My Life, which Affleck wrote and will direct and star in.
But for now, the focus rests on Manchester By The Sea. The film's public life started back in January at Sundance, where he felt compelled to watch it. "I guess I wanted to have some sense of completion with it and share it with Kenny," he says after another long pause. "He and I spent so many hours talking about it and poring over the script and looking at it from every single angle and I felt watching the movie would be the last stage in that extended conversation with him.
"But I did watch this one and I was happy with it. I absolutely love the way Kenny writes and directs - and I wanted to be in a Kenny Lonergan movie. I've seen his other two movies and I didn't want to miss out on this one."