Fresh from a buzzy Sundance premiere, Celine Song's Past Lives is having its international premiere here in Competition. The Korean-Canadian filmmaker speaks to Screen.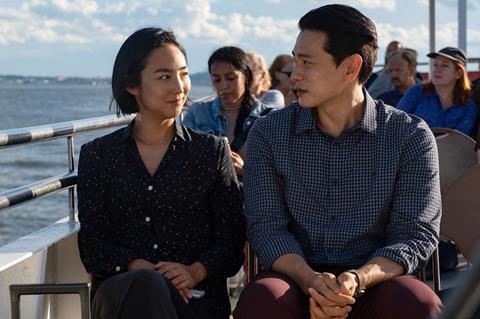 You spend your whole life waiting to go to one film festival, then two come along at once. After attending her first-ever festival at Sundance last month with the world premiere of her debut feature Past Lives, Korean-Canadian director Celine Song is making the Berlinale her second for the film's international premiere.
"I've been [to Berlin] once for 20 hours when I was 19," says Song of her history with the city. "There's a really dorky photo of me with Bertolt Brecht's statue." Song followed in Brecht's footsteps by becoming a playwright, with works including 2016's Tom & Eliza and 2019's Endlings. Writing became her conduit for a sudden jump to screen work.
"I talk about the script as my seduction technique," laughs Song. "I'm a first-time filmmaker and I've come from theatre, so I don't have shorts. It's the script that convinced A24, my crew and my cast that I can do this."
The script in question was written in 2019, after Song found herself sitting in New York between her husband, with whom she lives in the city, and her childhood sweetheart from South Korea. Inspired by that moment, Past Lives depicts Nora and Hae Sung, two deeply connected childhood friends who are separated when Nora emigrates from South Korea. Two decades later, Hae Sung visits New York where Nora lives with her US husband Arthur.
A24 boarded the project in 2019, providing development and finance, and is now handling US distribution and international sales. CJ ENM gave co-financing and has rights in South Korea. The pandemic delayed production until 2021, before a 35-day shoot that autumn in New York and South Korea.
Learning curve
Doing everything for the first time meant "a lot of questions and challenges" for Song, especially for "the things that are outside of your control — there was a rainstorm the day before we shot at the Statue of Liberty".
"Your own crisis of faith, your own uncertainty — that's always the biggest dragon to slay," adds Song. "But the thing that's going to defeat it is your ability to know what the story has to be and who the characters are. I knew what the story is that we were trying to tell — I always knew how to defeat the monster."
The film explores how connections between any two people differ due to circumstances and across time — a Korean concept known as In-Yun. For a key scene where Nora (played by Greta Lee) introduces her husband to her childhood sweetheart, Song cunningly kept actors Teo Yoo and John Magaro apart — the moment they meet on screen was the first time they met in real life. "That take was so magical," recalls Song. "It's not a trick; it's something we know is going to work because you learn a lot from that for the performances later."
Song does not want to discuss her relationship with her childhood friend now: "I want to make sure his personal life is his; we're amazing platonic friends." While acknowledging the personal source of the film, she is able to feel a distance from it. "It is first and foremost a story," says Song. "It's speaking about the truth about who I am, what these characters are capable of, and what they choose to do. But it's a film that I made — it's not a documentary."
She has been supported by a trio of powerhouse producers: 2AM's David Hinojosa, whose credits include First Reformed, Zola and last year's Bodies Bodies Bodies; plus Christine Vachon and Pamela Koffler of Killer Films, the duo behind hits including Far From Heaven, Still Alice and Carol.
"The longest, most intimate relationship a filmmaker has on a film is with the producers," says Song. "The on-set crew go off to their own jobs; the post crew come in late. But the producers are there from beginning to end. They're still working with me — we talk to each other every day."
Song is already working on her next film, which she is not yet ready to discuss. Having started through the page and the stage, she sees the screen world as her future. "The experience of making the movie was a revelation, a discovery of myself — who I am and what I want to do with my work," she says. "I just feel so at home in film. That's where I'm going to live."