Wendy Mitchell talks to BBC Films head Christine Langan about its upcoming slate of projects and establishing a creative hub of writers, directors, producers and actors to deliver outstanding content.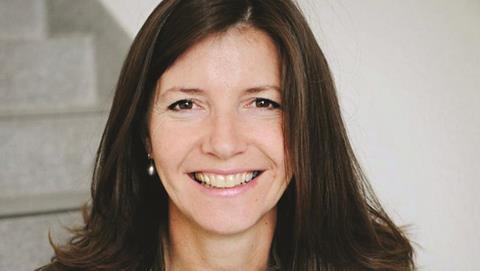 BBC Films is not the sort of organisation to shout from the rooftops. In fact, the company was almost silent in Cannes this year — no party and no press briefing. That was not a sign of doom and gloom, just a sign that more was in store later in the year.
Christine Langan, head of BBC Films, says: "We had a quiet Cannes — we were keeping our powder dry. Sometimes the Toronto line-up is more expressive of our output. Anyway, our biggest releases were all coming from August onwards, starting with Alan Partridge: Alpha Papa. The public and the critics were really enthusiastic and greeted the film very warmly… I'm very excited about the way things have panned out this year — it's very much what we'd hoped for. Partridge, followed by Philomena, Saving Mr Banks and The Invisible Woman, early next year."
'You could look at a public funder as a vending machine, but that's not BBC Films. Not at all'

Christine Langan, BBC Films
While Philomena, The Invisible Woman and Saving Mr Banks stir awards season buzz, A Long Way Down, directed by Pascal Chaumeil, will be released in March.
With its many production partners, BBC Films is in post production on Morgan Matthews' X Plus Y; What We Did On Our Holiday (from the team behind Outnumbered); Saul Dibb's Suite Francaise, starring Michelle Williams; Alan Rickman's A Little Chaos, starring Kate Winslet; Thomas Vinterberg's Far From The Madding Crowd; Israel Horovitz's My Old Lady, starring Kristin Scott Thomas and Maggie Smith; Matthew Warchus' Pride, starring Bill Nighy; and Mrs Brown's Boys D'Movie. Michael Winterbottom's The Face Of An Angel is shooting now in Italy.
That diverse and busy slate (see below) shows the calibre of writers, directors, producers and actors who want to work with BBC Films. "At BBC Films, we hope that we can be a creative hub, connecting people and exploring possibilities," says Langan. "I believe it's strong relationships, and understanding those dynamics, that gets the best work done. It's a small industry and we're always looking to renew established talent, bring new talent on and blend talent with the right material."
That hub approach was central to something like Philomena, which producer Gabrielle 'Gaby' Tana — who had worked with Langan on The Duchess and then Coriolanus — brought to BBC Films after Steve Coogan's Baby Cow acquired the screen rights to Martin Sixsmith's book about a mother's search for her son. Coogan wanted to write it, but needed the right partner; Langan suggested Jeff Pope, who she had worked with on projects at ITV in the past. Coogan and Pope went on to win the best screenplay prize in Venice for their efforts.
"I've wanted to work with Jeff Pope again ever since I started at the BBC seven years ago. I loved working with him on Pierrepoint and our TV film, Dirty, Filthy Love. The opportunity hadn't really presented itself till Steve pitched Philomena. There's a tremendous satisfaction in nurturing relationships and combinations of talent. Knowing both Steve and Jeff separately, knowing their skills and a little of what makes them tick, putting them together seemed like a no-brainer. It was easy for me to get Stephen Frears excited about Philomena. Especially as Steve was already in talks with Judi [Dench].
"Philomena coming together meant a great deal to me. My own mother was from Mayo, in Ireland, and would be Philomena's age if she were still alive — and the similarities don't stop there!"
Tana also collaborated with BBC Films on The Invisible Woman. Langan remembers BBC Films was developing the project at the time she saw an early cut of Ralph Fiennes' feature directorial debut Coriolanus. "It occurred to me that he would make the perfect Dickens and that he could follow up the amazing achievement of directing and starring in Coriolanus with doing the same for The Invisible Woman.
"He agreed to direct The Invisible Woman almost straightaway, but it took nearly a year before he would commit to playing Dickens. He had to think really hard about doing both because it's such a demanding task. He is meticulous and incredibly thoughtful, and he took the challenge very seriously."
Another BBC Films awards-season contender, Saving Mr Banks, came about when London-based producer Alison Owen came to talk to frequent collaborator Langan about a then-Australian project that was being developed. "We agreed on the potential of the project and decided to develop it together. Alison was very keen on [writer] Kelly Marcel, whose samples were terrific. We backed Kelly and she transformed it."
Owen led the push in the US, not only getting Disney's permission to tell the story of Walt Disney convincing author PL Travers to make the film of Mary Poppins, but also getting the studio to come on board to make the film and finance it. "Alison is indomitable and magnificent in taking on the studios — or whoever else," Langan says. "She is one of our strongest producers. It was a high-stakes game in which Disney had to say 'yes' or 'no dice'. It was an interesting journey and we don't always get to make movies with a $30m budget."

An industry backbone
BBC Films is one of the key funders in the UK, with an overall annual budget of $18.1m (£11m) — including its overheads. By comparison, Film4 has $24.7m (£15m) annually, not including overheads.
However, it is not just about doling out cash, Langan notes. "You could look at a public funder as a vending machine, but that's not BBC Films. Not at all. My team are creative and thoughtful, and invest a lot of imagination, time and energy. And we also invest cash."
Asked if the pot could grow in future years, Langan is politic. "It would depend on the BBC's commitment to film. I'm not in a position to increase it myself, but I can make a strong argument for it because I know the public are getting great value for money. A lot of these films wouldn't happen [without BBC Films funding].
'With the growth of digital platforms, film becomes more prominent. Not acquired US fare, but the very unique offering that is British indie film'

Christine Langan, BBC Films
"As linear scheduling recedes, I hope the BBC can make a lot more of its films. With the growth of digital platforms, film becomes more prominent. Not acquired US fare, but the very unique and individual, rich cultural offering that is British indie film."
Langan sees the UK finance landscape as healthy, but never easy. "It's really tough to raise the finance for indie films, usually," she says. "The recession and a flagging economy haven't been easy on anyone." But she sees many bright spots: a robust talent pool in the UK, the invaluable tax credit and committed investors such as BBC Films, Film4 and the BFI.
She is also encouraged by the strength of British films in 2013, not just BBC Films' projects. "I think there is an array of brilliant films this year and I think we are galvanised by the work."

Connecting with audiences
BBC Films' offices are now in a corner of the huge Broadcasting House on Portland Place in central London — a small oasis of film folk surrounded by hundreds of TV employees. Indeed, Langan knows that TV and film have to ebb and flow. "I think eventually all of these platforms will converge and the smart thing is to use your talent across the board. Writers like Abi Morgan and Moira Buffini move between the two very happily. It's about stories and finding the very best form for them."
With the economics of independent film so tough, she adds, "there's a growing appetite now for independent producers to make television — the terms of trade are incentivising for building a sustainable business and they feel the grass is greener. It's ironic: 15 years ago television producers might have aspired to make movies while, now, the traffic is flowing in the opposite direction."
"Ultimately, they are complementary," she says, of TV and film. "I think that watching [Scandinavian drama] The Killing might help to expand the taste for foreign film and for reading subtitles. It might take away a perceived wisdom of an audience being lazy and everything needing to be in English."
Another change in audiences is the growth of the lucrative 'grey pound'. BBC Films' Quartet, directed by Dustin Hoffman, was one project that appealed to older film-goers. "What older audiences are demonstrating is that drama is still theatrically viable. They want engrossing stories, strong characters, emotional engagement and payoff, and they're a demanding and intelligent audience. Hopefully, that's a good discipline for film-makers and a lifeline for the less generic, non-tentpole, non-franchise business that is independent film.
"A few years back, there was a real tyranny of the alleged 16-year-old male who was the cinema audience. There's been something of a reversal in recent times, borne out by films like Philomena. Cinema will always surprise us, however hard we try to shrink the audience taste and behaviour into a predictable formula."
Forthcoming highlights from BBC Films
Bill
A comedy about how Shakespeare became a writer from the team behind the kids' TV hit Horrible Histories. To shoot from February 2014 with director Richard Bracewell. Langan says the "script is in hilariously good shape".

Brooklyn
Bafta-nominated John Crowley will direct Nick Hornby's adaptation of Colm Toibin's acclaimed novel, about a young woman who emigrates from Ireland to New York in the 1950s. Saoirse Ronan leads the cast, which also includes Jim Broadbent and Julie Walters. Lionsgate has UK rights. To shoot in the first half of 2014.

Exhibition
Joanna Hogg's third feature, which world-premiered in Locarno, is about an artist couple coming to terms with selling their home. Artificial Eye has UK rights. Langan says: "I think Joanna is fascinating, and I was keen that she would be seen by a wider audience. It's a very dry, funny, insightful and unusual film."

The Face Of An Angel
Michael Winterbottom's Italy-set psychological thriller uses the Amanda Knox case as a very loose jumping-off point in this story, also inspired by Dante. Shooting now, starring Daniel Brühl.

The Falling
Dreams Of A Life's Carol Morley directs this story of a fainting epidemic in 1969. Maisie Williams (Game Of Thrones) stars.

Far From The Madding Crowd
Thomas Vinterberg takes on the Thomas Hardy classic, with a cast including Carey Mulligan, Matthias Schoenaerts, Michael Sheen and Tom Sturridge. Now in post production for Fox Searchlight. Langan says: "It's fresh. It's visceral. Thomas has been doing an amazing job… It's got strong performances from a great cast."
Gold
Daniel Radcliffe will star as British Olympian Sebastian Coe for director James Watkins, working from a script written by Simon Beaufoy. "We are pushing towards a spring shoot next year and it's incredibly exciting to see James Watkins and Daniel Radcliffe reunited," Langan says.

The Golden Lady
Simon Curtis will shoot the Maria Altmann story written by playwright Alexi Kaye Campbell. Based on the true story of an elderly woman who fought to reclaim paintings by Gustav Klimt that were stolen from her family by the Nazis during the Second World War. To shoot in 2014.

Lilting
Intimate drama about a man (Ben Whishaw) who tries to connect with his dead boyfriend's immigrant mother. This Microwave project is the feature directorial debut of Screen 2013 Star of Tomorrow Hong Khaou. The film will premiere at Sundance, and Artificial Eye has UK rights.

A Little Chaos
Kate Winslet and Matthias Schoenaerts star for director Alan Rickman in a story of landscape gardeners competing to design a fountain at Versailles for Louis XIV. Lionsgate has UK rights.

A Long Way Down
Pascal Chaumeil (Heartbreaker) directs an ensemble cast including Aaron Paul, Pierce Brosnan and Toni Collette in a story (adapted from the Nick Hornby novel) about suicidal strangers who make a pact to stay alive. Lionsgate releases in the UK on March 7. "They're a really brilliant ensemble," Langan says.

Mrs Brown's Boys D'Movie
Brendan O'Carroll's big-screen adaptation of his hit TV comedy is set in Dublin and is now in post production. It reunites the show's cast, director Ben Kellett and producer Stephen McCrum. Universal will release in the UK and Ireland in June 2014.

My Old Lady
Playwright Israel Horovitz directs Kristin Scott Thomas, Maggie Smith and Kevin Kline in this Paris-set story. "I think that Maggie Smith has said it's the best script she had read in years. It's a dream cast, sensational actors. It deals in some complex human dynamics, so it's very thought-provoking and very funny," Langan says. In post production now.
Pride
Matthew Warchus directs this 1984-set story about gay and lesbian activists who attempt to support striking miners. The cast features Bill Nighy, Imelda Staunton, Dominic West and George MacKay. The buzzy "inspirational comedy" is now in post. "It is kind of interesting to reflect on hopefully, how far we've come [about homophobia] but inconceivable that it was even like that then," Langan says.

Slight Trick Of The Mind
Oscar winner Bill Condon will direct Ian McKellen as a retired Sherlock Holmes in this project financed with Icon/AI. To shoot in spring 2014.

Suite Francaise
EOne, The Weinstein Company and TF1 lead this prestige historical drama directed by Saul Dibb (The Duchess). Adapted from Irene Nemirovsky's novel, it is a love story set during the Second World War. Michelle Williams and Matthias Schoenaerts lead the cast. In post production.

Swallows And Amazons
Philippa Lowthorpe is attached to direct Andrea Gibb's adaptation of the classic adventure novel by Arthur Ransome. To shoot in 2014.

X Plus Y
Former BBC Films head David M Thompson's Origin Pictures leads this production, now in post. Morgan Matthews makes his feature debut with a film inspired by one of his previous documentaries. Asa Butterfield, Rafe Spall, Sally Hawkins, Eddie Marsan and newcomer Jo Yang star in the story of a maths genius who doesn't understand love. Langan says: "Morgan is a really interesting film-maker."

What We Did On Our Holiday
Billy Connolly, David Tennant and Rosamund Pike star in this family road trip story from the creators of the BBC sitcom Outnumbered. Independent has UK rights.