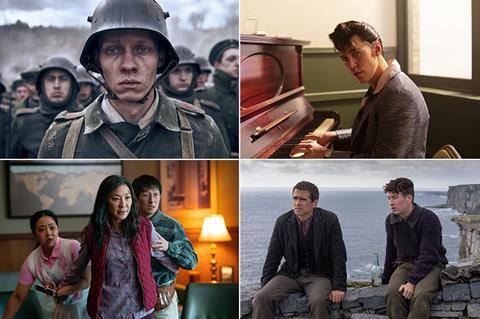 Will 2023 be the year that the Bafta Film Awards definitively pull in a different direction from the US Academy Awards – taking on a more distinctive identity? That question suggests itself after All Quiet On The Western Front emerged as the most-nominated title at the Baftas, while purported Oscar favourite The Fabelmans has emerged with just a single nomination.
Edward Berger's First World War drama scored 14 nominations, including key categories best film, director and adapted screenplay – as well as, unsurprisingly, film not in English language. It's the most for any title this year, ahead of Martin McDonagh's The Banshees Of Inisherin and Dan Kwan and Daniel Scheinert's Everything Everywhere All At Once, tied on 10 nominations each.
This feels like an exciting moment for the Bafta Film Awards, often perceived – rightly or wrongly – as too similar to the Oscars, and too dominated by US films. Bafta benefits from being perceived as a bellwether for the Academy Awards – and advantages accrue if the studios and streamers see these awards as an important event in the season. But, certainly in the UK, there are loud voices encouraging the Bafta Film Awards to establish a stronger individual identity, stepping away from the long shadow of their glamorous American cousin.
In fact, we have been here before. In 2001, Ang Lee's Crouching Tiger, Hidden Dragon was the most-nominated title at the Bafta Film Awards – tied with Gladiator. The admired Chinese-language wuxia historical drama went on to four wins at the Baftas that year, including best director for Lee. In other words, All Quiet On The Western Front will need to make bigger progress in terms of actual wins for this to prove truly a pivotal moment at the Baftas.
This year, like many previous years, all the films nominated in best film are directed by men. The sole longlisted title in this category directed by a woman, Charlotte Wells' Aftersun, did not make the nominees list for best film. This feels a step backwards from last year when Jane Campion's The Power Of The Dog won best film (and director). With four nods, Aftersun is the most-nominated title this year directed by a woman – and ranks sixth equal in terms of nominations.
Big winners and losers
Baz Luhrmann's Elvis is a big winner from these nominations – converting nine of its 12 longlist inclusions into nominations, including one for best film. The same could be said of Everything Everywhere All At Once (10 nominations from 12 category longlists) and The Banshees Of Inisherin (10 nominations from 14 longlists), but those successes, including in the best film category for both titles, were more expected.
The Fabelmans, longlisted in five categories but nominated only for original screenplay, is a big loser at the Baftas. So too is Sarah Polley's Women Talking, achieving no nominations at all – not even in adapted screenplay, where it has long been considered a major contender this awards season. Hopefully a better fate awaits Polley's film at next week's Oscar nominations.
In best director, only one of the six nominees is a woman: The Woman King's Gina Prince-Bythewood. Bafta introduced a highly choreographed set of interventions in this category after the 2020 awards – yet again – produced no female director nominees. As a result, the longlist for director has subsequently been gender balanced, and a jury determines the nominees. In 2021, four of the six director nominees were women, and last year there were three.
This year, the top two names in the first round of voting by the directing chapter were automatically nominated, and the jury added four more. It's reasonable to assume that jury members were mindful of gender when making their votes but were nevertheless drawn more to the work of male directors. Berger, McDonagh, the Daniels, Decision To Leave's Park Chan-wook and TÁR's Todd Field join Prince-Bythewood among the director nominees.
Bafta has achieved ethnic diversity in all acting categories, especially among the women, with Black actresses Viola Davis, Danielle Deadwyler and Angela Bassett; Asian or Asian-American actresses Michelle Yeoh, Hong Chau and Dolly De Leon; and Cuba-born Ana De Armas all nominated across lead and supporting. This year's male acting nominees show less diversity: Daryl McCormack, Micheal Ward and Ke Huy Quan join nine white men across lead and supporting actor. This year, each acting category saw the top three names from round-one voting automatically nominated (up from two last year), with juries making further selections from the longlists.
The international aspect to the nominations is not limited to the success of All Quiet On The Western Front. Berger's film is joined in original screenplay by Irish-language The Quiet Girl, and in director by Korean- and Chinese-language Decision To Leave, for example. English-language international co-production Triangle Of Sadness, from Sweden's Ruben Ostlund, has flourished in original screenplay, supporting actress and casting.
In total, 45 feature films made at least one longlist, marginally down from 50 in 2021 and 48 last year. Considering that the compressed voting timeframe had prompted Bafta to reduce the length of nearly all the longlists (typically reducing from 15 to 10 titles), which in turn meant that in total only 77 features featured in them (down from 98 the year before), it's notable that the number of nominated titles is barely down on recent years. Bafta will be breathing a sigh of relief that the compression in the voting window has not much reduced the width of titles benefiting from inclusion in the nominations.
In 2021 and 2022, largely thanks to the new processes that were put in place, Bafta achieved what most would agree were interesting sets of nominations – that notably pulled in some different directions from Oscar. For example, none of Bafta's leading actress nominees last year landed Oscar nominations. Despite those interesting differences, when it came to picking winners, determined by all Bafta Film Awards voters, there turned out to be huge overlap with the US Academy members' choices. History may repeat this year – but first let's see what turns up in the Oscar nominations, which announce next Tuesday (January 24). Only then will this year's awards season truly come into focus.