In A Man With A Camera, Dutch filmmaker Guido Hendrikx knocks on the doors of total strangers and films their reactions as he remains silent and unresponsive.
The documentary, which reflects on human nature and includes responses ranging from welcoming to aggressive, receives its world premiere in the main competition of CPH:DOX today (April 23). It marks Hendrikx's second feature after hybrid documentary feature Stranger In Paradise, which won the special jury award at IDFA in 2016 and was nominated for a European Film Award.
A Man With A Camera is produced by Dutch production company Aventura, which Hendrikx recently launched with fellow award-winning filmmaker Ena Sendijarević and sales agent Wouter Jansen of Vienna-based Square Eyes, which handles sales. Co-producer is Jasper Boon's boondocs.
When did you first come up with this concept?
It was around 10 years ago, when I started to randomly film people on the streets in Belgium. There was a certain tension and rather strange drama that existed in these encounters. For this film, I changed it to appearing on people's doorstep because in those first street experiments it became too much like stalking. A front door gives people a quick, easy way to escape – they can just shut the door.
When did you film the documentary and for how long?
I shot for nearly two years and visited at least 400 homes from 2018 to New Year's Eve 2019. It's all shot in desolate, remote villages in the Netherlands, close to the borders near Belgium and Germany
How did you get permissions from the people on screen, if you stuck to your rule of staying silent?
That was a tricky and exciting part. We couldn't ask permission of everyone, as there were so many, so waited until we had something close to a final cut before approaching those who appeared the film. Luckily, they all agreed.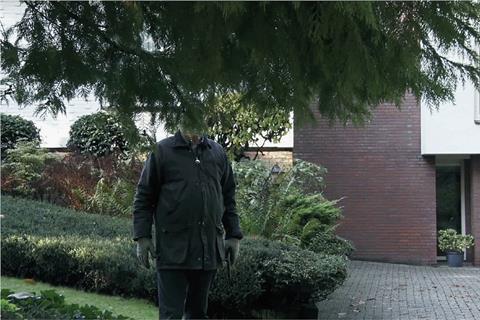 Even the man who grabbed your camera and threatened to bash your head in?
We left him until last as we thought he would never agree. But he agreed straight away and said he didn't even need to see the clip, which was a welcome surprise.
What was going on behind the camera? How did you look to the people you approached?
That was something I had to develop. The rule was that I could never speak, including all non-verbal communication. This wasn't to the extent that I would be stone-faced because people might think I was a psychopath. But there were moments in the first months of shooting when people would ask if I was from a broadcaster and, if I nodded a response, all the tension dissipated. I had to teach myself that I could also never answer so as to retain that tension, but I did smile a little to make people feel at ease.
Were there any moments when you were afraid?
I remember one moment when someone tried to break my fingers. I had a small piece of paper that said I wouldn't use the material without permission and when I put that through one particular mail slot, a lady grabbed my hand and tried to break my fingers. But that was rare.
Why did you choose to make this film in this way?
I always look for a certain novelty in filmmaking. For me, it's important to enquire about human nature but also the medium of film itself. I was curious about how people would behave and respond when you radically throw over all conventions of film and social behaviour. What happens when the fly on the wall becomes a fly in the room?
Also, how can we relate to the unknown – a stranger. We tried to create an eerie feeling so it was like an extra-terrestrial being that was wandering around and how do people react to this strange entity these days.
What are your plans and ambitions for the film beyond CPH:DOX?
One of the ambitions of [new production company] Aventura is that we want to create stimulating cinema that is accessible to everyone. We want break out of the festival bubble. In the Netherlands, we will organise screenings in all the remote places where the people in the film live, and they will attend and answer questions. We want to take it to as big an international audience as possible.
What are you working on next?
I'm finishing another documentary called Rules Of War. I shot it in South Sudan and it follows a Dutch delegate from the Red Cross, who travels through the jungle to teach armed groups and militias the rules of war - the Geneva Convention protocols. That will be delivered at the end of the year and is a co-production between Lemming Film and Aventura.