Denis Villeneuve saw Blade Runner 2049 as both a crazy risk and the chance of a lifetime. Screen talks to the director about his bold sequel to a sacred sci-fi classic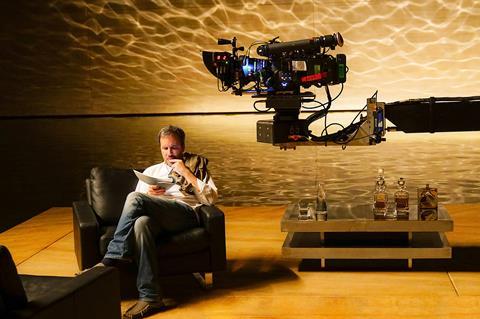 Tendrils of wintry light were the first visual cues that came to Denis Villeneuve as he entered his customary pre-feature meditative state to find a way in to Blade Runner 2049. "When I start to dream about a movie, one of the first things is the quality of the light," the 50-year-old French-Canadian director says. "I felt a strong connection to the idea of winter; to do a silver Blade Runner, a grey, foggy, white Blade Runner of winter."
The atmospheric brushstrokes so reminiscent of the 1982 original were there in the screenplay by Hampton Fancher and Michael Green, but the light was a way Villeneuve could stamp his imprint on the sequel to Ridley Scott's sci-fi gem, which he describes as one of his favourite films. "The first Blade Runner was designed by a man from London," he says with a throaty chuckle. "I am from Montreal and had to make a winter Blade Runner. It was the way to inspire the whole movie, because winter is something I know intimately. I'm born in the snow. I know how people think, walk, talk, behave when they're in the cold. I know the light."
Villeneuve first heard about the project in 2013 while shooting Prisoners, his first film with Alcon Entertainment. In what was possibly a calculated play, co-heads Andrew Kosove and Broderick Johnson blurted out one day that they were off to meet Scott for a chat and departed abruptly.
"When I heard that, I thought it was an insane idea, a bad idea — fantastic, exciting, dangerous," says Villeneuve, sitting anonymously in white shirt and jeans near the lobby of the Four Seasons in Beverly Hills. "I thought, 'How dare you?' But it was so exciting to think that Ridley was dreaming about it."
The trail went cold and picked up again in 2014 when Villeneuve was shooting Sicario. Kosove called from out of the blue to request a meeting somewhere discreet. They found a café in New Mexico not too far from the set, where Kosove produced an envelope that bore the legend 'Queensboro'.
"He looked at me and said, 'Queensboro doesn't exist. It's Blade Runner.' I flipped out," the filmmaker says. "When something like that happens, you feel it's the chance of a lifetime and at the same time I was full of fear. But when I read the screenplay I felt at home. I understood why they came to me from a thematic point of view: the exploration of identity, the exploration of memories. It had a link with my previous work."
Villeneuve honoured his commitment to shoot Arrival first and after he had gained experience on some of the logistical challenges of sci-fi (and a directing Oscar nomination), he felt technically ready to tackle Blade Runner 2049.
Taking the plunge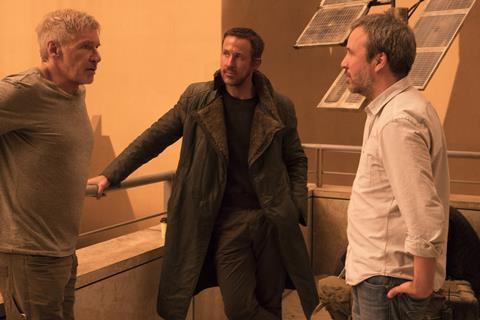 The fear had dissolved, but the road ahead was intimidating. "My credibility as a filmmaker could be destroyed," Villeneuve says with another laugh. "But I loved the screenplay so much and felt doomed. I knew [Alcon] would do this movie and I didn't want someone else to fuck it up."
And so the quietly spoken visionary behind Incendies, whose early forays into English-language cinema transformed him into a director of global renown, embarked on his biggest film yet. Blade Runner 2049, which Alcon and Sony co-financed for more than $155m after rebates and incentives, and which is executive produced by Ridley Scott, shot from August to November 2016 in Budapest.
Villeneuve loves the city's cultural vibrancy, beauty and world-class crews. "It was between London and Budapest," he says with a smile. "In London there's no more stage space! London is like a Stars Wars empire."
In Hungary, immersed in the production's stark splendour, the director played with his favourite themes. "The beauty of Harrison Ford's character [Rick Deckard] is the idea of doubt, the paranoia, the fact that the character is not sure about his own identity and the audience is unsure. Instead of bringing a certain answer, we increase the paranoia and how these characters deal with a reality that is shifting in front of their eyes, not knowing where they are from, not sure if they are objects or subjects.
"I liked to keep that question alive. Vulnerability that is provoked inside him is his weak point — not being sure if he's real or not. I know Ridley would disagree with me, but for me it's good that we don't know the answer. And for Ryan [Gosling, who plays protagonist K], there's the idea that he's consumed by the desire of wanting to be real. He loses sight of his sanity and becomes obsessed with this idea he could be someone else, like Pinocchio. The characters don't trust their own instinct or their past any more, because their dreams are bigger."
Scaling up
Working with his cinematographer and "genius of light" Roger Deakins, Villeneuve brought to life one ambitious sequence after another. Blade Runner 2049 was not short on challenges — by way of illustration there is the climactic sea wall fight between K and lethal replicant Luv (Sylvia Hoeks). "Ridley told me I should rewrite it because water is dangerous and you shouldn't shoot with water," Villeneuve says. "I had an idea and a way to approach it, and that was technically a huge challenge; to create an ocean was something that was by far the most ambitious scene I'd ever done."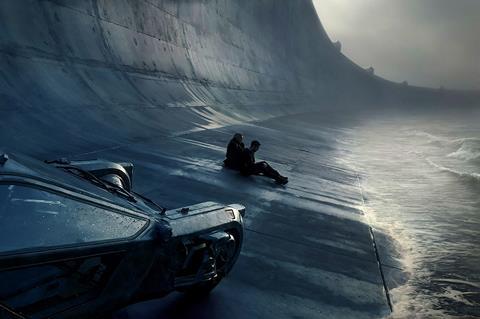 The shoot for the sequence was originally headed for Malta's famed water tanks, before executive producer Bill Carraro decided it would be most cost-effective to shoot in Budapest. "The production decided to build the thing, which was a gigantic pool, very deep, big enough that you could create waves with huge machines that would crash into the sea wall built by [production designer] Dennis Gassner," Villeneuve says. "It was quite impressive for me to be in contact with that scale. I was focusing on my job and there was a part of me that was peeking at what was happening around me and thinking, 'Oh God, it's big.'"
Villeneuve continues: "The other thing that was hard was the fight between the holograms in Las Vegas — Harrison and Ryan are fighting and there are holograms of Elvis all around. It was difficult to make sure the actors had the space to create what they had to do and at the same time ensure Roger knew the right cue so the holograms I had planned would appear at the right moment. That was a big puzzle for everybody."
The trajectory of the film's release is well documented. A critical darling hailed by some as a masterpiece, Blade Runner 2049 needed by Alcon's admission to reach $400m worldwide to succeed. It has fallen well short of that target.
The sci-fi floundered at the North American box office on $90.8m through Warner Bros and has grossed a decent $164.8m internationally through Sony. As of early December, the worldwide tally stood at $255.6m.
The director feels for Alcon, with whom he loves working, and says he would not change a thing about Blade Runner 2049. "I have no regrets," he says. "I cannot do movies thinking about the outcome at the box office. It's an art form. I don't sell shoes."
The right time
Villeneuve, like Kosove and Johnson, supports the final 164-minute running time. "There was a first version that was more substantial but after it came down to that length it was obvious what needed to be done. Then we were just removing little bits, trying to refine the cut, but it always stayed that length. The producers were afraid I would cut too much and they told me not to focus on the running time. They didn't want me to feel any pressure and wanted me to make the movie I needed to make. They didn't compromise that. Alcon are the real deal. They are movie-lovers."
Villeneuve has been dreaming about light in other worlds for his next project. "I'm working on the screenplay for Dune now and want to take time to dream about it, and I'm deeply happy to do that," he says. "It's a meditative process where you get in contact with the project. I sound esoteric but it's how I see things. It's close to the dream state. After all, cinema is close to the dream state — a bridge between reality and dreams."
Villeneuve would love to direct a James Bond film and work with the current 007. Then he mutters something about schedules and not being able to comment, adding cryptically: "I cannot be split in two, but I love Daniel Craig." Cleopatra is a long shot, although he thinks Eric Roth's script is "very strong".
Would he return to the Blade Runner universe? The director pauses. "The door is not closed. I know, to my great admiration and excitement, that for Alcon the journey goes on. They're proud of the movie and they're not closing the door."