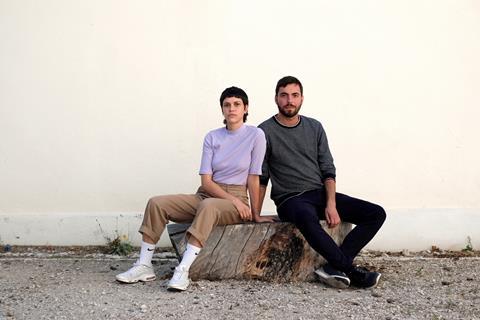 Portugal's Doclisboa has responded to the Covid-19 pandemic in innovative fashion. The Portugul-based documentary festival's 206 films, including 31 world premieres and 30 international premieres, will be presented in six separate programmes or 'moments', over six months. There will be at least 12 screenings each month from October 22 until March 2021.
The industry events will all be online but the festival element will be entirely physical in the city's cinemas. Joana Sousa and Miguel Ribeiro, the festival's new co-directors, are launching the event with Signals, a programme running from October 22 to November 1, the intended festival dates for 2020.(Their third co-director Joana Gusmão is presently on maternity leave.) Seventeen documentary feautures are screening in this first 'moment', along with 22 titles from the retrospective on Georgian cinema.
The six-month programme is partly intended to lure local audiences back to cinemas. Depending on how travel restrictions evolve, it will also enable international guests who will not be able to attend in person in Lisbon this month to hopefully show up at a later stage. Meanwhile, if physical screenings need to be cancelled, films can be re-programmed for a later part of the festival or shown only online.
The usual international competitions have been "let go" for now, say the co-directors, due to the difficulty in assembling juries and the logistics of the films screening over several months.
Industry activities through the festival's Nebulae programme, which will still present project awards, will take place in the festival's first 'moment' from October 22 to November 1. The video library will stay open for the duration of the festival.
Now in it's 18th year, Doclisboa is still relatively young festival and is working towards achieving the scale of larger scale events such as IDFA, Hot Docs and Sheffield DocFest. It is renowned for its adventurous programming and emphasis on emerging talent, for example, through its Green Years section involving international film school students.
Can you please talk a little about the decision to structure the festival this way?
Sousa; We had more time to prepare than the festivals that took place in March, April or May. We took it as a chance to really reflect on our goals for the festival. We took time to really think; to talk to our partners and all the sponsors, including the Portuguese Institute of Cinema and the MEDIA sub-programme. As this is an exceptional year, we thought let's do something exceptional for DocLisboa.
Ribeiro: We are showing more or less the same number of films, just across a longer period of time. This means it will be much less intense than is usual at film festivals. Each 'moment' of programming will have 12 screenings. We will have much more space for debates and talks. The idea is that you can actually watch everything. The level of reflection will hopefully be higher.
The festival element remains a physical one.
Sousa; For us, it is very important to maintain the relationship with theatres and with the city. Lisbon has so little space for alternative cinema to be seen that for us to remove even more wouldn't be an option. We want the festival to remain a place where people can meet and connections come forth. With the six moments, from October to March, we can rebuild the trust in the act of going to cinema. We are giving filmmakers the chance to do Q&As by video conference. The public can have a direct connection with filmmakers even though the filmmakers cannot travel.
Ribeiro: The idea of dividing into six is that by January, we can hopefully be more secure about inviting international filmmakers.
What are the economic challenges of spreading the festival over six months?
Ribeiro: We don't hire the venues but work with them as a partners and co-producers. This makes it an interesting step for them, a way of creating an event at the moment cinemas are re-opening. It is a different proposal but it is also a defence of what Doclisboa stands for, being a space for discussion on cinema and social issues and people being together.
How does DocLisboa differentiate itself from DokLeipzig and IDFA that are also taking place this autumn?
Ribeiro: We are very complementary. Each festival is doing very different things with its programme and with the way to build an international community. Actually, the idea of proximity is sometimes very helpful for someone who comes from overseas and wants to pass by each one of them. It can also make for some very interesting synergies.
Why did you choose to make Georgia your country of focus in both the industry programme and the festival?
Ribeiro: Georgia has a very important role both in the festival and in Nebula, our industry event. We will have a huge retrospective [ Permanent Travel- The Restless Cinema of Georgia] on the cinema of Georgia in the festival while Georgia is the invited country in Nebula. It started with an encounter with the Georgian National Film Centre. They told us about this incredible work they are doing with the prints they received back of all the films produced in Georgia during the Soviet era that had been in Soviet archives. In Nebula, we will be presenting eight projects in development from Georgia.
The festival is opening with the world premiere of Nheengatu – The Language from the Amazon Forest, a Brazilian project with a Portuguese director, José Barahona. Does the festival have strong links with Brazil?
Ribeiro: We usually have a lot of Brazilian cinema. We are worried that might change in the near future because the cinema policies in Brazil are very scary. Filmmakers are being attacked by the destruction of the film fund. But this year we have seen many surprising films coming from Brazil. There is the opening film which is a co-production between Brazil and Portugal. Also, we will have the international premiere of Paula Gaitan's film Riverock.
How strong is Portuguese documentary filmmaking at the moment?
Ribeiro: It's a very special year to present a strong, diverse programme of Portuguese films because the cultural polices are devastating. The [government] response during the pandemic has been almost nothing. Many artists have stopped having access to any funding. It was really difficult for filmmakers and technicians. Right now, the situation with the Portuguese Film Institute is so complex that presenting these films for us is a notion of how filmmakers are resisting - how they're fighting to make and present their own films. The diversity makes us very proud.
In October, in addition to the opening film, we are presenting two other Portuguese films: War by José Oliveira and Marta Ramos and Chelas Nha Kau, which is a film made by a music collective [Bagabaga Studios] from a neighbourhood on the periphery of Lisbon that is highly stigmatised.