While Hollywood continues to dominate animation globally, European distributors and producers are increasingly looking to grab a slice of the pie. Geoffrey Macnab looks at the state of play.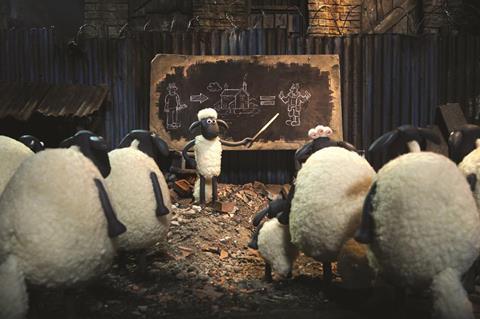 There are glaringly obvious reasons why Hollywood animation rules the international marketplace. "For the independents, the family audience is an expensive one to get to," says Danny Perkins, UK CEO of StudioCanal, highlighting the financial stumbling block in front of smaller outfits making — and trying to market — mainstream animated movies.
How, one UK executive asks, do you even begin to compete with a company like Disney that "has its own network of merchandise and retail and television networks — and has a presence in children's lives?"
In theory, animation appeals to the broadest mainstream audience and offers the possibility of vast commercial rewards. As Europeans continually discover, however, this is a space in which the US studios have long held sway. Independents cannot match the studios' clout when it comes to branding and merchandising animation, which involves much more than buying advertising and delivering prints — Hollywood animated features often turn into full-blown cultural phenomena.
"It's the only genre of film that exhibition doesn't have enough of. They need family films."

Danny Perkins, StudioCanal
For example, Disney's animated feature Frozen, released in late 2013, provoked a huge outpouring of affection and eventually grossed close to $250m in Japanese cinemas alone (and $1.3bn worldwide) — more than three times as much as the second-placed film in the country's 2014 box-office chart.
All of the US studios produce animation and family films themselves — or have access to them. This means that whenever a big holiday or school break rolls round, there is bound to be a big-budget Hollywood animated juggernaut — a Kung Fu Panda or an Ice Age — ready to steam into cinemas. Unlike most of their international rivals, the US studios benefit from continuity of production, with one animated project following another in quick succession and thereby ensuring the creative teams remain intact. There has long been a drain of creative talent in European animation, with some of the top animators being lured to Hollywood simply because they know they can find work.
"It is extremely hard to compete against the studios," says Belgian 3D animation pioneer Ben Stassen, founder of Brussels-based nWave and producer/director of such films as Fly Me To The Moon, A Turtle's Tale: Sammy's Adventures, Thunder And The House Of Magic and the forthcoming Robinson Crusoe (nWave has a long-term production and distribution partnership with StudioCanal).
An added problem is that European animation struggles for proper theatrical distribution in the all-important North American market. This, Stassen argues, is a major hindrance: "When a film is distributed in North America, especially an animation film, it has an impact on the sales price worldwide but also on the support that a distributor will give the film because it enhances credibility."
Only with US majors behind them have Europe-based animators been able to crack the US market — for example, Aardman Animations in partnership with DreamWorks for Chicken Run and Wallace & Gromit: The Curse Of The Were-Rabbit, and with Sony Pictures for Arthur Christmas.
There have been plentiful examples of locally made animated features in Europe and elsewhere that have done well within their own borders. There are also several instances of auteur-driven animations winning awards, playing at festivals and reaching a cinephile audience — for example, Hayao Miyazaki's Spirited Away (2001), Sylvain Chomet's The Triplets Of Belleville (2003), Michel Ocelot's Azur Et Asmar (2006), Marjane Satrapi's Persepolis (2007) and Ari Folman's Waltz With Bashir (2008).
For all their successes, though, these films were not competing with the blockbuster animations from companies such as Pixar, Blue Sky and DreamWorks. They were as likely to be seen in arthouse cinemas as in multiplexes, and their audiences consisted of as many film-loving adults as they did children. Some more ambitious attempts at high-profile European animation have floundered or done only middling business at the international box office, among them the UK-made, Second World War-set carrier-pigeon movie Valiant (2005), co-produced by John H Williams (Shrek), and the UK-Spain co-production Planet 51 (2009).
New appreciation
It is telling that the Council of Europe's Audiovisual Observatory, which has been conducting exhaustive research into every other part of the audiovisual industries in Europe over the past 20 years, had, until very recently, ignored animation. Finally, at this month's Annecy International Animation Film Festival, the observatory issued its long-awaited report, 'Focus On Animation', mapping the industry in Europe.
"Being at the crossroads of creativity and information and communication technology, the animation industry is a very promising sector," a European Commission official said, explaining the decision to order the report now. "In terms of audience, animation is also one of the branches of the audiovisual sector with the greatest potential in export."
"There's a huge demand for top-quality animated movies."

Gary Wang, Light Chaser Animation
Susanne Nikoltchev, executive director of the Audiovisual Observatory, points out that the organisation "had always wanted to cover animation" but lacked the resources to do so. "It's part of our remit to produce industry analysis in Europe and we were aware the animation industry was waiting for a major European study of the sector. We hope it's not just a one-shot and that we can produce updates in the future. There has certainly been enough interest from media professionals to justify this."
What the research has brought into sharp focus is the potential for growth in European animation. According to the observatory's figures, 15% of European admissions are for animation films, which achieved an average of 180 million admissions per year from 2010-14; and around 50 animated features are made each year in Europe. The downside is that European animation accounts for only 20% of the market in Europe.
There are clearly opportunities in the market, however, that the major studio animated features cannot fill. "It's the only genre of film that exhibition doesn't have enough of," argues StudioCanal's Perkins. "They need family films. There are key holidays when there is real business for them. In pretty much any other space, they are well served in the number of films they have, but there is a dearth of good material for children and for the family audience."
UK distributor/producer Vertigo's co-CEO Rupert Preston makes a similar point. "It is basically about trying to be opportunistic in finding good films that can fill those slots," he says. Vertigo enjoyed an eye-catching success with its 2012 release of Top Cat: The Movie. While the film received overwhelmingly negative reviews from UK critics, it went on to gross around $4.7m (£3m) at the British box office. Dating was crucial. The film, aimed at a young audience, was released in early June. Parents who wanted to take their children to the cinema turned to Top Cat in spite of the reviews because there was little else to choose.
The UK distributor was less successful with its 2014 release The Unbeatables, a football-based animated feature from Oscar-winning Argentinian director Juan Jose Campanella. Highly praised at festivals from San Sebastian to London, the film still took a beating from UK critics, who did not like the way the Latin American-made title had been customised for the UK. Preston points out that, unlike independent features, studio-backed animation features have such marketing power they need not rely on positive reviews.
Nonetheless, Vertigo has been doing brisk business with Moomins On The Riviera, a self-consciously quaint title with a strong nostalgic appeal that was released in UK cinemas at the end of May. Part of its selling point was offering something different from typical Hollywood fare, says Preston. "It is not in any way, shape or form a normal commercial, mainstream family animated film. When we picked it up, we thought we might release it on 75 to 100 screens and we've ended up with more than 300. The big benefit with family films is that, if you pick the right dates, you can definitely get the representation in the cinema."
Lowering risk
One positive and enticing development for indie producers and distributors is the fact that animation is becoming more affordable. "The off-the-shelf software and hardware that are now available to everybody enable you to do real quality work, without 60 people in R&D like the big companies have," says nWave's Stassen. "You can make an animated film for $7m. It won't be great quality and it might not sell worldwide but, in the past, that would have been impossible. When we did Fly Me To The Moon [2008], there was no way you could make a high-end 3D animated film for less than $15m."
"It is still almost impossible to compete with the majors, but you can always find some special films that can actually work," says Solveig Langeland of Stuttgart-based sales company Sola Media, which specialises in family fare. She points out that big animated movies from the US will continue to dominate the screens during holiday time, "but there are 12 to 16 films a year [from the majors] and there are more than 12 to 16 weekends".
"You can always find some special films that actually work."

Solveig Langeland, Sola Media
Exhibitors desperate to fill weekend slots are willing to take a chance on indie animated films, and it helps that these films can be tailored for local audiences. This can create a virtuous circle — the theatrical exposure will drive DVD, VoD and TV sales, which should foster further demand for animated movies in cinemas. Sola Media enjoyed strong success internationally with its animated feature Sunshine Barry And The Disco Worms (2008), produced for $2.6m (€2.3m) but accruing 650,000 admissions in Poland alone, beating How To Train Your Dragon at the box office in the process.
The downside is that some insiders believe there are now, as Stassen puts it, "way, way too many animation films being produced worldwide". When Stassen completed Fly Me To The Moon in 2008, a dozen years had passed since the release of Toy Story (1995). "Toy Story was the 13th full-length computer animated film. Only 13 had been made in more than 10 years. Now, 13 are being made every year." Audiences have become so accustomed to the production and narrative magnificence of Pixar and Disney that they are resistant to lesser work.
Meanwhile, animation in Europe still tends to be broadcaster-driven. The tax credit for animation introduced in the UK in 2012 was targeted at TV productions (animated features already qualified for the film tax credit). The consensus is that "the playing field is becoming more level" as far as production of animation is concerned — but that is only part of the process in which branding and merchandising remain hugely important. "There is way more to it than just being able to make nice images," Stassen states.
Picture perfect
At this year's Cannes Film Festival, many of the titles generating the most buzz were animated features. These ranged from the new Aardman feature Early Man, which is fully financed by StudioCanal and pre-sold all around the world on the basis of a few minutes of footage and director Nick Park's reputation, and stop-motion film My Life As A Zucchini (Ma Vie De Courgette), directed by Claude Barras from a script by Céline Sciamma (Girlhood). Early Man will not be ready until 2018, but leading independent distributors were competing to secure rights to the type of film that, in previous years, would have been on a US studio's slate.
Russian companies handling animated fare on fairly large budgets also reported spectacular international sales results. For example, Wizart's The Snow Queen 2 has sold to more than 70 territories worldwide. Buyers who would not go near Russian live-action dramatic movies have no compunction about acquiring their animated features. One obvious attraction is that these films do not 'feel' Russian — therefore are easily customised for local audiences, with familiar film stars dubbing the voices.
StudioCanal CEO Olivier Courson took a conscious decision to move into family entertainment four or five years ago. The spectacular results achieved by the company with Shaun The Sheep Movie (which raked in more than $20m at the UK box office alone) and even more so by Paddington (combining live action and animation, it has a worldwide gross of $260m), have vindicated the decision. It helps that StudioCanal has been working with blue-chip production companies such as Aardman and Heyday Films, which might previously have been expected to partner only with US studios.
There is an obvious risk in making cherished characters such as Paddington Bear or Shaun the Sheep the subject of an animated feature, though. Fans of the original properties are fiercely protective of their favourites and can easily feel let down if the big-screen version does not live up to their expectations.
As StudioCanal's UK head of marketing Hugh Spearing notes, when David Heyman's Heyday and StudioCanal adapted Paddington from Michael Bond's books, "we had to do the job of convincing people here [in the UK] that we were protecting the character and staying true to him while also turning it into a big movie event. Then, worldwide, we had the job of introducing the character in a new way to people in lots of countries who weren't familiar with him."
The upside is that these fans are likely to be curious about the film adaptations and provide a ready-made audience. There is also a strong commercial argument for making animated features about such characters that already exist as brands. Alongside its new Robinson Crusoe feature, nWave is currently producing animated feature Son Of Bigfoot with US partner Waterman Entertainment, the production company behind the Alvin And The Chipmunks movies. As nWave's Stassen explains, both Bigfoot and Crusoe have branding potential. Meanwhile, in the UK, Vertigo is developing an animated Wombles movie, drawing on the brand recognition and nostalgia that surrounds the much-loved children's TV show.
Yet a little stealth is sometimes required. In the first instance, distributors are not reaching out to the children who are likely to be a large part of the film's eventual audience. Instead, they are targeting the parents — and sometimes even the grandparents — who might know about characters such as Paddington Bear, the Moomins or the Wombles.
It is certainly clear the market for animation is opening up . Even when indie films do not break into North America, they can still enjoy substantial success in South Korea or China, which is now the second largest market for animation in the world.
The current call is for a more energetic and coherent approach to animation in Europe. As Lucia Recalde Langarica, head of the MEDIA unit within the EU's Creative Europe programme, wrote in the 'Focus On Animation' research: while national and regional policy-makers have long supported animation, "it may be time now to consider the potential of the industry from a broader European Union perspective".
China: Homegrown films square up to u.s. and japanese big-hitters
WY Wong reports.
The phenomenal success of Stand By Me Doraemon once again demonstrated China's rapidly growing animation sector. Last month, the Japanese animation scored a record-breaking $38.3m (rmb240m) over its four-day opening holiday weekend, already making it the biggest Japanese film in China. It is on track to surpass Kung Fu Panda 2 as the country's top animated film.
While US and Japanese 3D animations have set a high benchmark in terms of box office and production quality, homegrown animated films are finding their feet with the domestic audience. The most successful tend to be spin-offs from popular Chinese children's TV programmes, including Pleasant Goat And Big Big Wolf, a franchise from Creative Power Entertaining with seven instalments released since 2009. The fourth film, released in 2012, was distributed by Disney outside China.
More recently, Mr Cartoon Pictures' Boonie Bears franchise spawned the top two local animations of all time, with the first film taking $39.6m (rmb246m) and its 2015 sequel raking in $47.5m (rmb295m). Although local audiences didn't embrace Tianjin North Film's Legend Of A Rabbit, the locally produced 3D animation fared well internationally, with more than 90 territories sold including a US deal with Lionsgate Entertainment. It also spawned a sequel, which was picked up by Easternlight Films, while a third instalment made its market debut last month at Cannes.
"If local producers make a film that appeals to the Chinese audience, they're already in a very good place commercially speaking," says Elliot Tong, a producer at Tianjin North before joining Easternlight as head of Asian sales. "But it's hard to appeal to both markets the way the US studios make them since they're vastly different in budget, talent pool and international marketing."
In 2013, two new animation studios entered the fray and their eagerly anticipated debut films will be delivered in 2016. Beijing-based Light Chaser Animation was launched by Gary Wang, a founder of online video site Tudou which was bought by competitor Youku in a $1bn deal. It was followed six months later by the opening of Oriental DreamWorks in Shanghai, a joint venture between DreamWorks Animation and Chinese partners China Media Capital, Shanghai Media Group and Shanghai Alliance Investment.
"Our founding belief is that original animated movies with world-class quality can be created from China, says Wang. "The Chinese movie market has expanded at a very fast pace in recent years and we strongly believe there's a huge demand for top-quality animated movies. Little Door Gods and our following movies are stories with universal themes that will appeal to global audiences."
Boasting a $12m budget — high for an animation by Chinese standards — the company's debut film Little Door Gods is written and directed by Wang, with the support of a strong team including ex-Pixar animator Colin Brady and ex-DreamWorks lighting artist Han Lei. The company is already developing its next project about a little robot and a tea-lover's ornament.
Billed as the first US-China animated feature co-production, Kung Fu Panda 3 is expected to feature more Chinese elements than previous instalments to appeal to local audiences. If it opens day-and-date with the film's US release (January 29, 2016), it is set to go head-to-head with Little Door Gods, also confirmed for January, in time for the lucrative Chinese New Year period.
Japan: Who will emerge as the successor to Hayao Miyazaki's throne?
Sten Saluveer reports.
Since internationally feted animation maestro Hayao Miyazaki announced his retirement in late 2013, and his Studio Ghibli went on a hiatus from feature-length production shortly thereafter, industry and audience members alike have been wondering in which direction the Japanese animation business might head. With local animations continuing to generate healthy box office locally, and new films from acclaimed film-makers Shunji Iwai and Keiichi Hara competing at this year's Annecy International Animation Film Festival, this year has looked promising for anime and arthouse players alike. But the big question remains: who will emerge as a successor to the throne of Miyazaki?
The Japanese animation production system is a complex maze in which director-driven production houses set up intricate ties with other studios, distributors, TV channels, and game and merchandising firms. Collaboration on larger projects and features, as well as the sharing of staff between studios, is still preferred working practice in spite of attempts to outsource overseas. Asuka Kimura of Nippon TV, Studio Chizu, which is sharing co-production duties with France's Gaumont on Mamoru Hosoda's highly anticipated The Boy And The Beast, says: "Skilled animators are limited, and [the studios] need to 'share' those talents."
While the focus for animation producers has always been the domestic market and television, theatrical is gaining momentum with tentative expectations for the possibilities offered by web series and SVoD. "The internet has proved most influential for TV series," says industry veteran Francesco Prandoni of prolific studio Production I.G., producers of Keiichi Hara's Annecy-selected coming-of-age feature Miss Hokusai, about the travails of the daughter of a 19th century Japanese ukiyo-e master. "As for feature films, because of digital piracy's impact on home entertainment sales, many countries including Japan have rediscovered theatrical release as a source of revenue and/or marketing."
Joint efforts to curb piracy are high on the agenda. The Ministry of Economy, Trade and Industry (METI), along with 15 manga publishers and anime companies, launched an initiative called the Manga-Anime Guardians Project last year with the goal of removing nearly 600 pirated works, directing fans to legitimate sites and creating copyright awareness. The outcome of their actions is still undisclosed but, by late last year, creative-content exports under the 'Cool Japan' banner leapt a healthy 30%, with anime taking up a big chunk.
With the Studio Ghibli hit machine temporarily out of the game, there is a feeling of uncertainty in the market despite the odd blazing success story. The Toho-distributed Stand By Me Doraemon, for instance, ranked second among animated features at the domestic box office in 2014, just behind Frozen. But, observes Nippon TV's Kimura: "Films are either a hit or a flop. If it's already popular as a manga or TV anime series, it usually goes well. But original stories are difficult, except for Ghibli and now [director] Mamoru Hosoda."
An international influence
Is the increasing popularity of western animation techniques and Disney and Pixar fare among Japanese audiences having a cannibalising effect? Industry pundits mostly disagree, pointing out anime's unique cultural and production history. "Japanese animation has been able to cross boundaries, paradoxically because of its priceless Galapagos-class uniqueness," says Prandoni. "The new generations of animators, including those in North America, grew up watching Japanese animation, and this is reflected in their productions." One need look only at Disney's Big Hero 6 to realise how steeped that studio's animators are in Japan's rich animation tradition.
Anime's global reach is bringing attention back to old masters, too. Eiichi Yamamoto's critically lauded psychedelic oeuvre Belladonna Of Sadness (1973) was recently rediscovered by boutique seller Gold View and is undergoing a 4K restoration, with deals in place in France, Germany and Korea. But the hottest title of the year will be Hosoda's The Boy And The Beast, which is due to open on 485 screens in Japan during the summer holidays. Might he ascend to become the next master storyteller of Japanese animation? The prevailing opinion is yes. "That's where Hosoda is now in Japan," declares Kimura.
With several other heavyweights such as Hideaki Anno, Shunji Iwai and Mamoru Oshii showing no decline in their creative output, the business of Japanese animation in 2015 remains strong, driven by a sense of solidarity and collaboration, and a mission to nurture new talent that can deliver touching, emotional stories to the audience.