The Lumiere brothers and virtual reality feature in this year's Dubai International Film Festival programme.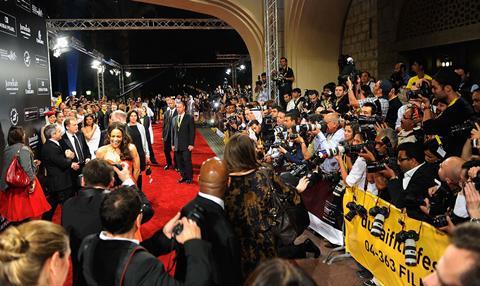 Dubai International Film Festival (DIFF, December 7-14) enters its teens this week with a diverse selection embracing cinema's past and present.
The 13th edition opens with John Madden's Miss Sloane, starring Jessica Chastain and Gugu Mbatha-Raw. It will go on to screen 156 films from 55 territories and in 44 languages, 57 of which are world or international premieres.
Alongside the long-running Arabian Nights, Cinema of the World and competitive selections devoted to Arab and Emirati features and shorts, the festival has added a virtual reality sidebar this year: DIFFerent Reality is showcasing 10 VR works.
They include UK director Darren Emerson's Invisible, which captures the experiences of people held in migrant detention centres in the UK; UAE film-maker Hassan Kiyany's road-trip tale Flash; and Pierre Zandrowicz's I, Philip, France's first piece of fictional VR work, which is inspired by the fate of a real-life android modelled on the late sci-fi writer Philip K Dick.
Collective experience
"I'm very excited about the VR showcase," says DIFF chairman Abdulhamid Juma. "VR adds a new dimension and the discussions around where it is all leading are very interesting."
DIFF is screening the VR works in a traditional setting; an audience of 20 will don headsets in the same room and watch the films at the same time.
"We thought it would be interesting to show VR as a collective audience experience," says DIFF managing director Shivani Pandya.
At the other end of cinema's timeline, the festival is hosting a special screening of Thierry Frémaux's Lumiere!, a compilation of some 100 short films shot by French cinema pioneers Auguste and Louis Lumiere from 1895 to 1905. Cannes film festival chief Frémaux made the feature under the auspices of his role as the managing director of France's Institut Lumiere in Lyon, to celebrate the pioneering work of the Lumiere brothers and cinema heritage in general. Frémaux is in town to present his film.
"One of the aspects I love about this year's programme is the way in which it gives the audience an overview of cinema's history, present and future," says Juma. "We've got the Lumiere film, pictures in the vein of Miss Sloane talking about contemporary issues and then the VR line-up and the closing picture, Rogue One: A Star Wars Story."
The festival is also hosting an In Conversation event with Samuel L Jackson, who is among three recipients of life achievement awards this year alongside Bollywood star Rekha and French-Lebanese composer Gabriel Yared. There will also be a masterclass with Andie MacDowell.
In line with other festivals, DIFF is also paying attention to TV. It is screening the first episode of the first series of Westworld, to be followed by a Q&A with stars Luke Hemsworth and Jeffrey Wright.
There will also be In The Directors' Chair conversations with Oscar- and Bafta-winning documentary film-maker Asif Kapadia (Amy) as well as Irish director Lenny Abrahamson, whose Oscar-winning Room opened DIFF in 2015. "Lenny really wanted to come last year but he couldn't make it so he's come this year instead," says Juma.
Local heroes
In line with the festival's remit to support Arab cinema, half of all the titles in the main programme are by Arab film-makers. Titles in the non-competitive Arabian Nights selection include the world premiere of Lebanese director Philippe Aractingi's forbidden love story Ismail (Listen), as well as festival hits The Challenge, Gaza Surf Club, Zaineb Hates The Snow, The War Show, A Day For Women and Brooks, Meadows And Lovely Faces. The latter is the new film from Egyptian director Yousry Nasrallah, who is also on the main jury.
Eighteen titles, a combination of festival hits and world premieres, are competing in the Muhr Feature competition. They include Tunisian director Mohamed Ben Attia's Hedi, which won best first film in Berlin earlier this year, and Mohamed Hammad's Withered Green, which premiered at Locarno in August.
World premieres include buddy road movie Ali, The Goat And Ibrahim, the debut feature of Egypt's Sherif El Bendary, and Egyptian Jeanne D'Arc, an experimental documentary by Iman Kamel that examines the position of women in Egypt after the revolution.
The Emirati competition includes Honey, Rain & Dust, the new documentary from Nujoom Alghanem, about the beekeeping tradition in the northern UAE, Ali Mostafa's post-apocalyptic drama The Worthy, featuring an ensemble pan-Arab cast, and Eman Alsayed's The Choice, about an American girl who travels to the UAE to connect with her roots following the death of her Emirati father.
"The quality of Emirati productions continues to develop and improve," says DIFF artistic director Masoud Amralla Al Ali. "It's wonderful to see Emirati film-makers presenting their work to audiences from around the world at DIFF."
As per DIFF tradition, given its December timing, a number of hotly tipped Oscar contenders also feature in the programme, including Jackie, La La Land and The Eagle Huntress, while this year's international film-maker guests include Their Finest director Lone Scherfig and star Bill Nighy.
Big hitters
The inaugural Dubai Investors Club aims to attract international financiers and producers to this year's DFM.
Some of the biggest names in the international independent film business are attending the Dubai Film Market (DFM) this year. They include Los Angeles-based financier and producer Lauren Selig of Shake And Bake Productions, whose credits include Hacksaw Ridge and Everest; John Friedberg, head of international sales at STX Entertainment; John Sloss, founder of Cinetic Media; David Grumbach, the Paris-based CEO of Bac Films; Alex Walton, president of US international sales at financing company Bloom; and Alex Brunner, UTA agent.
The Nordic region is the subject of a co-production focus, with a panel discussing collaboration opportunities between the Arab and Nordic film industries. Speakers include Laufey Gudjonsdottir, head of the Icelandic Film Centre; Swedish producer Martin Persson, whose credits include The Hunt; and Noemi Ferrer Schwenk, head of international at the Danish Film Institute. There will also be a networking event for Arab and Nordic producers.
The bustling DFM encompasses an exhibition space, industry talks, the Dubai Film Connection (DFC) co-production event and the inaugural edition of Dubai Investors Club, which runs the first two days of the festival. The latter is co-ordinated by producer Paul Miller, the former head of film financing at the Doha Film Institute.
"It's a very bespoke, small event catering to people who might be interested in investing in film in this part of the world," explains DIFF managing director Shivani Pandya. "There will be 15 to 20 speakers but it will be informal and very focused on networking."
The DFC is presenting 13 features by Arab film-makers, including Lebanon's Hiam Abbass, Palestine's Najwa Najjar and Morocco's Daoud Aoulad Syad.
Other industry initiatives include the post-production fund Enjaaz, the Dubai Distribution Programme and the fifth annual $100,000 IWC Filmmaker Award for Gulf film-makers. Organised by DIFF in partnership with Swiss luxury watch manufacturer IWC Schaffhausen, the three shortlisted directors for this year's prize are Nujoom Al Ghanem and Abdullah Hassan Ahmed, both from the UAE, and Hafiz Ali Ali from Qatar.
DFM's Forum programme of industry talks will kick off with PwC's annual presentation on the global entertainment and media outlook for the Middle East. Further topics include the blooming of the documentary genre in the region, film finance and how Arab cinema can break out internationally.
Cheryl Boone Isaacs, president of the Academy of Motion Picture Arts and Sciences (AMPAS), is one of this year's Forum speakers. It is the first time she has attended DIFF.
As an organisation, DIFF has become increasingly involved in elevating the presence of Arab films in the end-of-year awards season. Since 2015, the winners of DIFF's Muhr Shorts competition have qualified for consideration in the Academy Awards shorts category, while in September DIFF presented two films — Mohamed Diab's Clash and Lebanese comedy Halal Love — to the Hollywood Foreign Press Association (HFPA) in Los Angeles for Golden Globes consideration.