Taiwanese films are benefiting from a new government agency that is making its market bow at EFM.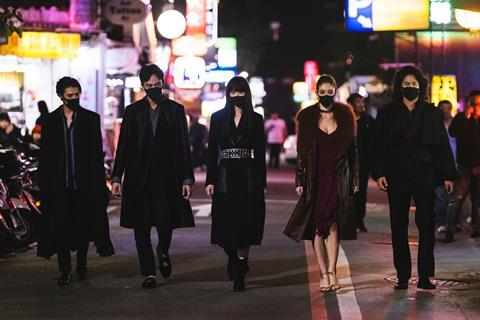 Government-backed Taiwan Creative Content Agency (TAICCA) is making its market debut at EFM, bringing a string of local titles, of which three are award-winning projects from the 2019 Golden Horse Film Project Promotion.
The trio — Liu Yi's Chi: The Method Of Breathing (in script development), Elvis Lu's documentary A Holy Family (in production) and Ko Chen-nien's The Growl In Red Forest (in post) — will be presented through the first TAICCA Selects programme.
TAICCA was established in May 2019 as an intermediary organisation to assist the development of local cultural content industries including film and TV. It receives support from inter-government departments and has a board of directors comprising professionals in the private sector.
Meanwhile Sony Pictures, which opened a theatrical marketing and distribution office in Taipei last April, ending its sub-distribution collaboration with Disney, is set to boost the local film industry. Sony will release its first batch of local titles, including Do You Love Me As I Love You in March and Your Name Engraved Herein in June.
Local filmmakers welcome the move: Hollywood studios wield more power when it comes to securing an increased number of cinema screens for local titles. Warner Bros has been the only Hollywood studio active in local releases in recent years and it would even occasionally co-invest in local productions. A case in point is last year's Detention, which grossed $8.6m to become one of the top five highest-grossing local films in the last decade.
The box-office success of Detention boosted the commercial aspect of Taiwanese cinema, which is better known internationally for its arthouse offerings by Hou Hsiao-hsien (The Assassin) and Tsai Ming-liang — the latter is returning to the Berlinale's Competition with Days (Rizi).
Days
Dir. Tsai Ming-liang
Malaysian-Taiwanese maverick Tsai is back in Competition after an absence of 15 years. His new film, which was shot over four years without a conventional script, follows his regular actor Lee Kang-sheng and Cambodian newcomer Anong Houngheuangsy as they meet, strike up a relationship and share each other's loneliness. Taiwan Public Television Service is a co-producer. Tsai won the Silver Bear for outstanding artistic contribution with The Wayward Cloud in 2005 and the Silver Bear special jury prize for The River in 1997. Contact: Homegreen Films
Dead & Beautiful
Dir. David Verbeek
Dutch filmmaker Verbeek revisits Taiwan — after 2018's An Impossibly Small Object — for a vampire film about a group of rich kids who wake up with fangs after a night out. Initially empowering, it soon drives a wedge between them. The cast includes Dutch actor Gijs Blom, Aviis Zhong and Yen Tsao from Taiwan. Vincent Wang and Nobu Tsai from Paris-based House On Fire are co-producing, with the support of film funds from the Netherlands, Kaohsiung and Taipei. Verbeek's credits include 2010's R U There (Cannes' Un Certain Regard) and 2015's Full Contact (Toronto's Platform). Contact: Indie Sales
Do You Love Me As I Love You
Dir. Chieh Shueh-bin
Starring Tsao Yu-ning (Kano) and Chen Yuu (HBO Asia's The World Between Us), Chieh's feature debut is a campus romance about two childhood friends and a school beauty. The script is adapted by Gavin Lin and Hermes Lu, the director/screenwriter team behind smash hit More Than Blues, from Si Yi's bestselling book. Major investors include CMC Entertainment, Sky Films Entertainment, Lots Home Entertainment and Shine Time Entertainment. To coincide with White Day — a variation of Valentine's Day — a local release is scheduled on March 12 as Sony Pictures' first release of a local film through its new operation. Contact: Eric Chou, Sky Films
Jang-gae
Dir. Chang Chih-wei
Chang's debut feature focuses on a half-Chinese Korean youth, who is often called "jang-gae" (a derogatory Korean word for Chinese people). He looks forward to studying abroad after winning a scholarship, but long-buried family secrets begin to emerge. The film, which was shot almost entirely in South Korea, is financed by Taiwan's Joint Pictures, with location incentives from Seoul Film Commission and subsidies for new directors from Taiwan's Ministry of Culture. Racism is a personal topic for Chang who is of mixed Taiwanese and Korean heritage and was raised in South Africa during apartheid. Contact: James Liu, Joint Enter­tainment
Kidnapped Soul
Dir. Su Huang-ming
Singapore-based mm2 Entertainment, the producer behind the mega-blockbuster More Than Blue, presents a horror thriller that combines elements of crime with traditional Chinese customs and the power of motherly love. Starring Wu Ke-xi (Nina Wu), Rainine Yang (The Tag Along 2) and popular TV actor Jay Shih, the $1.5m production follows a single mother who has to seek help from a psychic medium to rescue her abducted daughter when the kidnapper dies. Veteran producer Guo Mu-sheng produces for Su in his feature debut. Feng Shang International Culture Media is also an investor. Contact: Sim Wee Boon, mm2 Entertainment
Little Big Women
Dir. Joseph Hsu
This female-driven family drama is about three daughters who come together to celebrate their mother's 70th birthday, but the happy occasion is marred by the death of their long-lost father. The cast includes Hsieh Ying-xuan (Golden Horse best actress for Dear Ex) and Vivian Hsu (The Tag-Along: The Devil Fish), who is also executive producing along with Liao Ching-song. The film will open on May 8 to coincide with Mothers' Day. It is the feature debut of Joseph Hsu, who has made several award-wining short films including Guo Mie, which was selected as a Student Academy Awards finalist in 2017. Contact: Distribution Workshop
Your Name Engraved Herein
Dir. Liu Kuang-hui
The coming-of age-drama, which will receive its world premiere in competition at Osaka Asian Film Festival, reflects the current focus on LGBTQ+ rights in Taiwan, which recently became the first territory in Asia to legalise gay marriage. The story follows two high-school boys in the late 1980s who are driven apart despite their mutual attraction, until they meet again in Canada years later. The cast includes Tseng Jing-hua, a Golden Horse nominee for best new performer (Detention), Chen Hao-sen and Leon Dai. A local release is scheduled on June 19 through Sony Pictures. Sales agent Flash Forward will present market screenings at EFM. Contact: Flash Forward Entertainment