Smaller companies are having to be even more focused and collaborative if they are to find great projects in an unforgiving market, where the likes of Netflix and Amazon have very deep pockets.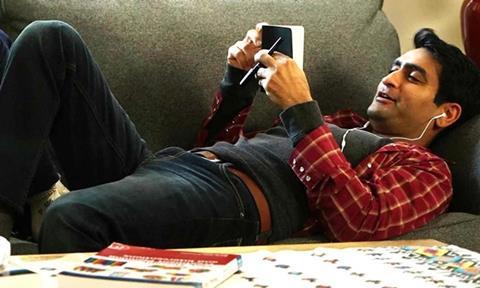 Amid ongoing concerns over Brexit and the far more deep-rooted foundational shifts ushered in by streaming platforms, people come back to one familiar adage.
"We continue to believe in the old saying that good content will always find its audience and that people want to be entertained - and movies and TV are the cheapest form of entertainment," says Thorsten Schumacher of new UK-based sales outfit Rocket Science.
"We pride ourselves on always dealing with top-tier filmmakers so we feel the market demand for those continues to be strong."
The London-based former managing director at HanWay Films will show promo footage in Berlin from BBC Films/Number 9 Films production On Chesil Beach, and one imagines buyers will not be in short supply if the Ian McEwan adaptation is well executed.
In fact, the proliferation of distributors - old and new, theatrical and digital - has created a fiercely competitive sellers' market, as anybody who attended Sundance would have noted.
Acquisitions executives from Netflix, Amazon Studios and the Hollywood majors, particularly Universal, scoured the Park City festival aggressively, driving up prices with their deep pockets and hunger for content.
Whether or not those headline-grabbing deals on Mudbound, The Big Sick, Patti Cake$ and To The Bone will materialise into good business remains to be seen, but almost every buyer canvassed by Screen International felt the ask was too high in many cases, resulting in a shut-out for smaller companies.
The Sony Pictures Classics (SPC) hierarchy were busy in Park City, arriving with a pre-buy they boarded at script stage - Luca Guadagnino's lauded Call Me By Your Name - and snapping up Novitiate and Brigsby Bear soon after their premieres.
"Anybody who wants a chance to buy one of these type of movies has to get [in] early," SPC co-president Tom Bernard says. "Once it's in the marketplace, money speaks."
This applies to the international circuit, too. Netflix is buying the world, mostly, and Amazon Studios, as evidenced at Sundance, is moving in that direction.
Both have been - and will continue to be - growing forces at international festivals and markets, which is why local buyers have become very worried while sales agents speak diplomatically about competition, privately only too happy to cut the odd deal if they can move the world on a sales title.
Adapt or die
The tentacular presence of Netflix in Latin America is threatening the regional ecosystem. At the Ventana Sur market in Buenos Aires last December, much of the talk among buyers centred on the need to adapt or face extinction within 10 years.
Buyers that do not move into production, invest in the films they sell, cut exclusive supply deals with desirable producers or get into bed with the Netflixes of this world, will slide off the face of the earth before long.
How else can they compete with a streaming competitor that remains price-insensitive because the films it buys - provided the filmmakers want an up-front deal and are willing to bypass theatrical - are all about increasing subscribers and raising the stock price?
"Netflix doesn't have a P&L on a picture-by-picture basis," says Radiant Films International president Mimi Steinbauer, who hopes to introduce new titles in Berlin and round out sales on Misfortune (Germany and Japan are available) and Ashes In The Snow (UK and Scandinavia remain on the table).
"They have another structure. We are looking on the basis of what is a picture worth."
Steinbauer warns that in the current climate it can even be hard for a sales agent to board a project.
"There are a number of international rights going on films with MGs that are higher than what I think the film is worth."
Companies prepared to spread the love across a roster of content of varying taste and budget can strike it lucky.
"It's all about the movies," says Sierra/Affinity president and CEO Nick Meyer. "The market cycle doesn't always correspond with when a movie is ready. You have to work harder and work with as many varied and talented collaborators as you can to keep the engine going."
For Meyer, varied means embracing everything from new sales title Stockholm, a hostage thriller that will star Ethan Hawke and Noomi Rapace, to Terry George's Toronto premiere The Promise to prestigious awards fare that can take off.
Sierra/Affinity handled international sales on films that are in the running for 11 Academy Awards on February 26. Manchester By The Sea earned six nominations, Hell Or High Water four and Captain Fantastic one.
"It's a great year for independents," says Meyer, who will host private screenings of Sundance titles Beatriz At Dinner and Landline in Berlin.
"It feels special to have two in the race. It doesn't happen a lot in your life. It's been a great journey. The marketplace isn't forgiving and it's our job to have a good sense of that. In the past two years we had Whiplash and last year we had Spotlight; this year we have what we have and that speaks to a part of what we do. You have to be focused and driven and find great movies."
"We're finding it more difficult to find the right pictures for international buyers that they can be sure will play theatrically in their marketplace and do well," says Foresight Unlimited chief Mark Damon, whose team has reconfigured war film The Last Full Measure and expects to have cast for EFM.
"What helps is if we have a US deal with guaranteed wide release up front. That doesn't happen very often for independent pictures, and if it does, the studio on the picture wants international as well."
Foresight's sci-fi action adventure Inversion is ready to start shooting at Studio Babelsberg at the end of March, while Category 5 wrapped in November and is in post.
"If you don't have a sure thing it's a difficult sell," says Foresight Unlimited president Tamara Birkemoe. "People have been burned a lot and want really good scripts, and the assurance that they will go out theatrically."
Maybe that's why Glen Basner's FilmNation has just made its first foray into North American distribution, partnering with Roadside Attractions on Beatriz At Dinner.
Added value
Basner could not be reached at time of writing, but often talks of adding value to his distributors' businesses. A guaranteed North American release on a sales title would do that (even though in this case Sierra/Affinity handles international on Beatriz At Dinner).
In another noteworthy play, FilmNation licensed select territories on The Big Sick to Amazon Studios in Park City and will now find international theatrical buyers in those territories on behalf of Amazon Studios, which retains TV rights.
Attaching big names is getting harder.
"There are so many options for the talent," says Steinbauer. "They used to be drawn to a studio film but can now have their own series on Netflix or Amazon. It's good for the business but makes it challenging for the independent producers to put together projects."
Brian O'Shea of The Exchange is moving into financing more of his titles.
"That's the only way to do it," he says, noting buyers will be very aggressive for theatrical-quality titles in Berlin and the circuit at large.
O'Shea has three films in post - Modern Life Is Rubbish, Bilal and Stolen - and has a specific game plan for EFM.
"We're looking on this market as a place to sell finished films. You have to embrace that aspect of it and sell movies so we can pay ourselves."
"EFM has always been a key market for getting films into production by the second quarter of the year [spring/summer] and it has a wide range of territory attendees," says Schumacher.
While he admits Netflix has created "a lot of nervousness" in terms of rights available and the theatrical prospects of a film, Schumacher remains positive about the Netflix effect.
"Generally, losing projects to them has created more competition, and there are more distributors partnering [whether formally or informally] across territories to become a stronger force when it comes to acquiring.
"But let's face it, the SVoD market has not only replaced but also improved the business left behind by pay-TV deals, which we all know were scarce. So it's a good outlet for a lot of distributors. And it's competitive, which it wasn't when it was only pay-TV. And we all know it will get even more competitive."