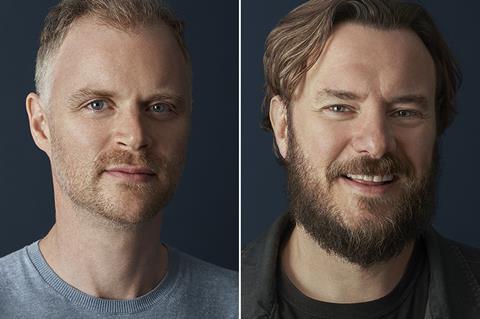 Director John Jencks and producer Jay Taylor's UK production and financing outfit Electric Shadow Company boasts an ambitious slate. Titles include producing Rupert Sanders' reimagining of James O'Barr's comic book The Crow, starring Bill Skarsgard and FKA Twigs — which FilmNation Entertainment is introducing to buyers at Cannes — in addition to a slew of projects in development, including Zoo director Colin McIvor's Beeswing.
Jencks (chair) and Taylor (CEO)have been building up Electric Shadow Company for 17 years. They met as teenagers, moving in the same west London social circles. Jencks headed off to study film at New York Film Academy, while Taylor produced the zeitgeisty Channel 4 music show Popworld, before transitioning into features, working for The Weinstein Company and Working Title. Jencks returned from the US and the pair reconnected and made short film The Vicious Circle Of Success. In 2005 they formed their own outfit, Sane and Diddly, alongside producer Alexa Seligman (who later left the company in 2017), rebranding to Electric Shadow Company in 2008.
"We were pretty good at production, we had that experience. But the other side of the business, the marketing side, we weren't particularly clued up on," says Taylor. They cut their teeth on self-funded feature The Fold, which Jencks directed, before using gap funding to make Amy Heckerling's 2012 comedy horror Vamps. Features including The Hallow, Love Me Like You Do and Swallows And Amazons followed.
Squaring the cube
The Hippopotamus — based on the comic novel by Stephen Fry and starring Roger Allam — had the makings of the outfit's breakthrough project, with UK distributor Metrodome attached, until, that is, the distributor went into administration, leaving Jencks and Taylor to put the feature out themselves.
To keep cash coming in, the company launched J Cubed Film Finance, with film financier Joe Simpson and a variety of senior lenders. Through this, Jencks and Taylor began providing feature films with gap funding. This model was a success, with J Cubed securing more than 30 deals in the space of 18 months, for titles including Out Of The Blue, Danger Close: The Battle Of Long Tan and Guns Akimbo. Through Electric Shadow Company, the duo also helped finance Philip Barantini's recent Bafta contender Boiling Point.
But Electric Shadow Company had its own creative itch that needed scratching. "We started to think, 'We're doing all this work getting other people's films made, and we're not doing any of our own stuff,'" recalls Jencks. The company has thus relaunched with a renewed interest in in-house development, and a focus on acquiring UK rights to the projects the outfit is involved in. Two new hires have been made to reflect the company's refresh, taking the total number of full-time employees to six.
Isabel Freer is head of development of all TV and documentary features, and is also responsible for sourcing new intellectual property to develop, finance and produce. Freer's previous credits include as a co-producer on Nick Hamm's The Journey, and as an executive on The Uncertain Kingdom, a feature development fund launched by Jencks.
Kwesi Dickson has joined as head of production finance, having previously worked as a producer on MJ Bassett's Rogue and Magnus Martens' SAS: Red Notice, both Electric Shadow Company executive produced.
The Crow is currently in pre-production, while Beeswing is being developed with Northern Ireland Screen. The family comedy, inspired by a true story, is set in 1842 in a remote Scottish village, where future prosperity is pegged on an old mare named Beeswing winning at the Ascot race meet. Production on the feature — co-written by Georgia Goggin, producer of Pretty Red Dress — is set to begin at the end of the year.
Documentaries are another key focus, with two co-productions in the works with UK documentary outfit Rogan Productions, titled Original Sin and Project Holly­wood.
"I don't think there's one type of Electric Shadow project," says Jencks. "If it's one we've been involved with from the very beginning, it's got to work on multiple levels. I don't think we would ever do a Fast & Furious film that's purely visceral, but we would also never do the most talky French arthouse film. The joy of film is that it offers a huge breadth of the human experience."