Writer/director Eliza Hittman says her new film Never Rarely Sometimes Always "has been living inside me for a long time".
She initially started working on the story back in 2012, when she read about the death of Savita Halappanavar, a 28-year-old woman living in Ireland who died of sepsis during a miscarriage; she was denied a potentially life-saving termination because of Ireland's constitutional ban on abortions.
"I tried to educate myself [about the Irish situation]," Hittman explains, who wrote a short treatment for a film about abortion set in Ireland. "But at the time I was making such small-scale features, I didn't think anyone would get behind me making a feature in Ireland."
By 2017 and 2018, several things were happening that would change the shape of her passion project. Ireland voted to remove the ban on abortion in 2018; at the same time, women's reproductive rights were being further threatened in several US states after Donald Trump's election. Additionally, Hittman also found partners who believed she was ready to move to a larger filmmaking canvas, after her first two acclaimed low-budget features, It Felt Like Love (2013) and Beach Rats (2017).
"Tragically it became so easy to translate it to the States," she says of the script, which follows 17-year-old Autumn from western Pennsylvania. Seeking to end an unwanted pregnancy, she travels with her cousin Skylar to New York City where she can get a legal termination.
Executive producer Rose Garnett had liked Hittman's first two features, and sought out a meeting when the filmmaker was attending the 2017 BFI London Film Festival with Beach Rats.
"I met her first as a fan," remembers Garnett of the October 2017 meeting, just a few months after she had taken her new post as head of BBC Films. "Eliza's work is so authored. She knew the tone and stories she wanted to put in the world. Her films are about lives you don't meet very often, told with such complex straightforwardness, making these lives look beautiful without romanticising them."
That conversation ended with Hittman talking about some ideas for future projects. When she mentioned the abortion story, it struck a nerve with Garnett, who was especially keen to champion female stories and female filmmakers.
While BBC Films usually backs UK filmmakers, or at least projects with strong UK elements, in this instance Garnett was keen to widen the scope. "Cinema is global and the stories we want to tell are global. The BBC is a global organisation," says Garnett. "This story felt so insistent, so important, so relevant to all young women, no matter their nationality."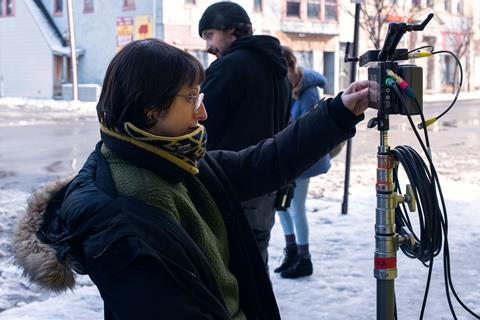 Pastel, the US production company formed by Barry Jenkins, Adele Romanski, Sara Murphy and Mark Ceryak, had collectively been fans of Hittman's since her first feature. They also jumped into the project early, with Romanski and Murphy as producers and Jenkins as executive producer.
Romanski recalls, "We were aware of the idea just from being friends and peers with her. But it was really in response to the last US election cycle that it came back into the forefront of her mind that this was incredibly necessary and relevant. We were only too eager to jump in and support her."
Murphy concedes that it was not an easy project to finance – "an abortion drama with no movie stars… But we quite quickly found amazing partners. Because of Eliza's track record, people were very eager to see what she wanted to do next. People were very moved by the script."
Tango Entertainment, Mutressa Movies, and Cinereach came on board at script stage, and then just as pre-production was starting Focus Features joined the project. "That was a blessing to have a distributor on board from the beginning," Murphy adds.
Hittman finished the script in late 2018, having done research over the years speaking to young women who had lived through similar experiences, and visiting abortion clinics and pro-life pregnancy centers. Working on a production budget of less than $5m, the team wanted to move forward quickly. As Romanski says, "Eliza wanted the film out going into this 2020 election cycle."
Finding her cast
Hittman knew the story she wanted to tell, and finding the right young women to bring it to life was crucial.
Sidney Flanigan, a young actress and musician from Buffalo, New York, makes her feature acting debut in the film as the pregnant Autumn. Hittman's longtime editor (and partner) Scott Cummings first met Flanigan back in 2012 researching a film about underground culture. Cummings and Hittman stayed in touch with Flanigan over social media over the years, and she was in HIttman's mind even while she was auditioning 100 more established actresses for the role.
"Her Facebook posts really took me back to being a teenager," Hittman recalls. "She would post about boys she was dating and how much they meant to hear, then it was about heartbreak, and she would post videos of herself performing cover songs. I connected those emotions with the film I was writing."
"I knew she had screen presence," Hittman continues. "She had a natural ability to understand the progression of the scenes emotionally, so I never felt like I was taking a risk on her talent or ability, it was more a question of whether or not she would enjoy it. The character is in a dark emotional space for so much of the film and that's not how Sidney is as a person."
The role of Skylar went to Buffalo-born, New York City-based Talia Ryder, who had more acting experience – she had appeared in Broadway's Matilda, for instance, and will also star in Steven Spielberg's upcoming West Side Story. "She adjusted very easily to a quieter performance. I think she has a big presence as a dancer. But she's also very natural," says Hittman.
With only two days of rehearsal together before the shoot, Hittman's priority was helping her two leads get to know each other. The director left them alone in her apartment while they shared personal stories, prompted by questions Hittman had written for them in notebooks.
"I will never know what was in those notebooks," she says. "It was crucial for them to have a deep understanding of each other, as young women in the world. That connection needed to be real. And I believe that the bond on screen is the bond of their friendship."
Romanski says casting a film that relies so much on performance is never certain. "It's always risky, you never know until you shoot how it will be, especially with kids but even with seasoned professionals. Eliza was so confident and the test footage she had done with both of them was very strong. We leaned into supporting Eliza on that."
In terms of other cast, some of the healthcare and support workers seen in the film are played by real workers to add to the film's authenticity. The devastating scene that gives the film its title, for instance, sees a social worker named Kelly play a version of herself.
Unique production challenges
The film shot for a total of 29 days in March and April 2019, in New York City and Shamokin, Pennsylvania.
In small-town Pennsylvania, citizens are predominantly conservative so the production wanted to mostly keep the themes of the film under wraps. They were so under the radar, in fact, that one community member was scared human trafficking was going on in their area – a rumour that was quickly straightened out. "We made a statement to the police that we were a legit production company," recalls Murphy.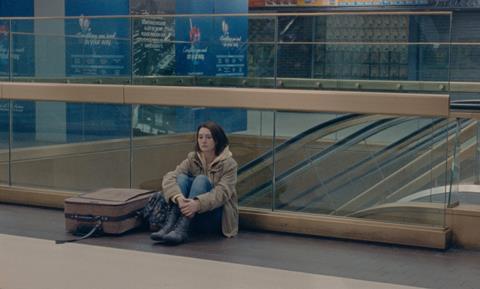 New York City presented a different set of hurdles. For instance, a number of scenes were shot in the government-owned Port Authority Bus Terminal, with regulations dictating that they could only shoot at certain hours in the middle of the night (usually midnight to 4am). "That was a feat of scheduling gymnastics," Romanski says, noting that they also had to follow SAG guidelines for when minors can shoot (Ryder was still 17 during the shoot).
The scene of protesters at a Manhattan abortion clinic was a real protest that happens every month, which the production hoped to capture on screen. "It was never violent or unsafe or confrontational," Romanski says. "There was never any direct engagement between our crew and the protestors."
Planned Parenthood was an important partner during production, as the New York clinic scenes were filmed in real Planned Parenthood branches. When Garnett visited the set in New York, she said it was "amazing to see how they worked in this really tight unit… despite challenging locations and challenging weather. Eliza, Adele, Sara and the team like Hélène [Louvart, DoP] were able to support two young women who needed to be comfortable in everything they were portraying."
Moving the release online
After a challenging production, the launch into the world was going according to plan. The film had its world premiere at Sundance in January 2020, where it won a special jury prize. At Berlinale Competition in February, it won the Silver Bear Jury Prize (and also placed top of Screen's jury grid). Focus Features planned to build on that festival and critical momentum by launching the film in US cinemas on March 13.
Then Covid-19 hit. The film was out for three days (in mostly empty cinemas) in the US before cinemas fully shut down. Focus quickly decided to pivot the release online, starting April 3 in the US and now from May 13 EST and May 27 TVoD in the UK. It was later selected for September's San Sebastian International Film Festival.
Hittman sees pros and cons to the online release. "As a filmmaker, in all honesty, there will always be a hole in my heart over not having a theatrical release," she admits. "That said, the circumstances are so upsetting and so tragic for my city and everything in the world, that I'm happy people have been able to watch it."
The director has been doing a lot of virtual Q&As for grassroots screenings. "We're still able to do a lot of that outreach work that I wanted to do with the film theatrically," she says. More events with women's groups or colleges and universities will follow.
Murphy adds, "The coverage of the film and exposure to the film has been significant. We have a captive audience with limited prestige arthouse content, and great support from Focus. The interest has been extraordinary. So that's been a silver lining."
The film is also being tipped as an awards-season contender (new AMPAS rules allow streaming films to be eligible). Meanwhile the team wants it to have an impact with its public audience most of all. HIttman worked hard to make sure the film's PG-13 rating means teenagers can view it.
"In the midst of this global health crisis we have horrible politicians who are playing with dangerous changes to access for women's health care," she says. "It's important that the film reaches people like Autumn."